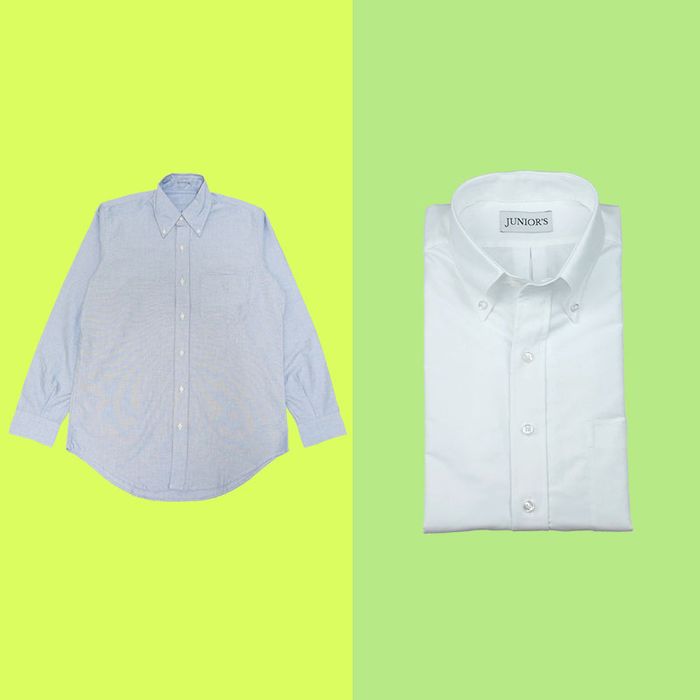 Photo-Illustration: Retailer
Like worn-in jeans or the perfect T-shirt, a dependable white oxford shirt is a year-round closet staple. "Nearly every man looks good in a white oxford," says author David Coggins, an oxford-shirt devotee who also writes a men's style newsletter called The Contender. It's not just that they're a classic style — the best oxford shirts are also easy to care for, "meant to be rugged enough to be taken for granted, balled up and tossed in the wash, dried at whatever temperature, and worn with less of a press than crumpled nonchalance," explains Chris Wallace, the U.S. editor for men's fashion website Mr. Porter. As Coggins puts it, "The oxford-cloth shirt endures because the shirt itself endures."
Derek Guy, editor at the men's style website Put This On and blogger at Die, Workwear, says, "The oxford Shirt is perhaps the United States' greatest sartorial contribution." Guy explained that in 1896, John E. Brooks, the grandson of Brooks Brothers founder Henry Sands Brooks, saw Polo players in England wearing shirts with buttons that secured the collar. The idea was to prevent the collar from whacking players in the face while they sped around on horses. John copied the style to start selling it at Brooks Brothers, and by 1915, it had become a staple among East Coast college kids, helping to birth the Ivy Style movement that influences fashion to this day.
The oxford shirt — also known as the OCBD, for oxford cloth button-down — is now almost as foundational to American fashion as blue jeans. There's a reason that cultural icons from Miles Davis to Paul Newman have regularly been seen wearing them. They were always meant to be versatile and dependable, equally easy to wear with a tie in the city or untucked on a trip to the countryside, which is why they are still popular after more than 100 years of existence. So to find the very best oxford shirts, we asked several fashion experts and other stylish men about the ones they'd recommend.
Best overall | Best less-expensive | Best with stretch | Best (slightly-slim) patterned | Best for tall people | Best splurge-worthy | Best traditional | Best made-to-order
What we're looking for
Style and details: In their most traditional form, oxford shirts have buttons at the collar points, a reinforced chest pocket, pleated sleeves, and back details like a box pleat to allow for comfortable movement and a locker loop that was conceived so that college students could hang their shirts in, you know, lockers. Many brands offer a slim-fit oxford, which is tapered and slimmer in the arms, chest, and body. This style was especially popular in the early 2010s, but many brands are starting to return to a roomier classic cut inspired by the original Brooks Brothers oxford shirt. According to Guy, "different people will draw different lines in the sand for what they think is the most iconic version of the oxford shirt, and the Brooks Brothers design has changed slightly over the years." He says that for him, what's most important is the collar: "In the last 20 years, as clothes have become slimmer and shorter, collar points have also shrunk to keep proportions," says Guy, explaining that the charm of the oxford shirt is all about how the collar ends up having this very sporty and carefree roll. "So for me, the collar points have to be long enough to express that roll and, ideally, be unlined so that it feels more comfortable and looks more natural," he says. The collar roll is a small detail that may hold extra appeal for die-hard clothing enthusiasts, but Guy says most people will be perfectly happy with a shorter collar. And as oxford-wearing folks know, a good oxford shirt doesn't have to be white, so we've also noted which of our picks come in additional colors.
Sizing: We prioritized brands that carry a wide range of sizes and cuts to accommodate different body types, sizes, and style preferences. Some brands also list measurements for sleeve and hem length or neck and chest diameter, and paying attention to those can help you achieve a more custom-feeling fit. A good rule of thumb is to measure a shirt that you feel good in and compare it to a brand's online measurements to be sure you're buying the right size for the look you want.
Fabric: According to image consultant Patrick Kenger the difference between a standard button-down and an oxford shirt is the use of oxford cloth, which is thicker than the fabric of a most dress shirts. Oxford cloth is typically made of cotton and woven with a basket weave that gives it a more textured feel and makes it more durable and easy to mend if it frays or tears.
Best overall oxford shirt
Classic fit, slim fit, tall fit | Chest pocket, pleated back and sleeves, locker loop | XS–XXL | Organic cotton | 7 colors
This oxford shirt got the thumbs-up from three of the men we talked to. Photographer and rug dealer Mikael Kennedy wears oxford button-downs as often as he wears T-shirts — so he looks for options that both look good and are affordable enough to buy multiples of. That's why he likes J. Crew's oxford. "They're not disposable-feeling, but they don't feel precious, either," Kennedy says, adding that he even got married in one he bought on sale for $30. Tim Melideo, who runs the men's fashion website Stay Classic, also recommends this shirt to anyone dipping their toe into more formal dressing, saying it was J. Crew's oxford that first "transformed my style and got me to really step it up."
One of the J. Crew oxford's greatest attributes is that it comes in three different fits, meant to accommodate a variety of tastes and body types. It also comes in many different colors and patterns, from classic white and blue to plaid and seasonal prints. The J. Crew oxford also has callbacks to classic details with a reinforced chest pocket, back pleat, and locker loop. Model Miles Garber, the co-founder of candle company Hands, adds that he's had his J. Crew oxford shirt ("a Hanukkah gift") for years, telling us it has served him well as both an unfussy everyday staple and his "go-to suit shirt." The shirt is also prewashed to create a more broken-in feel to the fabric.
Best less-expensive oxford shirt
Slim fit | Chest pocket, Pleated back and sleeves, locker loop | XXS–XXXL | Cotton | 3 colors
"The basics from Uniqlo are always well-made and affordable," says Kenger. Uniqlo's oxford comes in fewer cuts and color variations (blue, white, and gray) than J. Crew's oxford but has a wider size range. It features classic details for an affordable price. Timothy Grindle, the co-owner of Boulder-based clothing company Canoe Club, wears this shirt to get "that casual '90s Ralph Lauren look." Grindle likes to size up and then wash and dry his Uniqlo oxfords to get a just-right drape, and he says he likes to keep them in rotation because "they just always look cool with anything."
Best oxford shirt with some stretch
Slim fit, tailored fit, standard fit | Regular, short, or long lengths | Chest pocket, pleated sleeves, no back pleat or locker loop | XS–XXL | Cotton with mechanical stretch | 11 colors
"I love it because at first glance it looks about as classic as an oxford button-down can get, but it has all sorts of little details that make it stand out," says Dave Bowden, founder of men's style blog Irreverent Gent, of this Bonobos oxford. He found the shirt when Tan France recommended one on Queer Eye. Among its noteworthy details are Bonobos's mechanical stretch fabric, "meaning it moves with you as opposed to making you feel hemmed in," he says.
Writer John Jannuzzi also told us he stands by the Bonobos Stretch Oxford shirt, which he has in a bunch of different colors and lengths. "I keep the shorter ones around because they sit at the perfect spot for when I wear them untucked. The long ones I keep on hand for more dressed-up occasions — the extra material gives that little bit of security that won't come loose if you're dancing at wedding or something," he says.
In addition, Bowden points out the shirt's perfect "button stance" — if you leave the top buttons open, he says, it's "low enough to look casual but not so low that it reveals too much chest hair." The Bonobos oxford also has three fits to choose from: The slim fit has a slight taper at the waist, the tailored fit is the narrowest with a pronounced taper at the waist, and the standard fit will be roomier and closer to other brands' classic fit. As Jannuzzi mentioned, the shirt is available in multiple lengths and a range of 11 colors, from classic white all the way to a green stripe.
Best (slightly-slim) patterned oxford shirt
Regular fit | Chest pocket, pleated back and sleeves, no locker loop | S - XXL | Supima cotton | 10 patterns
This list would not complete without a shirt from the brand that invented the Oxford shirt. But while it's a classic in the menswear world, many men find Brooks Brothers shirts too roomy for their taste. That said, the Brooks Brothers Regent Regular-fit sport shirt is among Strategist columnist Chris Black's favorite button-downs. He calls it a step above Uniqlo's oxford, which he has been wearing in light blue for eight-plus years. ("I've even had it repaired," he notes.) But despite his love of the Uniqlo shirt, Black says the Regent Regular-Fit shirts from Brooks Brothers are more heavy-duty, and cut a little bit slimmer than the brand's traditional Oxfords, while still relaxed enough to throw on with anything. In fact the basic white and light-blue colors of this shirt are so popular that they can be extremely difficult to find in stock. Luckily, Brooks Brothers also makes the Regent Regular-fit Oxford shirt in more than a dozen striped, windowpane, checked, and plaid patterns. We like this green-and-white pinstripe in particular.
Best oxford shirt for tall guys
Photo: retailer
Classic fit | Chest pocket, pleated back and sleeves, no locker loop | Neck sizes 14.5 inches to 18 inches; Sleeve lengths 32 inches to 37 inches | Cotton | 3 Colors
L.L. Bean's oxford shirt has a classic look according to Kyle Andrew, an actor and model, but is available with sleeve lengths as long as 37 inches, making the style more accessible for taller people like himself. (Shirts with sleeves at 36 or 37 inches will also be two inches longer in the body from top to bottom, according to the brand.) But Andrew promises the shirt will appeal to wearers of all sizes because it is "truly wrinkle-free to wear right out of the dryer and holds its shape and fit." He adds that he's "put a few men on to these in the past, and they always end up with multiples." The L.L. Bean shirts come in three colors: white, light blue, and a darker French blue. Plus, you can choose the size for your neck — ranging from 14.5 to 18 inches — in increments of a half-inch to get an even more personalized fit.
Best splurge-worthy oxford shirt
Classic fit | Chest pocket, pleated back and sleeves, locker loop | XS–XXXL | Cotton| 14 Colors
Many of our panelists said that one of the most rewarding things about a good oxford shirt is the way it softens and breaks in over time. This "gets better with age" quality, they say, comes down to the fabric used to make a shirt, with the general wisdom being that the tougher and higher-quality the cotton, the better looking the shirt will become.
This splurge-worthy choice comes from British haberdashery Drake's, which has its own shirt factory in Somerset, and should appeal to those in the market for a shirt made with the highest quality oxford cloth. It has a classic silhouette and comes in more than a dozen colors. Perhaps most importantly, Drake's oxford shirt has a classic pronounced collar roll that Ivy Style fanatics drool over. Stephen Pulvirent, the manager of editorial operations at watch website Hodinkee, says he cycled through oxfords from "Gap to Brooks Brothers to Kamakura" before landing on Drake's for its "fantastic" cloth. "It softens up quickly without feeling frail or too fuzzy, and it's not so structured so as to look dressy at all," he says. Coggins, who some of the folks we spoke to cited as an oxford expert, also loves shirts from Drake's. He says they're "good right out of the gate, but after being washed, say, a dozen times, they break in, get increasingly softer, and enter their beloved phase, which lasts for years." Despite the high price tag, Pulvirent says he has "at least half a dozen that are only getting more comfortable as they get older and more worn out."
Best traditional oxford shirt
Photo: retailer
Classic fit | Chest pocket, pleated back and sleeves, locker loop | XS–XXL | Cotton | 3 Colors
Wythe's oxford shirt is an ode to the Brook Brothers original and celebrates many of the details that oxford shirt enthusiasts look for. It has a longer collar length and pronounced collar roll, which gives this updated version a boost of character, according to Grindle. Former Strategist writer and very stylish man Jordan Bowman praised the Wythe oxford for its lightweight, soft-on-the-skin feel and rugged durability. "It's pre-washed, so it already feels like you picked it out of a thrift store or your grandfather's closet," he says, adding that its classic silhouette drapes equally well when unbuttoned or tucked in and worn with a sports coat. The Wythe oxford has many of the traditional details, like a locker loop in the back, a reinforced chest pocket, and a back pleat. The color range is limited to white, blue, or blue-and-white stripes. But, Bowman says, "you can't go wrong with a classic color if you're building out a wardrobe."
Best made-to-order oxford shirt
Photo: retailer
Standard fit, slim fit, full fit | Made to measure | Optional chest pocket, pleated back and sleeves, no locker loop | Cotton | 18 colors
Junior's, an upstart haberdashery based in Philadelphia, makes made-to-order oxford shirts that cost less than the oxford from Drake's but are semi-bespoke. Mark Gisi, the founder of branding agency Eastern Standard, says they're pretty great. "I've worn oxfords for many years from many brands and retailers," he told us. Factors that drew him to Junior's version include that its shirts are "made in the U.S. with a traditional heavy oxford cloth and have that really nice, tall collar with a roll that I look for." As for the made-to-order process, Junior's allows you to customize your neck and sleeve measurements as well as fit type and promises to deliver your newly made shirt in four to six weeks. Gisi says his buying experience was enjoyable and included direct communication with the company's founder, which gave it "more of a personal touch." Junior's also offers its made-to-order oxford in 18 different colors.
Our experts
• Kyle Andrew, an actor and model
• Dave Bowden, men's style blog Irreverent Gent
• Jordan Bunker, menswear writer
• David Coggins, author
• Miles Garber, co-founder of candle company Hands
• Mark Gisi, founder of branding agency Eastern Standard
• Timothy Grindle, co-owner of clothing company Canoe Club
• Derek Guy, editor at Put This On and blogger at Die, Workwear
• Patrick Kenger, consultant
• Mikael Kennedy, photographer
• Tim Melideo, men's fashion website Stay Classic
• Stephen Pulvirent, manager of editorial operations at Hodinkee
• Chris Wallace, U.S. editor for men's fashion website Mr. Porter
• John Jannuzzi, writer and author of How to Wear Socks
• Chris Black, Strategist columnist and brand consultant
The Strategist is designed to surface the most useful, expert recommendations for things to buy across the vast e-commerce landscape. Some of our latest conquests include the best women's jeans, rolling luggage, pillows for side sleepers, ultra-flattering pants, and bath towels. We update links when possible, but note that deals can expire and all prices are subject to change.
Every editorial product is independently selected. If you buy something through our links, New York may earn an affiliate commission.