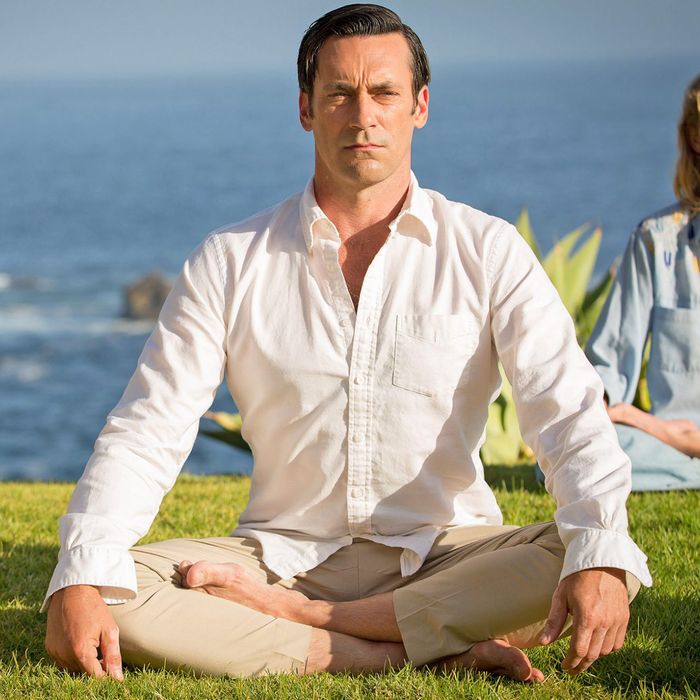 Photo: Courtesy of Lionsgate
Worn-in jeans and perfect white T-shirt aside, a dependable white Oxford shirt is every man's year-round best friend. "Nearly every man looks good in a white Oxford" says author David Coggins, an Oxford-shirt devotee who also writes a men's style newsletter called The Contender. It's not just that they're flattering, though — the best ones are also incredibly easy to maintain. According to Chris Wallace, U.S. editor for Mr. Porter, a good Oxford is a "staple meant to be rugged enough to be taken for granted, balled up and tossed in the wash, dried at whatever temperature, and worn with less of a press than crumpled nonchalance." As Coggins puts it, "The issue of the Oxford-cloth shirt endures, because the shirt itself endures."
But with so many available, how to find the ones that will actually deliver those years of flattering, low-maintenance performance? This question only became harder after shakeups at brands that used to lead the category, like Brooks Brothers, resulted in apparent quality changes — at least according to two former Brooks Brothers wearers we spoke to, who told us they're now wearing other, better Oxford shirts. To find the best men's white Oxford shirts to buy right now, we asked 14 stylish men about the ones they'd recommend. Their 10 favorites include truly affordable Oxfords (that don't look cheap), styles made with the finest of Oxford cloth, and other shirts with lighter and heavier-weight material. While we asked our cool people about white Oxford shirts, as Oxford-wearing men know, white is often not the only color they come in. So we've noted which shirts come in additional colors where applicable.
Best overall men's (white) Oxford shirt
Photo: retailer
Like most of us, photographer and rug dealer Mikael Kennedy says that he looks for a combination of fit and price when he's shopping for clothes — especially Oxford button-downs. "I wear them almost as often as I wear white T-shirts," Kennedy says as to why he needs an Oxford that looks good and can be bought in bulk. For him — and two other guys we spoke to — that elusive combination can be found in J. Crew's slim-fit Oxford. "They're not disposable-feeling, but they don't feel precious, either," Kennedy explains, adding that he even got married in one he bought on sale for $30. (Right now the shirt is on sale for $53 with the code SPRING.) Tim Melidio, who runs the men's fashion website Stay Classic, recommends this shirt to anyone dipping their toe into more formal dressing, saying it was J. Crew's Oxford that first "transformed my style and got me to really step it up." Model Miles Garber, the co-founder of candle company Hands, adds that he's had his J. Crew Oxford shirt ("a Chanukah gift") for years, telling us it has served him well as both an unfussy everyday staple and his "go-to suit shirt." In addition to white, the shirt comes in a light Lagoon Green and a reddish color called Faded Sunset.
Best less-expensive men's (white) Oxford shirt
This truly affordable slim-fit Oxford from Uniqlo also came recommended by three guys we talked to. Griffin Funk, a designer at Apple, says the price makes it an Oxford you can buy over and over again. "I've worn more expensive shirts, but I keep coming back to this one," he says. "Simple, smart, and cheap." Marko Gluhaich, an associate editor at Cabinet magazine, agrees with Funk. In fact, he says that because the price is low enough, you don't have to worry so much about replacing this shirt and can thus actually wear Uniqlo's Oxford with the reckless abandon the style is designed for. "I don't feel nervous about wearing it when I'm cooking or drinking red wine," he explains. But, like all good Oxford shirts, this one can also hold its own in more formal settings, according to writer Alex Frank. "Uniqlo pulls off that kind of starched-white-shirt look really well," he says. "A white shirt is not something I wear all the time, but when I'm trying to look like I'm well-behaved, I'll choose this one." As for how it fits, here's what Gluhaich has to say: "So often Oxfords can look boxy, or too long if you untuck. But this one is flattering, and can be worn both ways." The shirt comes in four colors beyond white, too, including light blue, pink, gray, and navy.
Best lightweight men's (white) Oxford shirt
Photo: retailer
Oxford-cloth purists may want to skip this section, but three guys — including two who recommended other shirts on this list — told us that they've yet to find a lighter-weight Oxford than Everlane's, which is made from a so-called performance material designed for warmer weather. "Everlane's Air Oxford stays true to its name with an extra-light fabric woven from thinner yarn, which makes it an indispensable item in any guy's warm-weather wardrobe," says style blogger Justin Livingston. While lighter, Gluhaich, another fan, says he still wears his year-round. He adds that while the material makes the shirt "more airy and loose," it "doesn't feel techy — it still has some soul to it and still looks handsome under a sweater." Melidio explains that the shirt's performance fabric has a little more stretch to it, too, so he's been wearing Everlane's Oxford to work from home, as opposed to his J. Crew one that he would wear to the office. Everlane sells the shirt in six other patterns and colors beyond white, including a solid blue and a black-and-white stripe.
[Editor's note: This shirt is no longer available, but Everlane's Standard Fit Performance Shirt is very similar.]
Best investment-worthy men's (white) Oxford shirt
As many of our cool guys have said, one of the most rewarding things about a good Oxford shirt is the way it softens and breaks-in over time. This gets-better-with-age quality, they say, comes down to the cloth used to make a shirt, with the general wisdom being that the tougher and higher quality the cloth, the longer-lasting and better-looking a shirt will become over time. After all, the style of shirt takes its name from a type of cloth, Oxford, developed at a Scottish mill in the 19th century; that mill also developed Cambridge, Harvard, and Yale cloths, but we're not wearing shirts by those names today.
To those purists in the market for a shirt made with the highest-quality Oxford cloth, two of our cool people say you can't do better than the Oxford shirts from British haberdashery Drake's. Stephen Pulvirent, the manager of editorial operations at watch website Hodinkee, says he cycled through Oxfords from "Gap to Brooks Brothers to Kamakura" before landing on Drake's for its "fantastic" cloth. "It softens up quickly without feeling frail or too fuzzy, and it's not so structured so as to look dressy at all," he says, noting that the shirt made with it has all the other details you'll want in a great Oxford, including "a button down collar that rolls gracefully and a properly sized chest pocket." Coggins, whom other folks we spoke to cited as the Oxford expert, also loves the shirts from Drake's. He says they're "good right out of the gates, but after being washed, say, a dozen timefos, they break in, get increasingly softer, and enter their beloved phase, which lasts for years." He's also a fan of their "long-point collar," which, unlike most "far too small shirt collars," makes the wearer "look in proportion and like a man who knows the score," according to Coggins. Pulvirent admits that the Drake's shirts do come at a cost, but says he has "at least half a dozen that are only getting more comfortable as they get older and more worn out."
Best less-expensive investment-worthy men's (white) Oxford shirt
Photo: retailer
If you're looking for a quality Oxford shirt that knows its history but is a little easier on the wallet, consider this one from Gitman Bros. Christopher Echevarria, the founder of loafer brand Blackstock and Weber, recommends it, telling us that the American brand is not only "one of the few remaining shirt-makers with all production still based in the U.S.," but also "still using the same fabric to make its Oxfords as it did in 1978." It's the shirt's "old-school, utilitarian hand-feel" that makes it a go-to for Echevarria, who adds that its "slim cut and unlined collar and cuffs give it a more laid-back feel." In addition to white, Gitman Bros. makes this shirt in 23 (!) more colors that you can see here.
Best men's (white) Oxford shirt for tall guys
Photo: retailer
Kyle Andrew, an actor and model, says L.L. Bean's Oxford shirt looks as classic as the rest, but is available with sleeve lengths as long as 37 inches, making the style more accessible for taller guys like himself. (Shirts with sleeves at 37 inches will also be two inches longer from top to bottom, according to the brand.) Even if you're not you're blessed with those extra inches, Andrew promises the shirt will appeal to guys of all sizes because it is "truly wrinkle-free to wear right out of the dryer and holds its shape and fit." He adds that he's "put a few men on to these in the past and they always end up with multiples." The L.L. Bean shirt comes in two colors beyond white: a light blue and a darker French blue.
Best heavyweight men's (white) Oxford shirt
BDBCreative founder Brad Bennett, the former editor of menswear website Well Spent, is one of the guys who told us he stopped wearing Brooks Brothers Oxford shirts since we last spoke to him. (The other is Coggins.) Instead, he's now wearing this shirt from A Day's March. Bennett thinks that it's the best replacement for "devotees of the old-school Brooks shirts" because, like those, it has a "heavyweight fabric and more traditional collar shape." Bu