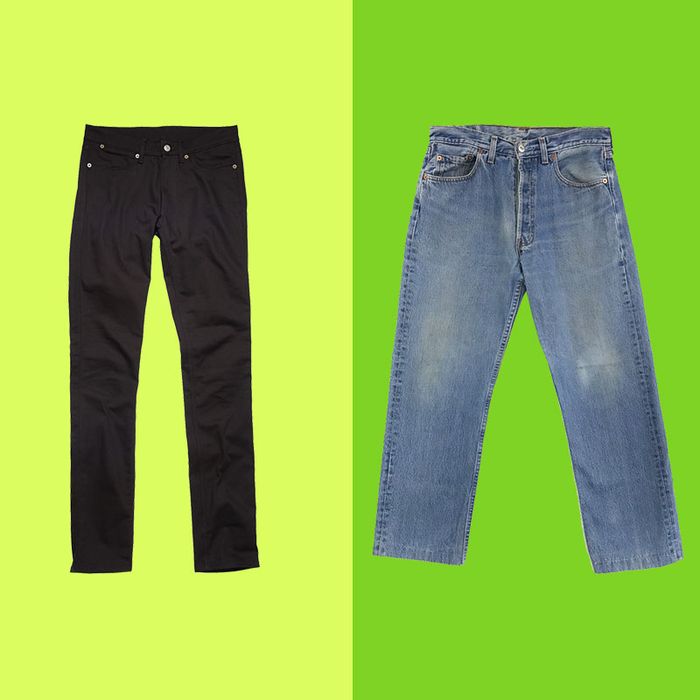 The cast of
The Outsiders
showcasing a variety of jeans.
Photo-Illustration: courtesy of Zoetrope Studios
Despite their origins as workwear, jeans are foundational to modern fashion and style. Entire generations, eras, and subcultures have been defined by the way their jeans fit, and jeans are always evolving — from the high-waisted flares of the '70s and baggy styles long favored by skaters to the golden age of skinny jeans and the wider, looser cuts that now dominate the denim landscape. And while it's always nice to have options, too much abundance can also complicate your quest for the perfect pair. Some jeans fit perfectly in the thigh but feel like a vice grip around your butt. Some have a unique cut that looks great on models in product photos but just don't work for everyday life. But it's well worth the effort to find your preferred pair: Great jeans will end up being one of the best things in your closet. To that end, we spoke with 18 stylish guys who have gone through the denim ringer — designers, retailers, podcasters, fashion writers, stylists, and other denim nerds — to hear about their favorites.
Best straight-leg | Best Japanese selvedge denim straight-leg | Best Japanese selvedge denim tapered-fit | Best slim-fit | Best for men with big thighs | Best skinny jeans | Best slim-fit black jeans | Best Japanese black denim jeans
What we're looking for
Sizing: Andrew Chen, co-owner of the denim brand 3sixteen and a partner at Self Edge, a specialty denim shop, says the most important thing to consider when buying denim is the fit. "I've seen lots of customers fall in love with a certain fabric or design details on jeans, only to force themselves into a cut that does not work with their body type," notes Chen. As Strategist writer Erin Schwartz learned from self-described "denim whisperer" Clotilde Testa, owner of Walk the West Vintage in Hudson, New York, you should start by knowing your waist, hip, thigh, and ideal rise measurements, which you can find by measuring either your body or a pair of jeans you already have that fits well. The rise measurement runs vertically from the crotch to the top of the waistband; the larger the measurement, the higher the rise. A higher rise will place the waistband closer to your actual waist and belly button and measure more than 11 inches on average; a mid-rise will sit between your waist and hips and measure between 10 and 11 inches on average; and a low rise will sit more at the top of your hips.
You should also determine your preferred inseam length by measuring from the crotch seam down the inside of the leg to where you want the hem to fall. Some brands offer multiple inseam lengths, but the average for men's jeans usually falls between 30 and 34 inches. Some brands allow you to select your waist and inseam measurements independently, while others only let you select your waist measurement and pair it with a fixed inseam length.
Brands may also list a measurement for the leg opening, which can help you figure out if a pair of jeans is more tapered or roomy at the ankles. Measure the leg opening by laying the jeans flat and measuring straight across the width of the cuff, right at the hem (and then pay attention to whether a brand's size chart provides the laid-flat measurement or doubles it to provide the full circumference). Boot-cut jeans worn by the likes of former NBA champions Tim Duncan and Michael Jordan have leg openings of about 10 inches, while skinny jeans worn by Harry Styles measure around 5 or 6 inches at the leg opening.
Style: The four most common styles or cuts of men's jeans are straight leg, tapered leg, slim fit, and skinny. Of these, straight leg is one of the most classic. As the name implies, the legs are cut straight down with a consistent measurement from hip to hem. The gold standard is the Levi's 501, which has a straight leg with a high rise. It has been around since 1873 and is still popular despite multiple design tweaks throughout the decades, because it's not too loose and not too slim — it's a cut that works for many different body types. Tapered-leg jeans will be cut similarly to straight-leg jeans around the butt and thighs, but taper toward the bottom of the legs. Meanwhile, a slim-fit cut will be snugger in the butt and thighs while also tapering toward the bottom of the legs; it usually has a mid-rise or low rise. Skinny jeans have an even snugger fit and more drastic taper and often have a low rise. Some people may find slim or skinny jeans restrictive, while others feel that a straight leg leaves too much fabric flapping around at their ankles. Think about how roomy you want your jeans to fit, and whether you want them to cut close to your ankles or sit over larger footwear like boots.
Fabric: Traditionally made of 100 percent cotton, denim's claim to fame is its durability and blue color, which comes from the indigo used to dye the yarn that is used to weave the denim cloth. Denim was originally created for use in work clothes, worn by factory workers and miners because it held up well in rough environments; the durability comes from its twill weave, which creates a diagonal pattern in the cloth. When shopping for jeans, you don't need to pay super-close attention to the weave unless you're looking for extreme durability, but you may want to note the cotton content and whether it's blended with spandex or Lycra to add stretch. It's mostly a matter of preference, but if you want a stiffer, more structured feel to your jeans, then you may prefer 100 percent cotton denim. Another term you may see is selvedge, which refers to fabric that is woven so that its edges do not need hemming to prevent them from fraying; it is typically associated with high-end denim because it's more labor-intensive and, by extension, more expensive.
Raw, one-wash, or washed denim: The type of denim your jeans are made of will affect their color, how they fade, how they wear and shape to your body, and even how they will shrink after you buy them. "Raw denim is a term that references denim that has not been given an additional wash or treatment," says Chen. "It usually has a deep navy color and is a bit crunchy or rigid compared to other fabrics that have been washed down or softened up to give the appearance that they've been worn in for some time." Raw denim will typically require soaking to get it to its final size. Chen says that in the past, denim was only sold in its raw state, but around the '70s and '80s, as jeans grew in popularity, "different processes like stonewashing, acid washing, and distressing were introduced to give jeans a broken-in look and feel." Choosing between raw denim and washed denim is a matter of personal preference. Washed denim tends to be preshrunk and more comfortable right away, while raw denim takes more effort to break in (you should also be careful about dye transfer to furniture and light-colored clothing). Chen says that consumers have been fed misinformation about washing denim over the years. "Customers are told to wait as long as possible before washing jeans, as if keeping them clean is somehow detrimental to the garment. Holding off on washing your jeans for too long results in the fabric breaking down and ripping prematurely." But over time, raw denim will form to your body, and as it fades, the result will be a more personal distressed look. Chen says that the worn-in look is part of the reason why some people get so enthusiastic about raw denim, because the garment looks better with age. Note that if the jeans you are buying are labeled "one-wash," that means they are made from raw denim that has been wet and dried one time to remove shrinkage from the fabric. Also keep an eye out for mentions of whether the jeans are "sanforized" or "unsanforized," which further reveals whether the denim has been preshunk in any way, and by what method.
Best straight-leg jeans for men
Waist sizes 28–44 | Inseam sizes 29–40 | Straight leg, high rise | 100% cotton | Washed denim
"If we're going to talk about jeans that every man should have in their closet, a pair of good old Levi's" is a must, according to Amy Leverton, the author of Denim Dudes: Street Style, Vintage, Workwear, Obsession. Getting a pair of Levi's is "almost a rite of passage," she adds, noting that the 501 is still the gold standard. Jeremy Kirkland, host of men's style podcast Blamo!, told us he swears by 501s, noting the higher rise makes it easier to dress them up when the occasion calls for it. "I've always been a fan of higher-rise jeans versus the lower-rise pairs, because I wear tailoring and sport coats, so it helps to wear something totally high," he says. They're also a favorite of former Strategist columnist Chris Black, who says 501s are "perfect for every occasion." Drew Westphal, who works in digital marketing, is another fan, telling us, "There's a reason that modern-day denim companies use the fit of the 501 to make their own jeans." And Edgar Gonzelaz, who operates a creative studio called Andafterthat in the Rio Grande Valley, says that even in his region's heat, "nothing beats the 501 fit." Menswear writer Matthew Spade also recommends the Levi's 501 fit. "I've tried a lot over the years, but for me the Levi's 501 seems to be the fit that works best." He says the main things he looks for are wash, fit, and durability, and "the humble 501 seems to hit all of those right on the bull's-eye." In my own experience, I've found that the 501s have a brilliant cut that can work with almost any style or body shape. The style is available in a wide size range and has a 12.25-inch rise, which sits at the waist. It has a straight leg with an opening measured at 8.5 inches when laid flat.
Best Japanese selvedge denim straight-leg jeans for men
Waist sizes 28–42 | Inseam sizes 31–36 | Straight leg, mid-rise | 100% cotton | One-wash selvedge denim
Ask any denim expert where the best denim comes from and odds are they'll say Japan. "In the last two decades, Okayama Prefecture in Western Honshu has become famous around the world as the main source of Japan's high-quality, vintage-inspired jeans," which are usually made of raw, selvedge denim, says writer W. David Marx. "The entire idea behind these specialty Japanese denim brands is to make jeans with the attention to detail that Levi's had in the mid-century," says Drew Romero, a sales associate at Dover Street Market and an alumnus of Self Edge. According to Romero, "the fit of Levi's in that period was a straight leg," so while modern Japanese denim brands will make a number of cuts, "when people talk about Japanese denim" they are referring to reproductions of Levi's straight-leg 501s. Romero's favorite jeans are these Sugar Cane 1947s, which are modeled after the 1947 Levi's 501s. "Sugar Cane is serious," Romero says. "They're even meticulous about which American retailers they allow to stock their brand." The Sugar Cane 1947 has a straight leg and wide range of waist sizes; the waist size will determine the inseam, rise, and leg-opening measurements. For example, a pair with a 30-inch waist will have an 10.75-inch rise, a 33.5-inch inseam, and a leg opening of 8.5 inches when laid flat.
Best Japanese selvedge denim tapered-leg jeans for men
Waist sizes 28–40 | Inseam sizes 35–37 | Tapered leg, high rise | 100% cotton | Raw selvedge denim
"If you're a raw-denim guy, it's hard to do better than 3sixteen," says Dan Snyder, owner and designer of New York City–based menswear company Corridor. 3sixteen is serious about sourcing its Japanese denim, and its website notes that these are made with denim that is "custom woven" for the company by Kuroki Mills in Japan. The brand makes a variety of fits, but the classic taper, or CT, is one of its most popular cuts because it fits many different body types and can be styled in many different ways. Chen praises the jeans' high-rise, comfortable cut "for people who are active and enjoy some more thigh allowance" and "nice modern taper without being skinny in any way." I have had my own pair of 3sixteen classic tapered jeans for four years now, and the fit and quality have stood the test of time. The denim has faded ever so slightly around the back of the knees, the pockets, and the seat. The denim isn't as tough as when I first bought them; they are now soft enough to feel like a trusty (but still substantial) pair of sweats. They have a slight taper that isn't overly drastic, and I have been on a high-rise denim kick lately, so these really sit nicely on the waist, easily complementing any look if you want to tuck in an oxford shirt or a white tee. Jeans with a 30-inch waist will have an 11-inch rise, a 33-inch inseam, and a leg opening of 7 inches when laid flat.
Best slim-fit jeans for men
Waist sizes 26–40 | Inseam sizes 29–36 | Slim fit, mid-rise | 99% cotton, 1% elastane | Washed denim
The Levi's 511 is to slim-fit jeans what the 501 is to straight-leg jeans: a standard-bearer. Tim Melidio, the writer behind menswear site Stay Classic, says Levi's 511s are a staple of his wardrobe, and stylist Brandon Garr likes them too, telling us that Levi's is a go-to brand for him because "they're affordable and hold up in the city. I also feel like I can be a bit more daring in them because I don't have to worry as much about the replacement cost if they get a little roughed up." While the 511s are cut slimmer than the 501s, cyclist Robert Evans told us that the 511s are perfect even for "guys who have big legs from riding their bikes, like me — we don't have to squeeze ourselves into them." He has been wearing 511s for "at least a decade," adding that he gets "four or five years of use" out of each pair. The 511s contain elastane, which adds a bit of stretch to the denim. They also come in a wide range of waist sizes and inseams, with a mid-rise of about 10.25 inches and a gentle taper to create a slim leg with a 7.25-inch leg opening when laid flat.
Best jeans for men with big thighs
Waist sizes 29–38 | Inseam sizes 30–34 | Straight leg, high rise | 77% cotton, 23% hemp | Washed denim
"I prefer the 550 cut to the more popular 501 because of the added room in the rise and thigh area," says Jared Johnson, co-creator of footwear brand Season Three. He says he has been collecting vintage 550s because he finds them so well fitting, but he recommends you pick up the Levi's 551 fit if you're looking for a close replica of the vintage 550 model. The 551 is meant to have a roomier cut at the top for people with larger hips and thighs, but you can still get the classic 501 straight-leg cut in the lower half. Johnson says the 551s have a higher rise and "the straight leg gives you room to stretch out without that annoying feeling of denim hugging your calves." The additional hemp fabric is supposed to help the jeans feel softer for a more broken-in feeling. He likes to wear them with understated trainers or boots, and "they make whatever you're wearing look effortless." The 551s are relaxed in the hips and thighs and come in three inseams, with a rise of about 11.5 inches, a straight leg, and an 8-inch opening when laid flat.
Best skinny jeans for men
Photo: retailer
Waist sizes 27–38 | Inseam sizes 30–34 | Skinny cut, mid-rise | 99% cotton 1% elastane | Washed denim
Alex Simons, a brand and editorial manager at Netflix, was a self-proclaimed "fancy-jeans guy for years." As he explains, "I swore my Marc by Marc Jacobs black jeans forever. Then right before a business trip, they ripped, so I rushed into Levi's and found the 510s and have never looked back." He says they're "comfortable from the moment you put them on, have the perfect amount of pocket space, are skinny but not skintight, and, of course, they're a great price. Oh, and they stack perfectly on top of my high-top sneakers." The 510 is skinny through the thighs and legs with an 11-inch rise and a narrow 6.5-inch leg opening when laid flat.
Best slim-fit black jeans for men
Waist sizes 28–36 | Inseam sizes 30–34 | Slim fit, low rise | 94% organic cotton, 5% polyester, 1% elastane | Black washed denim
"Every guy should have some dressy black jeans," says stylist David Thomas. If you want a black jean you can "dress up," he says it's important to make sure the color is a solid black that isn't faded at all. He loves the Acne Max Stay Black because the fit is "slim but not supertight," and the fabric is designed to resist fading." This particular pair of jeans came up a lot: Garr loves them too, as does Carlos Rivera-Anaya, the head of marketing at Mr Porter. "I own three pairs," he says. "On one, I cut the hem fairly high for a super-slim leg that looks great with a sharp Chelsea boot and leather jacket. On a second, I snipped the hem about two inches lower to wear with white tube socks and Vans Old Skools, and for my work-appropriate look, I left them intact, which gives me a straight and narrow leg with some length around the ankle. Total staple jeans." If you style them the right way, Thomas says, you could even wear them to a formal event.
Best Japanese black selvedge denim jeans for men
Waist sizes 28–36 | Inseam sizes 34-36 | Tapered leg, high rise | 100% cotton | Black raw selvedge denim
Chef Fabián von Hauske (of Contra, Wildair, and Peoples Wine) told us that 3Sixteen's founder "knows I only wear black jeans and put me on to these." Black raw denim is more resistant to fading than indigo raw denim but will still fade to a gray color over time. At the moment, von Hauske says he owns "eight pairs and I run them all down until I can't wear them anymore." Truly wearing them out has been a challenge, though, because he says the jeans "last forever." He also believes that it's worthwhile to invest in a good pair of jeans even though they cost more up front, because they can save you money down the line: "It's so important to buy something durable. You can buy two pairs of these, or six pairs of jeans that aren't going to last nearly as long." They have a high rise and a tapered leg, and a pair with a 30-inch waist will have an 11-inch rise and a leg opening of 7 inches when laid flat.
Our experts
• Tim Melidio, writer at Stay Classic• W. David Marx, author of Ametora
• Chris Black, former Strategist columnist
• Andrew Chen, co-owner of the denim brand 3sixteen and a partner at Self Edge
• Robert Evans, cyclist
• Brandon M. Garr, stylist
• Edgar Gonzelaz, creator of the brand Andafterthat
• Fabián von Hauske, chef at Contra, Wildair, and Peoples Wine
• Jared Johnson, co-creator of footwear brand Season Three
• Jeremy Kirkland, host of men's style podcast Blamo!
• Amy Leverton, author of Denim Dudes: Street Style, Vintage, Workwear, Obsession
• W. David Marx, author of Ametora
• Tim Melidio, writer at Stay Classic
• Carlos Rivera-Anaya, head of marketing at Mr Porter
• Drew Romero, sales associate at Dover Street Market
• Alex Simons, brand and editorial manager at Netflix
• Matthew Spade, menswear writer
• David Thomas, stylist
The Strategist is designed to surface the most useful, expert recommendations for things to buy across the vast e-commerce landscape. Some of our latest conquests include the best acne treatments, rolling luggage, pillows for side sleepers, natural anxiety remedies, and bath towels. We update links when possible, but note that deals can expire and all prices are subject to change.