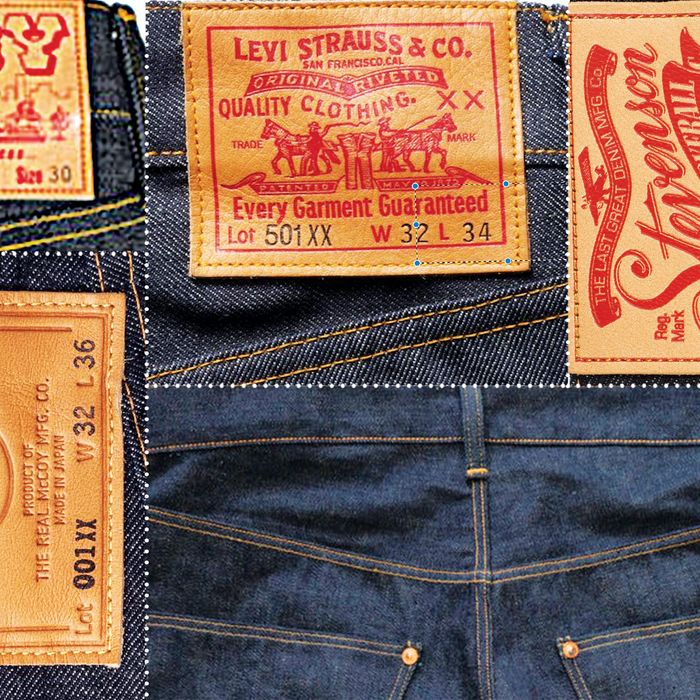 First, the basics. Raw denim, also known as dry denim, refers to jeans that have not been wet, processed, or manipulated in any way before being purchased. People obsess over this because by leaving the fabric in its original untouched state, the wearer determines exactly how the jeans age — from how they fade (most important) to where they might rip or wear over time. As that happens, each pair becomes specific to its owner only, kind of like a fingerprint, and the jeans themselves become like a mirror, the aging fabric a reflection of the wearer's daily life. It's a rare kind of customization.
For almost ten years, A.P.C. was the de facto standard for raw denim. The brand first started releasing raw denim in the '80s and led the movement back to natural, organic jeans, so for a long time when you decided to become a denim-head and fade your own jeans with your own specific marks, you went to A.P.C. and got started. But if you've been there, done that, what's the next move? You've worn through your A.P.C.s, you've been that guy washing your jeans at the beach (they recommend it), and you're ready to dive deeper into the market. We spoke to denim makers, bloggers, and sellers to learn more about the upper levels in raw denim. These jeans are your next steps.
Nudie is a 15-year-old Swedish brand based in Gothenburg that uses all organic cotton and Japanese selvedge denim. Important note: Selvedge is the narrow, tightly woven band that connects the seams on the inside of some jeans. It prevents the denim from unraveling, so selvedge denim, as opposed to regular denim, is known to be of higher quality. A big part of buying raw denim is watching your very own body influence and guide exactly how the indigo sheds, and Nudie jeans are specifically designed for a high-contrast fading. They've added prefaded jeans to their roster, but the dry denim options hold true to those intense fades that peak after about two years of wear. It's also known by the orange stitching on the back pocket, the brand's signature.
When Brooklyn Denim Co. opened eight years ago, "every person in Williamsburg was coming in asking for A.P.C.," says owner Frank Pizzurro. But Brooklyn Denim Co. didn't carry A.P.C., so instead they suggested Tellason as an alternative. "That's what we use as a good starter jean," Pizzurro says. It fits a lot of different people, it holds up really well, and it's not high maintenance. Denim heads will enjoy that it's made of all Cone Denim, the last American denim factory, which actually just closed last December. Pizzurro found that Tellason had a similar fit to A.P.C., but wore better and lasted longer. It's been one of their No. 1–selling brands ever since.
Real denim nerds won't buy 3x1 because it's a bit too close to A.P.C. designer mass production for them, says David Schuck, co-founder of the denim blog Heddels. But it is a rare large operation run with the same ethos of smaller obscure Japanese brands and one-man brands, the height of raw-denim sophistication (we'll get to that later). And it is based in New York City, so it does attract a more fashion-aware crowd. 3x1's flagship shop is also partly a denim manufacturer, and you can watch the denim being cut and sewn through a big glass window as you shop. They carry jeans you can buy right off the shelf, but you can also make an appointment and design custom 3x1s starting at $625.
Naked & Famous was founded in Montreal in 2008 and has since been name-dropped in its fair share of rap songs. The designers here use Japanese selvedge denim in more playful ways than just about any other brand making jeans today. They once designed the world's heaviest jean at 32 ounces (the average pair is 12 ounces); they've made glow-in-the-dark jeans, scratch-and-sniff jeans, and jeans that change color based on body heat, but the vast majority are more tame and very accessible.