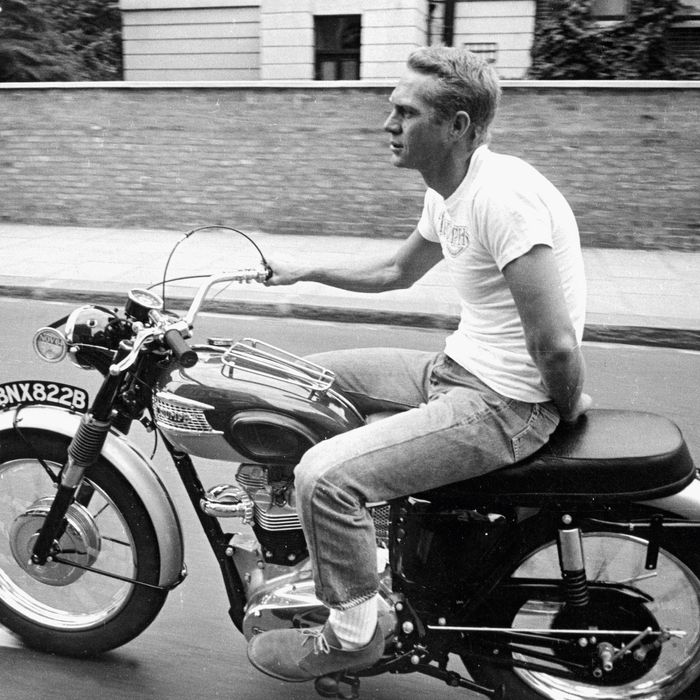 Finding the best wardrobe essentials is like learning your ABCs — once you've got the basics down, you have your foundation for even the most ambitious outfits (or words). Because simple doesn't have to mean boring, we've compiled the best wardrobe essentials for men, from the best socks to hug your feet to the jeans that flatter your specific body type.
Best everyday white T-shirt
A white T-shirt is without a doubt a wardrobe essential. Hanes's "tagless" white T-shirt is one of the most popular options out there because it's simple and affordable enough that guys don't need to feel bad tossing them when they get stained or dirty. Alexander Chee, the author of The Queen of the Night, explains their appeal: "I only buy white T-shirts as undershirts now. I drink too much coffee, usually while walking, so I just kept ruining them immediately," he says.
Best fancy white T-shirt
For a luxe white T-shirt, a few of the stylish men we spoke with recommended Sunspel, a brand that keeps coming up whenever we write about casual menswear (see: its boxer briefs, black T-shirts, and white polo shirt). This shirt is also a favorite of Queer Eye's Antoni Porowski, who calls it "the most perfect white tee."
Best everyday black T-shirt
Matt Schonfeld, creative marketing manager at Rowing Blazers, calls Uniqlo's Supima cotton tee "hands down the best black T-shirt I own." He says it's "light and breathable with a bit of stretch; you can literally wear it with anything." Plus, Schonfeld says these last a long time for their affordable price.
Best fancy black T-shirt
Photo: Courtesy of the retailer
No surprise here, Sunspel's black T-shirt comes highly recommended as well. Michael Friedberg of Dummies says, "It looks good when I wear it on its own or under a sweater, and what really sets it apart is the thinness of the little rib at the neckline. It's also just got a perfectly well-proportioned sleeve and body length.
Best white button-down
A good white oxford shirt is versatile — equally capable of being dressed up with a blazer or dressed down with a pair of jeans. Photographer Mikael Kennedy is a fan of this one from J.Crew. He doesn't like spending too much money on oxfords because, as he puts it, "I wear [them] as often as I wear white T-shirts. The J.Crew slim-fit shirts tend to do the job. They're not disposable, but they need to not be precious either."
Best blue jeans
When we asked 14 stylish men for their jean recommendations, we got picks for pretty much everyone, from slim jeans, to black jeans, to wider-leg jeans, to classics like Levi's 501s. This Everlane pair recommended by Tim Melideo, the writer behind menswear site Stay Classic, combines a lot of things you might look for in a basic jean: a straight leg, a little bit of stretch, and Japanese denim. "My friends swear by Everlane denim," Melideo told us.
Best black jeans
When it comes to black jeans, a lot of guys love the slimmer fit of Levi's 511s. Melideo and stylist Brandon Garr both singled out this cut, and you really can't go wrong with a pair of slim black jeans. Plus, they're well-priced, which Garr says is part of the appeal: "I can be a little bit more daring in them because I don't have to worry as much about the replacement cost if they get a little roughed up."
Best crewneck sweatshirt
A simple crewneck sweatshirt can be very useful for cold-weather layering. Dejon Mullings, product communications manager at Pinterest, likes this model from Alternative Apparel. "I love, of course, that it's made with organic and recycled materials, but it's still extremely affordable," he says. "I can wear this sweatshirt with jeans or chinos, and because it's a little bit on the slimmer side, I'll wear it as a layering piece under jackets all the time."
Best cashmere sweater
We found this surprisingly affordable cashmere sweater while poking around Amazon looking for the best sweaters. One purchaser even left a review writing that they like this sweater so much, they bought one in all 34 colors. (Yes, it's available in 34 colors.)
Best sweatpants
Another gem we found on Amazon: these slim Champion "jogger" sweatpants that make a great dupe for the famous Todd Snyder + Champion line.
Best underwear
According to Ian Taylor, the London-based editor-in-chief of men's style site FashionBeans, Calvin Klein's boxer briefs are still a classic. He does, however, suggest opting for a pair in black or gray. As he explains, "In photo shoots, you often see people wearing white, which looks great when it's well-lit and photographed on a model with a six-pack. But if you've been wearing them for six months, they won't look quite as pristine. Grays and blacks have a bit more of a shelf life." Our roundup of the best boxer briefs for men features 12 other options, including an affordable zebra-print pair from Urban Outfitters and shorter-legged "trunks" from Tommy John.
Best socks
When we asked 14 stylish men to recommend some cool socks, three of them mentioned Uniqlo's simple and affordable cotton-blend model, available in more than 30 different colors. "They're medium height and thickness, so they're versatile for many different outfits and activities," says Phillip Wong, the co-founder and creative director of Hawthorne. "They also come in a wide range of amazing colors, so depending on your outfit, you can have a nice tonal moment."
Best no-show socks
"I live and die by Uniqlo's no-show socks," says publicist Jon Salas. "They're super comfortable, durable, light, and breathable." He tries to wear them as close to year-round as possible, which can be hard in New York City, but he especially likes them in the summer with sneakers because they "show a little ankle" and the sock stays hidden. "And you just can't beat the price," he adds.
Best sneakers
We've written about the Converse 70 high-tops a lot. Chris Black is a fan, saying, "You can never go wrong with a pair of Converse Chuck Taylor '70 high-tops. Coke white, of course — or sunflower if you need a little color." They also topped our 100-teen poll. And they even appeared in our piece on the next status gym sneakers since, as celebrity trainer Jason Wimberly explains, a flat-soled sneaker is actually preferable for weight lifting. "While there is some benefit to cushy running shoes if you're going for distance, when it comes to weight training, it can actually hinder your lift."
Best rain jacket
When we asked a bunch of stylish guys about their favorite raincoats, responses ranged from a very technical (and expensive) GORE-TEX model from Arc'teryx, to a classic yellow slicker, to a more sophisticated trench. But Patagonia's Torrentshell rain jacket was mentioned more than any other style because it works just as well in the city as it does on a hike. As Chris Black puts it, the jacket is a "hard-wearing classic."
Best gym shorts
We heard about these surprisingly well-priced Nike gym shorts from Grub Street editor Alan Sytsma, who says they're "just short enough to avoid being baggy without being so short and extreme that I look like a marathon wannabe." He also really likes the hidden "interior back pocket" that's great for storing keys during a run.
Best swim trunks