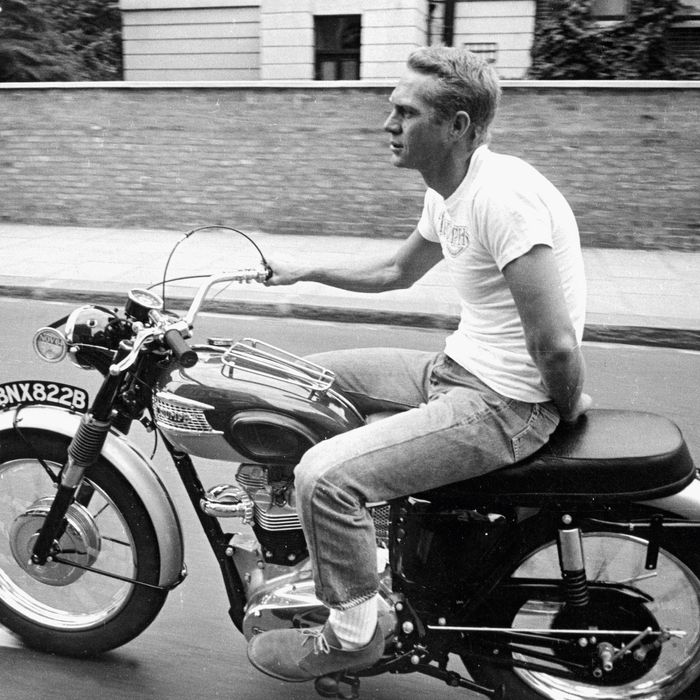 Finding the best wardrobe essentials is like learning your ABCs — once you've got the basics down, you have your foundation for even the most ambitious outfits (or words). Because simple doesn't have to mean boring, we've compiled the best wardrobe essentials for men, from the best socks to hug your feet to the jeans that flatter your specific body type.
Best everyday white T-shirt
A white T-shirt is without a doubt a wardrobe essential. Hanes's "tagless" white T-shirt is one of the most popular options out there because it's simple and affordable enough that guys don't need to feel bad tossing them when they get stained or dirty. Alexander Chee, the author of The Queen of the Night, explains their appeal: "I only buy white T-shirts as undershirts now. I drink too much coffee, usually while walking, so I just kept ruining them immediately," he says.
Best fancy white T-shirt
For a luxe white T-shirt, a few of the stylish men we spoke with recommended Sunspel, a brand that keeps coming up whenever we write about casual menswear (see: its boxer briefs, black T-shirts, and white polo shirt). This shirt is also a favorite of Queer Eye's Antoni Porowski, who calls it "the most perfect white tee."
Best everyday black T-shirt
Matt Schonfeld, creative marketing manager at Rowing Blazers, calls Uniqlo's Supima cotton tee "hands down the best black T-shirt I own." He says it's "light and breathable with a bit of stretch; you can literally wear it with anything." Plus, Schonfeld says these last a long time for their affordable price.
Best fancy black T-shirt
Photo: Courtesy of the retailer
No surprise here, Sunspel's black T-shirt comes highly recommended as well. Michael Friedberg of Dummies says, "It looks good when I wear it on its own or under a sweater, and what really sets it apart is the thinness of the little rib at the neckline. It's also just got a perfectly well-proportioned sleeve and body length.
Best white button-down
A good white oxford shirt is versatile — equally capable of being dressed up with a blazer or dressed down with a pair of jeans. Photographer Mikael Kennedy is a fan of this one from J.Crew. He doesn't like spending too much money on oxfords because, as he puts it, "I wear [them] as often as I wear white T-shirts. The J.Crew slim-fit shirts tend to do the job. They're not disposable, but they need to not be precious either."
Best blue jeans
When we asked 14 stylish men for their jean recommendations, we got picks for pretty much everyone, from slim jeans, to black jeans, to wider-leg jeans, to classics like Levi's 501s. This Everlane pair recommended by Tim Melideo, the writer behind menswear site Stay Classic, combines a lot of things you might look for in a basic jean: a straight leg, a little bit of stretch, and Japanese denim. "My friends swear by Everlane denim," Melideo told us.
Best black jeans