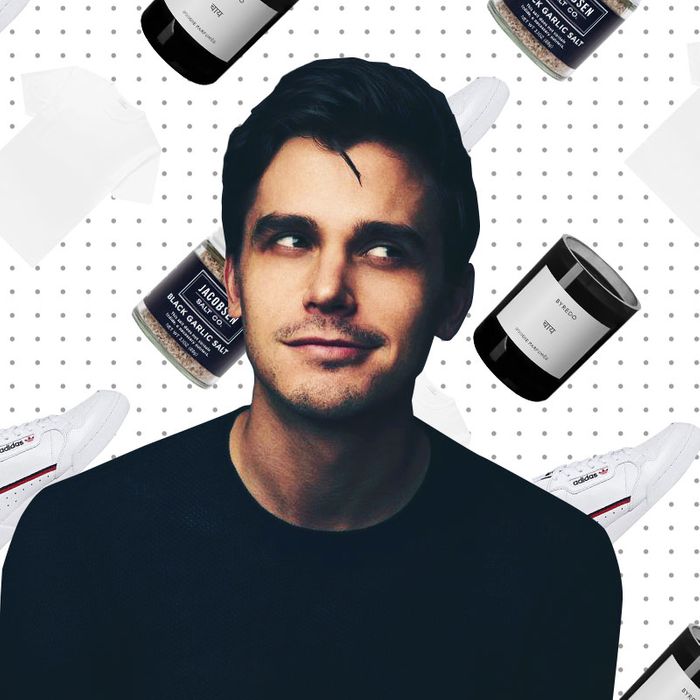 Photo: Courtesy of the subject
If you're like us, you've probably wondered what famous people add to their carts. Not the JAR brooch and Louis XV chair, but the hand sanitizer and the electric toothbrush. We asked Queer Eye's Antoni Porowski — who has a partnership with OLLY — about the white T-shirt, garlic salt, and candle he can't live without.
This basically tastes like slow-roasted garlic. It's kind of sweet and aromatic, but it doesn't have the sharpness of raw garlic. It's like they took that, dried it, crushed it, and added it to salt. It is the most delicious thing ever. Take some arugula, toss it with some really high-quality olive oil, sprinkle a little bit of this salt and pepper, and drizzle a little honey, and you'll have the most amazing salad ever. I season my fish with it, I've used it on steak, on chicken breasts, even on tofu. Even on a nice grainy bread with some really good butter. It's freaking delicious.
I've actually switched favorite shoes; I used to be an Adidas Stan Smith guy. The Stan Smith's are great but they're a lot more structured. I have a really exaggerated Achilles' tendon, so my ankles get really messed up when I have new shoes. But the Continentals are super-soft all around. They look really nice when they're crisp, and then when they get really destroyed, they kind of sink down and look like slippers, which I love. They have a really good lining on the inside, and they're really nice and low. I notice these weird details, like they're easy to slide on and off. I don't know how to tie my shoelaces — I only know how to do bunny ears — so I usually wear them when I go on a flight and they just slide right off. Also, they're not expensive enough where you have to be precious about them and worry that you're going to fuck them up. And there's something really cool and '80s about the little blue and red stripes.
If you look at any previous interviews over the past year and a half, I always say that I don't use hair products because I don't wash my hair. But I've been growing my hair out, and since it's pretty long now, I have to wash it a little more regularly. I used to shampoo once every ten days and now it's every five days. My awesome, awesome groomer, Anna Bernabe, taught me about this product. It's really gritty. It feels like it's sandy or chunky almost, which is really bizarre. But right after I wash my hair I'm basically a chia pet. My hair gets really fluffy and I can't control it. This stuff manages to get it really textured. I do this little technique where I put my hair in a curl and then I kind of like tease it a little bit until it gets texturized and messy.
I love Ben Gorham. He's like the ultimate Renaissance man. He's an ex-NBA player of Scandinavian heritage, he builds and designs furniture and leather goods, and he's also this scent master. I love that there's a personal story to every scent that he develops. I'm very emotional and sentimental with food, and he's like that with scents. Everything is kind of nostalgic to him. Chai is actually one that's more rare, it's not available everywhere. I took it with me on my travels and I started flying with it, and now it's kind of a scent that calms me down. The Chai candle really does smell like that really lovely, creamy, spiced tea. It's the ultimate nighttime scent for me.
I have five perfect white tees, but this is the most perfect white tee. I have tried everything from the highest of the high to the lowest of the low. From Hanes to The Row. I've tried them all. What's so nice about the Sunspel is that the collar is really nice and thin, not too thick. The sleeves are just the right length where you don't have to roll them up, but you can once and it doesn't look too much like a muscle tee. They're not overly long or overly short. The proportions are perfect. I wear Gillette deodorant, and it tends to yellow a lot of my T-shirts, but for some reason the Sunspel ones have not yellowed and I wear them all the time. It's seriously the best, best, best T-shirt. And if you look at the price range of all T-shirts, it kind of lands right in the middle, which I like, because it's not offensively priced, but pricey enough where you feel like a boss when you wear it. When it comes to a classic staple, you should have something that's really durable, and really high quality. And I never put mine in the dryer. Never, ever put them in the dryer. I just let them hang dry. I study this shit. Sorry to talk so much about T-shirts, but I'm very passionate about white T-shirts.
I have the full range of La Prairie but if I could only have one baby I think it would be the luxe face cream. I have oily skin. Which I used to be embarrassed to say, but estheticians have told me that that's actually a good thing. Thanks, mom and dad and stress. The jar is just this beautiful blue glass: It's substantial, it's Swiss (so I just feel like it must be fantastic). I love that it's not scented, it's not too heavy, it's not too oily. Recently I learned that you shouldn't only put night cream on your face but also on your neck, so I've started doing that too. I've been using it for about a year and a half regularly. Full disclosure: All the fancy things in my life basically started about six months after Queer Eye came out. My life was very different before.
I'm very big into aromatherapy. It's this tiny little jar with a metal roller ball. I keep it in my fanny pack when I travel. Basically you rub just a little bit on the palms of your hands, then smack your hands together, put it up to your nose, and slowly breathe in a nice little meditative breath. I usually do that right before I go on camera or right before I go up onstage. I'll do it to myself and I do it to my assistant and I do it to my agent. We all have this nice little ritual. I don't know what's in it exactly, but it just calms me down; it's not perfumy, it's herbaceous but not overwhelming. While products are very important, I also love the story behind the product. I had the privilege of meeting Tata at the Veuve Polo Classic. She came up and we had a chat, and I got along with her incredibly well. Her business is based in Vermont, and it's all women and they're on this farm, and they develop these products together. I have a lot of respect for her.