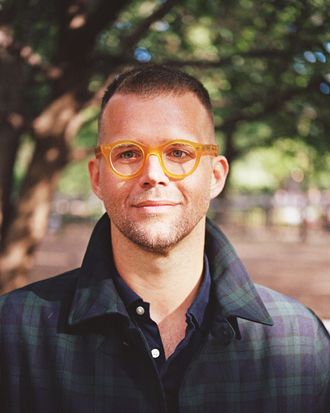 If you're looking for the most powerful hair dryer or the handiest chef's knife, those things can be easy enough to find. Other objects of desire are a little more taste-based. What's the next status water bottle or hand wash, for instance? Chris Black (he's a partner at brand consultancy Public Announcement) is here to help, in the form of a regular column. If you have a burning question about the next fanny pack or Noah rugby shirt, drop us an email with the subject line "Ask Chris" at strategist@nymag.com.
Curious about your thoughts on good duffel or weekender bags. I liked the North Face duffel you included with your recent luggage recommendations, but I am wondering if you have more options, including some less sporty styles?
Taking bae upstate to see the leaves change? I love it. Yes, a Rimowa would be overkill; you need something you can toss in the trunk with ease. If you aren't ready to pony up for the Louis Vuitton Keepall, I can recommend some affordable (and durable) options that will do the job.
The Filson Medium Rugged Twill duffel bag will easily fit everything you need for a weekend of apple-picking or skipping rocks on Long Island, without taking up too much space in a car or on a train. If your weekend plans require plane travel, that's also just as easy since the duffel is designed to fit in carry-on compartments, according to Filson. It comes in a handful of colors beyond the classic tan, including olive green, navy, and a gray called cinder. Plus, it's water-resistant, has solid leather handles, and Filson will even monogram the leather if you buy it from the brand! We love a monogram.
If your weekend away includes grass tennis courts, gin martinis, and skeet shooting, the new Classic Duffel from J.W. Hulme will do the trick. The bag is beautiful, functional (it's carry-on appropriate and comes with a shoulder strap), lined with micro-suede, and has a U-shaped zippered entry to the main compartment for easy access. You can also get it monogrammed for an extra $10. Throw it in the back of your old Land Rover and hit the road. (If you like the look but want to spend $100 less, J.W. Hulme makes a slightly smaller Continental Duffel that has a similar design.)
Maybe your weekend away involves (gulp) tailgating. Lucky for you, the cooler gods at Yeti also make a fully waterproof duffel bag constructed of what they call high-density nylon. If your date spills her White Claw while celebrating an impressive kickoff return, you won't have to worry about your gear getting wet.
I wouldn't be doing my job if I didn't offer at least one extravagantly priced, excellent option. Another nylon duffel, Prada's black Holdall is an investment worth making. It is something you can pass on to the kids; until then, it will fit perfectly on the PJ from Teterboro to Miami.
What are good black shoes for a not-cool person who doesn't like the look of black sneakers? I tried the Dr. Martens shoes you wrote about, but I can't pull off the bulky shoe look.
Hey! I am sure you are cool in your own way :). TBH, I never thought of Dr. Martens as bulky, but I am happy to provide some different options. It is literally my job.