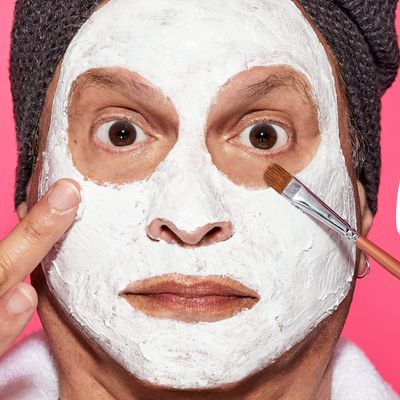 Photo: Photograph by Hannah Whitaker; makeup by Robert Reyes at MAM-NYC
There is nothing more pampering than a pedicure. The feet submerging into that slightly soapy water (never too hot, never too cold), the clipping of the nails with muted snips, the balmy cream running from toe to ankle in gentle swirls, the Oh-my-God-please-may-it-never-end foot massage, the baptismal immersion back into the water. Each step furthers you toward Nirvana — a state I would more consistently reach were it not for those unwieldy dryers that are like toasters for your feet. I don't find manicures as luxuriant, but I do like the dipping of the fingernails into the bowl, since it reminds me of a very fancy restaurant. And the back massages (which I highly recommend).
Of course, the painting of the finger (or toe) nails to fit mood and place and time is as much a reason I get manis and pedis as any of the above. My favorite polishes to use span the color wheel — pink for summer (what I have on now), red for fall, bluish for winter, purple for spring. But we all know that no matter what color you choose, the most exquisite manicures and pedicures are done by trained professionals (even if you've honed your ability to do them at home). So before I get into my favorite shades, I must call out my favorite place to paint my nails — Vanity Projects, which is tucked between odd-lot retailers and metal-shuttered storefronts on a block in New York's Chinatown. (There's also a location in Miami.) In New York, a sorry-ass sign directs you up a creepy set of stairs to the second-floor salon, whose nondescript door looks like it opens into a pill mill. The interior is neither sparkling nor gleaming, but the stylists are true artists, each with their own distinct artistry. The intricacy of their work defies comprehension (and, I should note, can thus come at a high cost); several years ago one stylist did each of my nails in an S&M motif, decorating them with whips, handcuffs, and arm binders. The only thing missing was a mechanism whereby I could press one of the nails and a baseball bat would jump out and beat me.
But back to my favorite polishes. Most of them come from O.P.I and Essie, brands that are pretty much everywhere. If you want to go upscale, I do suggest Tom Ford. Christian Louboutin's polish, with its distinctive bottle rising in the shape of a stiletto heel, would be fine if you are looking to stab someone and forgot your switchblade. Otherwise, stick to the shoes.
O.P.I polishes come in over 200 different shades. Picking the right one is dizzying, but if you can't find something suitable to fit your emotion of the moment, something is seriously wrong. The colors — like this shiny, purpley "Berry Fairy Fun" — really pop, and the brand has a vast array of product lines: neon, summer shade, pride nails, vacation nails, music festival nails, job interview nails, painted nails. But no white-collar-criminal nails to color coordinate with your prison uniform? Just think how fabulous Bernie Madoff would look.
A Little Guilt Under the Kilt (which in my case shouldn't make anyone feel guilty except me), is a shade of crimson bold enough to shock the shit out of my straight white male friends — not a terribly hard thing to do, for the record. OPI claims that its products can last up to three weeks, and it is a boast that holds true. Gels and acrylics can even last longer, but removing them at home requires the willingness to burn your hands off.
Essie has even more shades — over 300. Once again, a little excessive, but I do admire the marketing imagination in coming up with nonsensical names for what are still basic colors. Like this hue I like, which to me looks like pink, but the brand inexplicably calls "Around the Bend."
I also like this light-gray color, which Essie says has a light-blue tint and calls "Press Pause." I suppose the name works for somebody who is simultaneously a fashion climber and insecure — "I won't be caught dead without my 'Press Pause.'"
For a nude-ish color, I go with this light-brown polish called "Cliffhanger." Like with O.P.I, the application of any Essie polish is long lasting.
You have to decide whether the price is worth it, but if it is, Tom Ford's dark colors really are luscious. The "Bordeaux Lust" is a rich and voluptuous dark red, the ultimate in femme fatale. I think it's divine for autumn, and also for digging your nails into someone you really hate.
Ford's "Black Cherry," which is more of a dark brown, is good for when you are feeling serious and confident and think your boss is a complete asshole who talks too much.
The Strategist is designed to surface the most useful, expert recommendations for things to buy across the vast e-commerce landscape. Some of our latest conquests include the best acne treatments, rolling luggage, pillows for side sleepers, natural anxiety remedies, and bath towels. We update links when possible, but note that deals can expire and all prices are subject to change.