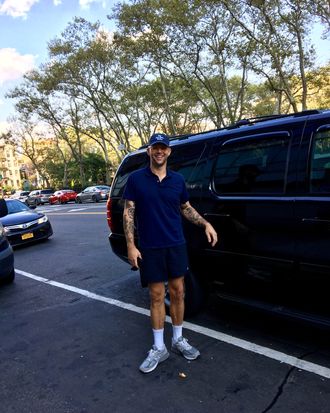 If you're looking for the most powerful hair dryer or the handiest chef's knife, those things can be easy enough to find. Other objects of desire are a little more taste-based. What's the next status water bottle or hand wash, for instance? Chris Black (he's a partner at brand consultancy Public Announcement) is here to help, in the form of a regular column. If you have a burning question about the next fanny pack or Noah rugby shirt, drop us an email with the subject line "Ask Chris" at strategist@nymag.com.
With the temperature cooling, I'm looking to invest in a new throw blanket for my couch. Have any recommendations for a (roughly) $300 budget?
I assume you keep your Hermès cashmere blankets on the PJ? You want something a little more casual for your home — I get it!
Parachute does one in a fluffy windowpane alpaca that is quite appealing. Warm, cozy, and very well-priced.
The rest of my picks are a bit above your price range, but when has this column ever been about sticking to a budget?. This black-and-white lattice-inspired wool throw from Missoni will look great tossed casually on your vintage Ligne Roset microfiber Togo (or any sofa). It's art that keeps you warm. *Chef's kiss*
The double-faced cashmere throw from Barney's in-house brand also really speaks to me. The bright yellow will keep things cheerful in the gloomy winter months. It's the color of the sun!
And I have to include something from Loro Piana. [Future voice]: How could I not?! Nothing is more luxurious than gray cashmere. This will make watching Bill Maher on Friday nights much more comfortable.
You gave some great sock picks to last week's color-curious reader. Wondering if you could suggest a few more stylish fall/winter pairs in more neutral/understated palettes?  
As a known loafer enthusiast, I don't wear socks during the warmer months; I just find that it ~kills~ my look. But with temperatures dropping, it's time to wrap your lower extremities in luxurious fabrics.
A ribbed cotton pair from Charvet in a seasonally appropriate shade of Army green would work well with almost any outfit.