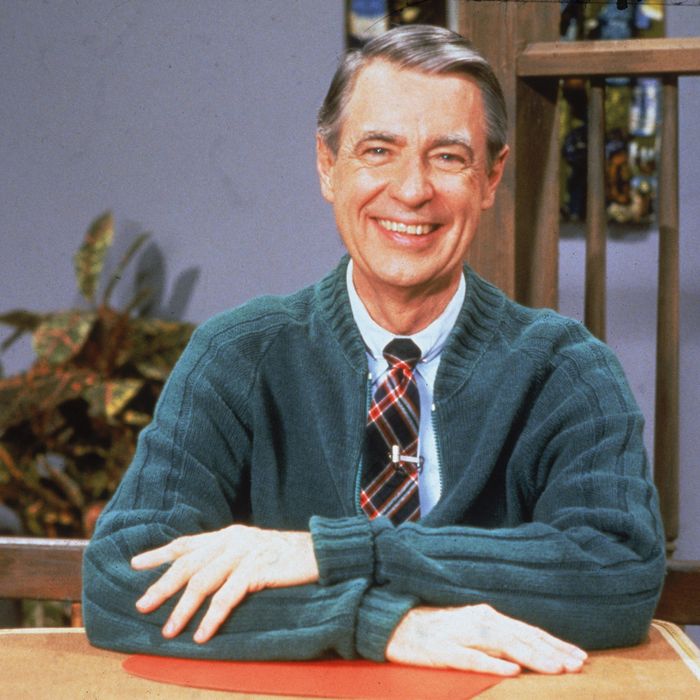 The ultimate man in a sweater.
Photo: Fotos International/Getty Images
Here at the Strategist, we like to think of ourselves as crazy (in the good way) about the stuff we buy, but as much as we'd like to, we can't try everything. Which is why we have People's Choice, in which we find the best-reviewed products and single out the most convincing ones. (You can learn more about our rating system and how we pick each item here.)
And while we've written about lots of sweaters before — including giftable cashmere sweaters, office cardigans, and sweaters for women — here i hwe've rounded up the best sweaters for men, as praised by the most enthusiastic reviewers on Amazon.
Best-rated (and least expensive) sweater for men
Trust the significant others. One woman bought this sweater as a "love gift" for her beau, who loved it, she says. "And your special man will too." Another guy's wife says it "fits perfectly on my husband," hiding problem areas some men have: "The higher neckline on all sides conceals any droopy necklines and makes the guy look very SHARPLY dressed, while still being able to zip it down in front so as not to bother his throat." Not that you have to have a spouse to buy this sweater. One "single old guy," who says he has to "get by without anyone's advice or expertise," bought it for himself. He wanted a sweater that didn't make him "look like Mr. Rogers or somebody's granddad." This sweater did not. "It is warm but lightweight," he says. "It looks classy when I need to be dressed up, and relaxed and comfortable when that is appropriate."
And now for some micro-picks for every type of sweater for men you might be looking for.
Best cotton crewneck sweater for men
Some readers don't want you to know about this sweater. Like the one who said this: "I'm almost hesitant to post how great these are because they keep going out of stock and I'm trying to get them in several colors." He loves the "light, soft cotton," which is light enough for the teacher who says he "sweats while [he] work[s]" but not in this sweater, which he says is breathable and comfortable. According to another review, the "quality is unexpectedly good. The cotton thread is thick and the size fits me very well with my shirt inside."
Best cashmere crewneck sweater for men
Many reviews say this cashmere is much thinner than what you'd typically find at a department store. But that's not necessarily a bad thing. In this sweater, "one will not overheat," says a reviewer who owns four of them. That number seems impressive, until you get to a guy who, after "looking for something like these sweaters for years," bought them in all 34 colors. Not surprisingly, he wears them "constantly." Another man says this "is the most amazing sweater I own: it's very, very soft, breathes very easily, and is very versatile."
Best wool crewneck sweater for men
Customers describe this sweater as "good quality and very affordable," including one who was particularly taken with it. She teaches something called "fiber arts" and seems to know a lot about wool. Proof: "I have worked with Shetland … Wool naturally wicks away moisture, stays clean longer, is naturally fire resistant and will regulate your body temp because it's breathable, but holds in your own heat." She bought one for her husband, who "is not a huge sweater guy," for their trip to Ireland. He might not be a huge gratitude guy, because he initially told her that she'd "wasted money." But then he tried it on and wore it for two days straight, presumably while apologizing. "It elongates his torso and it really makes him look 10 or 15 pounds thinner," she says.
Best heavyweight crewneck sweater for men
"Talk about quality," says one reviewer who bought this sweater for her boyfriend. It "is a thick, luscious material that is so nice and cozy." One man called it his "favorite sweater" because "it kept [him] warm and [he] thought [he] looked really good in it." He's confident that the sweaters "are going to make great additions to my winter wardrobe for years to come."
Best V-neck sweater for men
Reviewers love the size of V, which isn't too deep. According to one, "It fits well, the material feels good, and best of all, the V-neck opening is a good size." Another perk of this sweater is the material. One customer must have pulled out the thesaurus before writing: "It's not soft-soft, but it is soft." He praises its versatility, too: "Looks pretty good over a simple tee for the casual and pretty good over a dress shirt as well."
Best slim-fit V-neck sweater for men
The size and shape of this V were also important to reviewers. But what really convinced them was the fit. "Most sweaters you find in stores are loose fitting and look oversized on me," one man says. "But these were slim fitting and look professional in the office." Another calls this "the best fitting sweater I've ever owned," and he owns "some fairly high end brands." As he explains, "It's definitely more of a fashionable sweater than a warm sweater, more on the thin side material wise, but that's how I prefer my sweaters. It's basically a sweater that fits like a nice T-shirt." In case you don't trust him, another reviewer bought it to impress his wife. "I got an emphatic 'yes yes yes,'" he says.
Best quarter-zip sweater for men