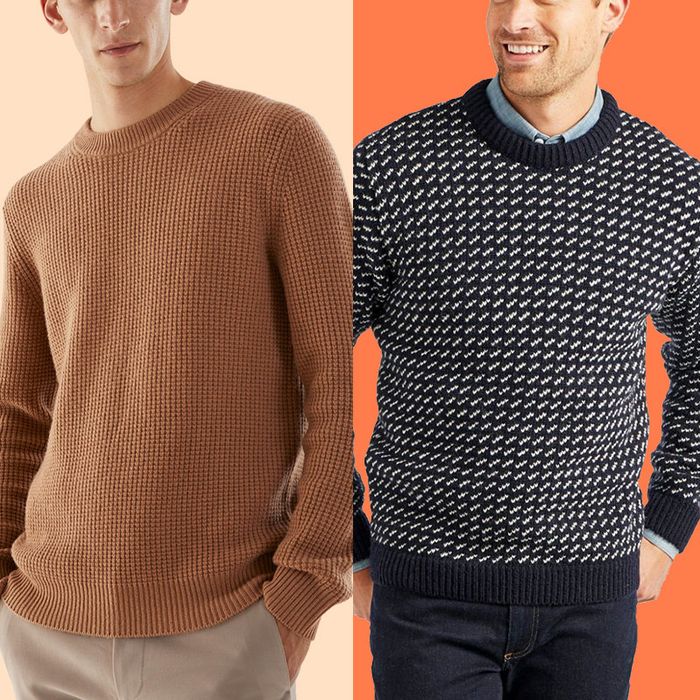 Photo-Illustration: retailers
As any guy who has dressed for cold weather knows, having dependable base layers and jackets (or outerwear that offers even more coverage) often isn't enough to get you through the most frigid months. That's why no winter wardrobe is complete without at least one great sweater that can keep you warm both inside and out (and, ideally, look good on Zoom, too.) To help narrow down the endless options you can buy, we asked 20 discerning men to tell us about the best sweaters they've found — the ones they wear year after year (or plan to) because they hold up but also never go out of style. While we asked them to share sweaters of all styles, the majority of their picks, perhaps not surprisingly, take the form of crewnecks, which are arguably the most versatile style of sweater since they can easily be paired with both T-shirts and button-downs. But we heard about standout cardigans, turtlenecks, V-necks, and zip-ups, too, all at price points that run the gamut. (The more expensive sweaters we heard about were often described as sound investments when you consider how many years of wear they can provide.) Read on for all our cool guys' favorite sweaters, which we've supplemented with a few Strategist-approved options for good measure.
Best men's crewneck sweaters
Uniqlo's affordable sweaters received three nods from our sources, which isn't surprising given how consistently the brand ranks at the top of most every list of men's clothing we put together. Creative producer Yale Breslin explains the appeal of the brand's classic cashmere sweater simply: "The price is right and the fit is perfect." His praise echoes Chris Black's, who wrote earlier this year that he buys two or three Uniqlo cashmere crewnecks every winter. "It's well priced and fits like it should, not too tight but not too baggy," he says of the sweater, which comes in eight colors. (Photographer Christopher Fenimore is our third Uniqlo-sweater wearer, but his preferred sweater is, alas, not currently available.)
J. Press's made-in-Scotland, 100-percent-wool Shaggy Dog sweater has been an Ivy Style staple ever since it hit shelves more than 60 years ago. In fact, its appearances in New York Magazine predate the Strategist's very existence. It didn't surprise us, therefore, to hear it come up as much as Uniqlo's sweaters did. Two guys — Andrew Favorito, who works in marketing for beauty brand Tatcha, and financial analyst Chang Kim — told us they love the trim-fit Shaggy Dog, which is a bit slimmer. "It's the most-worn item in my knitwear rotation — and entire wardrobe," says Favorito, who describes the fit of his (navy) sweater as "trim without being tight," adding that, despite its warmth, it also manages to feel lightweight. Kim loves and wears his (baby-blue) sweater just as much, telling us that Shaggy Dogs are "the only sweaters I own because they are the only sweaters I need." Both say that, while pricey, a Shaggy Dog is worth investing in. "You can wear it in three seasons reliably," Kim explains, with Favorito adding that "I'll have this in my closet for years to come, making the price tag justifiable — if not an outright bargain when it comes to cost-per-wear."
Photo: Masataka Suemitsu
Kim is also a fan of the roomier, classic-fit Shaggy Dog; he says it's more versatile than the trim-fit sweater, which he thinks is "a bit flashier." Kim told us he'll throw on his classic-fit Shaggy Dog for pretty much everything, from "lounging at home to going out to dinner (when that was a thing) to going to the office (when that was a thing)." The classic fit is also the preferred style of Strategist senior editor Anthony Rotunno, who has bought three over the years (in charcoal, light gray, and navy). "The Shaggy Dog," he adds, "also seems to be the preferred sweater of the New York media newsroom, where I've spied both my Strategist colleague Katy Schneider and the Cut's Matthew Schneier wearing them as well."
While you might be familiar with Uniqlo's cashmere offerings, you may be less so with the sweaters from Naadam, a new brand on the block that's quickly becoming a favorite for its own affordable cashmere. The brand made our list of cool-people-approved men's cashmere sweaters and Antonio Nuno, the co-founder of Someone Somewhere, also told me about it when I asked him about the best men's sweaters for this story. He says it's his favorite, telling us "it's super soft and the fit is amazing," two things that make it feel more like "a $200 sweater." Nuno has owned his (navy) sweater for more than a year, adding that it pairs well "with jeans or beige chinos and white sneakers." If navy's not your thing, know that this sweater comes in a total of 14 colors.