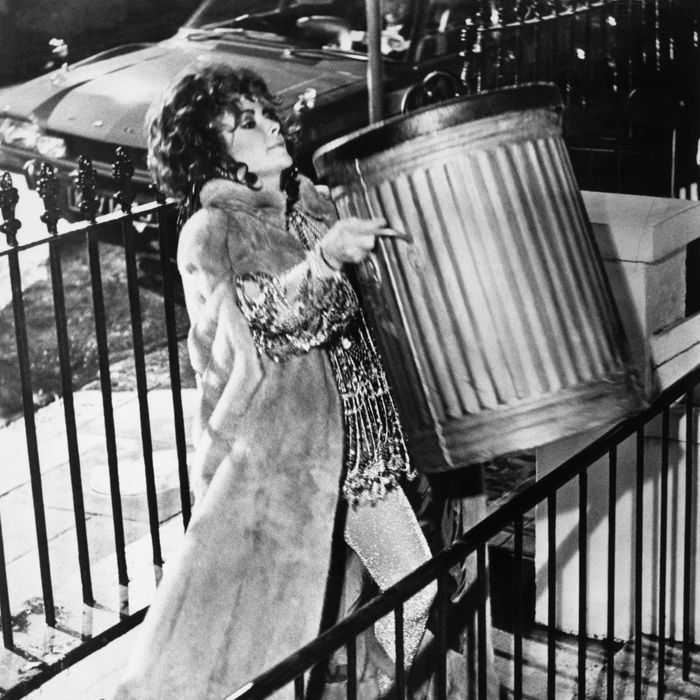 Photo: Bettmann/Bettmann Archive
Here at the Strategist, we like to think of ourselves as crazy (in the good way) about the stuff we buy, but as much as we'd like to, we can't try everything. Which is why we have People's Choice, in which we find the best-reviewed products and single out the most convincing reviews. (You can learn more about our rating system and how we pick each item here.)
While we've written about storage bins, paper-towel holders, attractive trash bins, and the best and most stylish compost bins, here we've gone deep on the best trash cans you can find on Amazon. (Note that reviews have been edited for length and clarity.)
Best-rated trash can
The main appeal of this trash can is that it opens with a wave of the hand. Kids love the "magic lid" and some adults get a kick out of it too," is how one reviewer puts it. In fact, over 50 reviewers talk about how this can is like "magic." "Wave your hand and the lid opens. It made me chuckle the first time. It's a real joy and no more hot garbage smell," writes another, who started their review observing, "You know you're an adult when you're wildly excited over a trash can and so excited you write a review." Hundreds of reviewers testify to the longevity of this unit. "I bought this trash can 8 years ago," boasts one owner. "It still looks great and works great." Many also note that battery life is around a year, even with frequent use.
Best-rated less-expensive trash can
This mod little wastebasket has over 3,000 5-star reviews. Customers appreciate the little design touches that make it this simple-seeming Umbra a breeze to live with: "[H]as a rounded bottom inside which makes it easy to keep clean," notes one reviewer. "The handle cut out makes it easy to empty the can when needed," another writes. Another says it's "a bit heavier on the bottom for stability." Hundreds of reviewers like the dozen color options. "Although it's plastic," writes a reviewer who uses it for junk mail, "its surface has a nice gloss, and the shape can only be described as classy." This is, as one enthusiastic owner says, "Perfect for that skinny spot where other waste baskets won't fit!"
And now some micro-picks for every type of trash can you might be looking for.
Best slim trash can
There are over 7,000 reviews for this slim, foot-operated, dog-proof trash can with a locking lid. "This is the best kitchen garbage can I've ever had," writes a user expressing a common sentiment. "The lid goes up easily with a foot on the pedal, which after over 2 years, still works just fine. It holds a lot. It doesn't need special bags." Fans like that it's compact yet spacious. As one reviewer says, "The mouth of it is fairly wide and square, so larger items are easily disposed (fits gallon milk containers easily)." Lots of reviewers laud how handily it keeps dogs out. I have a Siberian Husky and an Australian Shepherd who are major DUMPSTER DIVERS," says one owner. "I finally searched for a locking trash can and found this one. So far my dogs have knocked it over and scratched at it and we're unsuccessful at getting any garbage out! BEST INVESTMENT EVER." Another reviewer puts a philosophical spin on how they feel about this product, "You know you're getting old when your excited you found the perfect garbage can." They, along with hundreds of other reviewers, deem this Simplehuman trash can "perfect."
Best swing-top trash can
"I love how big it is," says a reviewer who articulates what a lot of owners appreciate about this Umbra trash can, adding, "I love the durable and functional plastic design, I love I didn't spend a stupid amount of money on it." This can's large capacity and refined looks are praised over and over in the reviews. One owner says, "Plenty large for an active kitchen. Well designed to hold plastic garbage bags to prevent slipping. The handsome silver trim is very modern." Another has determined that it's a "Good size for a family of five." The lid works well for people who wanted a lid, but not a foot pedal: "The swinging lid makes it virtually hands free while I've got my hands full and the middle piece keeps the garbage liner from slipping down and making a mess," says an owner. And, as one reviewer who gives it five stars puts it, "Although there's no way I'll ever LOVE a trashcan…this one is a high like."
Best mesh wastebasket
Nearly 80 percent of reviewers give this mesh wastebasket a 5-star rating, and people like the build, the size, and, perhaps most passionately, the simple good looks. "This waste basket is actually quite stunning," says one. "I've had it for a couple of months but I still can't bring myself to put any waste in it because it looks so nice the way it is." Another got it as part of a larger aesthetic overhaul: "This is a great stylish trash can. I was tired of having plastic things everywhere in my apartment, and decided to try to replace as much plastic as possible with metal, glass, and ceramic." A worker writes, "My office has sort of a retro mid-century look to it, and so this wastebasket fits right in." Everyone is really impressed with its quality — one says it is "Wickedly well made for the price and tough as nails. I would order 100 if I needed them."
Best plastic wastebasket
"You'll almost want to generate more trash just to experience the pleasure of throwing it away in these things," writes one user about what reviewers agree is a well-made, basic trash can that can fit in almost anywhere. That same reviewer also observes: "This product is sturdy, and has that familiar, institutional aesthetic of the Official Trash Bin that doesn't seem out of place in any home or office setting." Another owner impressed by its sturdiness says, "I have emptied this trash can three or four times already and even when it is rather full it still doesn't lose its shape." This may not have a lot of features, but user after user talks about how it does what it does well. Another reviewer joins the chorus attesting to its longevity, writing, "I've used some of these for 3 plus years and it still looks the same as when I first purchased it. It's been handled roughly many times and it handles everything like a boss."
Best countertop trash can
People love this little swing-top can to dispose of small trash on kitchen and bathroom counters as well as desktops (In fact, over 100 verified, positive reviews of this Simplehuman caddy contain the word "love.") Users also keep them in their car, on their desks, in their laundry rooms, and in their RVs, but an owner with a lot of allergy-generated tissues writes, "Never thought I could be in love with a trash can, but I am. Doesn't draw attention to itself, yet is beautiful. I hate having a pile of Kleenex on my desk…so this is perfect to keep on my desk without taking up much room." Most users have this in their kitchens: "I'm not sure why, but for my family it seems like the ten extra steps to the kitchen trash can is sometimes just too many. Little wrappers, tea bags, clippings from produce, etc., get left on the counters or in the sink. I picked this trash can up and keep it right next to the hand soap on the sink. It is perfect for intercepting empty sugar packets or bits of opened mail or the ends of carrots even." Someone who keeps it in their bathroom writes, "This is very small, but we usually only deposit Kleenex, q-tips, cotton balls in it so it is working great for us." They add that the lid is a nice touch, and "keeping the trash out of sight and separate makes for a more pleasant morning and evening routine. The lid is perfectly balanced so once an item is deposited, it swings closed quickly and easily." A lot of reviewers point out that dog-waste bags work well as liners.
Best steel trash can