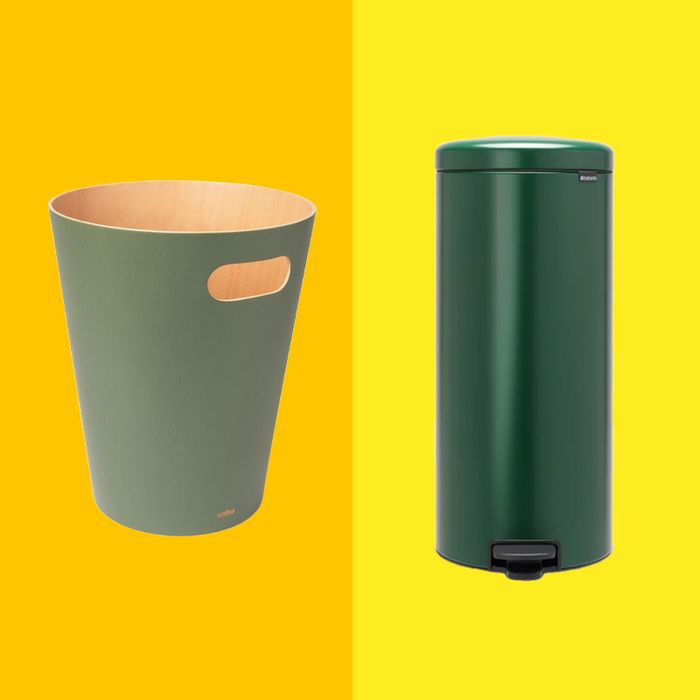 Photo-Illustration: The Strategist; Photos: Retailers
Trash cans are among the most unglamorous of household essentials — it's not often you look at one and think, That's elegant! But I strongly advise against the "just buy whatever" approach. Functionality should be a top priority for a trash can, or the chore of taking out the garbage will become even more of a drag. You also don't want your bin to be an eyesore, even if you aren't shelling out for a gold-topped Fornasetti adorned with Italian architecture. So I asked professional organizers, who have seen the best and worst trash cans in their line of work, about their favorites, and searched our archives for expert-recommended receptacles deserving of a best-in-class ribbon.
Since a trash can takes up floor real estate, mind the measurements (width, length, height) to make sure it's the right fit. The other number to note is the volume of trash it will hold, listed in gallons or liters. Two gallons is typically enough for tossing crumpled papers in an office, but in a kitchen you'll likely want something in the 10- to 20-gallon range (13 gallons is a fairly standard size that you'll often see on trash-bag boxes, like these Febreze-freshened Glads). I've listed the dimensions of width, length, and height, along with the capacity for every trash can in this guide.
Most trash cans are made of plastic or metal. The former are usually cheaper — but because some plastics can take in smells, they are often best reserved for unstinky rubbish. In the "metals" category, durable, dependable stainless steel is the odds-on favorite for its superior odor control, as Elsa Elbert of Composed Living previously explained. The mirrorlike appearance can require more upkeep — I say this as someone who's obsessive about getting smudges — but it's easy to wipe down with a sudsy paper towel.
How a trash can opens and closes — if it has a lid at all — will determine what type it is. This will also dictate how convenient it is to use, how well it keeps trash out of sight, how effective it is at minimizing smells, and whether you'll need a free hand for it to function. Step-pedals are popular for their ease. The "wings" of a butterfly-style lid will save you some vertical space. An open-top style might be tempting for a curious pet. I made sure to list the details of each trash can's openings and closures so you understand what you're getting.
Each recommendation is ranked as $, $$, or $$ for under $50, under $100, and $100 and up.
Best overall trash can
Dimensions and capacity: 9.05 by 9.05 by 11 inches, 2 gallons | Material: Wood | Compartments: One | Type: Open-top, built-in handles | Price: $
The Woodrow gets the gold trophy for being cheap, tasteful, and beloved (with four votes in its favor). Made by Strategist-approved Umbra (which also produces some of our favorite dining chairs and dish racks), it is striking for its simplicity — you could use it in a bedroom, bathroom, or office (and maybe not notice it at all).
Architect Ming Thompson featured it in our sister site's "Curbed Catalogue" series, explaining that her business partner has stocked her home with several because the "utilitarian shape" complements her "white-and-glass '80s modern" aesthetic. "There's just something about the beautifully bent wood," says Britnee Tanner, who runs a home-organization service. Former Curbed editor Jenny Xie gushed about the can back in 2017 (when it had only a few dozen reviews on Amazon; now there are more than 10,000). Though it's small — "roughly the size of a watermelon" — the Woodrow holds those "used tissues or random threads snipped from a shirt or, as is most often the case, stray strands of hair," Xie wrote. Her review inspired Strategist writer Lauren Ro (who's also a former Curbed staffer and colleague of Xie's) to purchase one on her own. "It's as lovely and well made as everyone says, with a soothing color and pleasing shape," Ro says, and it comes in a selection of attractive neutrals including white, black, gray, and green.
Best trash can with a handle
Dimensions and capacity: 9.45 by 7.68 by 12.6 inches, 2.5 gallons | Material: Plastic and wood | Compartments: One | Type: Open-top, built-in handle | Price: $
Japanese housewares label Yamazaki is known for minimalism (see its shoe rack and wall ladder), and the Como is no exception. Its most notable feature is a wide wooden handle on one side that reminds me of a modern sand bucket and will make it easier to empty. Mary Cornetta of Organized Overall, an avowed minimalist herself, keeps hers under the kitchen sink to collect recyclables, including empty paper towel-rolls and finished snack boxes. (The trash can matches the Yamazaki storage caddy she uses to hold her cleaning supplies.) It also has the Strategist seal of approval: Editor Maxine Builder has one in her office.
Best step-pedal trash can
Dimensions and capacity: 15 by 11.54 by 26.7 inches, 8 gallons | Material: Steel with plastic interior bucket | Compartments: One | Type: Soft-close lid, step-pedal | Price: $$
Brabantia's Newicon is another fan favorite, also appearing on our list of the best kitchen trash cans. Because of its columnlike appearance, it creates "a design moment for trash," explains Alessandra Wood, a design historian and former vice-president of style at Modsy. Liz Lipkin, an interior designer, goes "so far as to call this one 'cute.'" Thompson recommends getting two in different hues to separate trash from recycling and make "an otherwise mundane function" slightly more visually appealing. I've tried this one myself, filling it with all sorts of messes, from splashes of tomato sauce to not-quite-cooked rice. But cleanup always goes smoothly and there are no lasting blotches to report. I like that you don't need to put much pressure on the pedal — the lid swings open (and then closes softly) with the littlest encouragement.
Best (less-expensive) step-pedal trash can
Dimensions and capacity: 11.4 by 12.7 by 6.5 inches, 2.5 gallons | Material: Stainless steel | Compartments: One | Type: Quiet-close lid, step-pedal | Price: $
"Does anyone want to see what gets thrown away in the bathroom?" asks Lisa Zaslow, owner of Gotham Organizers, who suggests this bin from fixtures-maker Kohler. Its compact size hits a "Goldilocks sweet spot — large enough that you don't have to empty it constantly, but small enough that you don't let the trash pile up," she says. And the thoughtfully designed hinged lid allows you to put the can right against the wall — as opposed to having somewhat of a gap, Zaslow points out. Ro is another convert; she bought two in 2021 and is still using them. "They're slim and square," as opposed to "your typical round bathroom trash can, which means they fit into narrow spaces better," she wrote in a past Strat Haul. The matte white blends in with her bathroom tile, too. Strategist kitchen and dining writer Emma Wartzman is another fan: She uses the larger 13-gallon version in her kitchen and appreciates that it hides the overhanging trash bag from sight (the 2.5-gallon version also has built-in tabs for the task).
Best butterfly-lid trash can
Dimensions and capacity: 10.4 by 23.3 by 26 inches, 10.6 gallons | Material: Brushed stainless steel with recycled-plastic inner buckets | Compartments: Two | Type: Butterfly lid, step-pedal | Price: $$$
You might recognize this Simplehuman trash can from our previous coverage. Elbert introduced us to it, explaining that when the butterfly-style lid is open, "it only takes up a few inches — versus some cans, when the whole lid pops up, it's almost a foot tall." She applauds the can's slimness for smaller spaces, a detail that content creator Carrie Carrollo also appreciates, because it means the can is not a "roadblock in the kitchen." If you do have a little more space, another more architectural choice from the Simplehuman brand is this rectangular step can, which gives you the option to add a compost caddy for an additional $50. Tanner calls it one of the best she's ever seen.
Best open-top trash can
Dimensions: 7.09 by 7.09 by 12.99 inches, 2.5 gallons | Material: Resin | Compartments: One | Type: Slanted, interlocking opening | Price: $$
Another one of Zaslow's recommendations is the Veil from Yamazaki. It's made of tough resin and is well-suited for workspaces, offering a sturdier alternative to mesh and rattan styles that are mostly meant for paper and don't account for the "not-quite-empty coffee cups, sandwich remnants, and messy candy wrappers" that are tossed in instead. Plus, small items like staples and paper clips won't escape through the Veil, Zaslow assures. (It's a common problem with mesh styles.) The slanted top also "guides your trash into the bin" and hides the bag too, she adds.
Best (less-expensive) open-top trash can
Dimensions and capacity: 11 by 11 inches, 3 gallons | Material: Plastic | Compartments: One | Type: Open top | Price: $
The Fniss has the distinction of being the cheapest trash can on this list, coming in at $2. Though it's constructed from plastic, Elbert likes that it doesn't scream, "Look at me! I'm a hideous trash bin." It's even a little sculptural, with horizontal ridges molded into the plastic. It's "functional, affordable, and simple," she says. "What more do you need?" Ikea also has the $9 Hållbar with a hidden handle (from our small-apartment solutions guide). Or consider the $20 Sortera, which can even double as a storage bin, as I learned from Tanner, who uses hers to hold items she is saving for donation.
Best swing-top trash can
Dimensions and capacity: 7.99 by 7.99 by 10 inches, 1.88 gallons | Material: Steel | Compartments: One | Type: Swing-top | Price: $
Swing-top trash cans tend to be ugly and more associated with commercial use. But this one from Target's in-house Threshold line is discreet — it almost could be mistaken for an objet. Tanner calls out its clean, streamlined look as well as its sturdiness: The weighty metal prevents it from tipping and spilling if bumped.
Best trash can with a recycling bin
Dimensions and capacity: 10.6 by 10.6 by 23 inches, 16 gallons | Material: Stainless steel with plastic interior buckets | Compartments: Two |Type: Soft-close lid, step-pedal | Price: $$$
The genius of this trash can is in its two step-pedals — one for each compartment — "so if there is a big mess, you won't have to worry about it falling into the other side," says Naeemah Ford Goldson, owner of Restore Order Professional Organizing. To get her two sons in the habit of recycling, she color-codes the two compartments with different garbage bags, and she notes that the fingerprint-resistant finish is much appreciated, as the boys "touch absolutely everything." And once it's time to actually take out the trash, there are handles to hold onto on top of the sides.
An honorable mention goes to the less-expensive NYIS Step-On Multi-Compartments Trash & Recycling Bin, which is currently out of stock ( but you could sign up to be notified once it's back). Natalie Schrier, founder of Cut the Clutter, calls it a "space-saving trash and recycling solution" for its stacked design, with a bottom basket that pulls out to store recyclables.
Best pull-out trash can
Dimensions and capacity: 9.8 by 17.7 by 19.1 inches, 9.2 gallons, | Material: Steel frame, plastic bins | Compartments: Two | Type: Pull-out | Price: $
This sliding Simplehuman also earned a spot in our kitchen trash cans piece — with Elbert and Zaslow recommending it again for this guide. Elbert reiterates how easy the duo of cans is to install, requiring only four screws to mount it inside a cabinet. Zaslow emphasizes the quality of the bins themselves, which "glide out fully," making them easy to access. Beth Penn, founder of Bneato Organizing, likes the unlidded design for that reason, since its in-cabinet setup means trash is still tucked out of sight. (A number of her clients also champion this related model, which hangs on the inside of a cabinet door.)
Some more trash cans we've written about
• Maxine Builder, Strategist editor
• Carrie Carrollo, content creator
• Mary Cornetta, professional organizer who runs the blog Organized Overall
• Elsa Elbert, founder of Composed Living
• Naeemah Ford Goldson, owner of Restore Order Professional Organizing
• Liz Lipkin, interior designer
• Beth Penn, founder of Bneato Organizing
• Lauren Ro, Strategist writer
• Natalie Schrier, founder of Cut the Clutter
• Britnee Tanner, professional organizer
• Ming Thompson, architect
• Jenny Xie, former Curbed editor
• Emma Wartzman, Strategist kitchen and dining writer
• Alessandra Wood, a design historian and former vice-president of style at Modsy
• Lisa Zaslow, owner of Gotham Organizers
The Strategist is designed to surface the most useful, expert recommendations for things to buy across the vast e-commerce landscape. Some of our latest conquests include the best comforters, bath towels, bed sheets (twice), pillows for side sleepers, weird kneeling chairs, and sleep accessories. We update links when possible, but note that deals can expire and all prices are subject to change.
Every editorial product is independently selected. If you buy something through our links, New York may earn an affiliate commission.