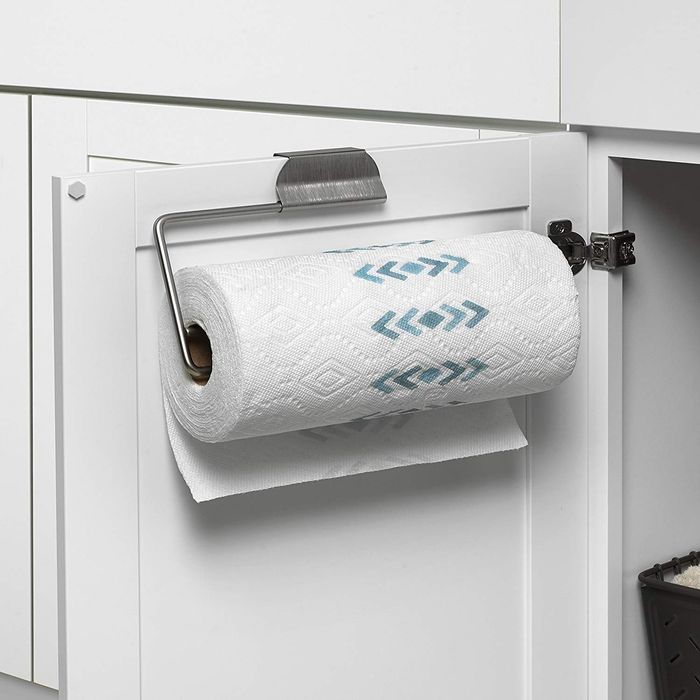 Here at the Strategist, we like to think of ourselves as crazy (in the good way) about the stuff we buy, but as much as we'd like to, we can't try everything. Which is why we have People's Choice, in which we find the best-reviewed products and single out the most convincing ones. (You can learn more about our rating system and how we pick each item here.)
And while we've written a lot about household essentials — including the best dish brush, small kitchen ideas, and even the best natural cleaning products — here we've rounded up the best paper-towel holders, as praised by the most enthusiastic reviewers on Amazon.
Best-rated paper-towel holder
Reviewers liked this paper-towel holder so much that a lot of them bought two or three for different rooms or different buildings. But even the folks who only purchased one said that they were satisfied with its sturdiness, visual appeal, and space-saving capabilities. One repeat buyer, who called it the "nicest paper-towel holder I've seen so far," said "I bought it as a sensible but stylish product for my husband's new cedar shed work shop, I needed something where he could grab a towel one handed and that would be compact and strong. This holder is not only all that, but exceptionally stylish, so much so I ordered two more, one for my laundry and one for the kitchen." Another person who was pleased with her purchase said "I like my kitchen clean and uncluttered looking. This paper towel holder is not at all fussy, it's a simple minimalist-looking device that does the job well." And in a review entitled "Everyone should have this paper towel holder" a mom of three wrote "This thing is awesome and easy to use. It's amazingly easy to pull and tear off only the amount of paper you want — with only one hand! With three children under 4, I rarely have more than one hand to do anything, so this is a godsend."
Best-rated (less expensive) paper-towel holder
A surprisingly large number of reviewers said they bought this specifically for use in their camper vans or trailers because of the limited kitchen space. One such reviewer said "I was actually looking for a solution to a paper towel dispenser for my Travel Trailer. I didn't want to drill holes in anything. This has been the perfect fix! Because it hangs on the inside of the cabinet, when we get to camp, the paper towel is still in place instead of falling off and rolling all over the floor." Other commonalities included people who wanted a hanging paper-towel holder but didn't want to drill into their walls or cabinets because they rent, or because the cabinets are too thin. Plus, tons of reviewers said they liked this better for its low price. One very satisfied customer said, "This does exactly what you need it to. It's a very reasonable price, and I definitely prefer keeping towels hidden in a cabinet vs. up on the counter." A husband who rents wrote "My wife and I appreciate tidy countertops so I considered a tuck-away type of towel holder. We're renting, and I did not want to attach one to the underside of a cabinet or inside of the door so this was the perfect solution." And this happy customer said "Wish I had seen this years ago instead of putting holes in my wall and taking up space. I love this — especially for the price."
And now for some micro-picks of every type of paper-towel holder you might be looking for.
Best countertop paper-towel holder
Common phrases used to describe the OXO Good Grips holder included "well-made", "looks nice", and "easy to use." One reviewer who replaced her older holder with this said, "Purchased this to replace one that had a suction cup base. I like how the roll of towels just slides on in comparison to my old one where I had to remove the top. The brushed metal finish looks good and adds to its sleek and modern design. But best part is the weight. I am able to remove a towel with one hand and get a clean tear every time without the holder moving." And a satisfied customer who uses it on her kitchen island described it as, "Perfect in every way. I have a kitchen island so I need this style of holder. It has good weight, balance and grip on the counter. Very easy to pull and tear off with one hand as many or few towels as you want." A lot of reviewers like that the brushed texture looks modern, like this person who said, "The brushed stainless steel doesn't smudge with fingerprints and the arm offers just the right amount of tension to make it easy to tear off a paper-towel sheet by sheet, or even two at a time. It is sturdy enough to not tip over even with a one-handed quick tear in an emergency." And this happy buyer said, "Grippy rubber o-ring on bottom keeps it from slipping on granite countertop."
Best wall-mounted paper-towel holder
When it came to this SimpleHuman paper-towel holder, people kept using the word "easy": "Easy to install," "easy to change paper towels," and "easy to use." A reviewer who had spent a lot of time searching for the perfect paper-towel holder said "I looked and looked and even purchased a couple of others before settling on this particular towel holder. I mounted it underneath a cabinet next to my sink and I love it. It frees up counter space, keeps the towel roll out of my way but exactly where I need it and makes it fairly invisible which is what I like." Another reviewer said, "I was so tired of having a paper towel holder on the counter that was constantly being knocked over from the opening of our kitchen cabinets. We already have the [SimpleHuman] trash can in stainless steel so I ordered this holder to match it. I love how it looks and it was very easy to mount." And a couple who have been married a long time said, "After 45 years of marriage, and having used many different paper-towel holders over the years, this one is by far the best one we have ever owned or used. Even though it is a little pricey, my husband wants to buy a second one for our cottage. Life is too short to be aggravated by a poorly designed paper-towel holder. I recommend it for everyone."
Best under-cabinet paper-towel holder
"I know it's only a paper towel holder but I absolutely love this," said one excited reviewer who specifically liked that the Prodyne M-913 doesn't hang down too low. "We wanted to get our paper towel off the kitchen counter to save space, but thought it might hang down too low and be annoying under a cabinet. This holder is working perfectly for us and is so low-profile that I don't even really notice it." Lots of other reviewers shared his appreciation for this paper-towel holder's low profile. One such reviewer said "Looks great! It's very small and simple, so you barely see it. Couldn't beat the quality for the price." And another very satisfied customer who liked that it's durable and lightweight had this to say: "This is my favorite paper towel holder. I have purchased it for each home I've lived in and put it right into the cabinet door under my sink. The screws are not long and did not protrude through the face of the cabinet door. I don't like things on my counter tops, so any space I can utilize inside a cabinet door, I will."
Best stainless steel paper-towel holder
Of the close to 700 positive reviewers, a large percentage mentioned buying this stainless steel paper-towel holder to match the rest of their kitchen appliances, and many said that they loved being able to tear off a single sheet with just one hand. One reviewer with a newly designed kitchen said, "Since I recently remodeled my kitchen with all stainless steel appliances and brushed nickel accessories (drawer handles, switch plates, etc.), I wanted to replace my wooden paper towel holder. This one fit right in." Another happy reviewer mentioned how easy it is to add or remove a new roll. "Besides how nice it looks on my counter, you can just slide a roll of paper towels on without unscrewing anything, and also it will accept a smaller roll or even a big mega roll." And this reviewer spoke to how sturdy this holder is in comparison to her previous model: "I can't believe I waited so long to get this! I had been using a cute little, light-weight black metal one that had little 'ball' feet — it was worse than awful and I was frustrated every single time I tried to use it, and always had to use two hands. This one is perfect, it looks good and I only have to use one hand to pull off a paper towel."
Best hanging paper-towel holder
Reviewers called this paper-towel holder "good quality" and said that it was "easy to install" as well as surprisingly sturdy, considering it simply sticks onto the cabinet. One reviewer liked that they didn't have to do any drilling: "So happy I found this so that I didn't have to drill into my cabinets! It's been up for months and I have no complaints. The paper towel roll never comes off." And this reviewer called it the "perfect solution for us," explaining, "Our kitchen cupboards are too thin to drill and hold a conventional towel holder. Plus we can take it with us when we move." Another satisfied customer said, "I had been looking for something exactly like this so I can install under my cabinets without drilling, as I'm renting right now. Easy to install and hangs secure."
The Strategist is designed to surface the most useful, expert recommendations for things to buy across the vast e-commerce landscape. Some of our latest conquests include the best comforters, bath towels, bed sheets (twice), pillows for side sleepers, weird kneeling chair, and sleep accessories. We update links when possible, but note that deals can expire and all prices are subject to change.
Every editorial product is independently selected. If you buy something through our links, New York may earn an affiliate commission.