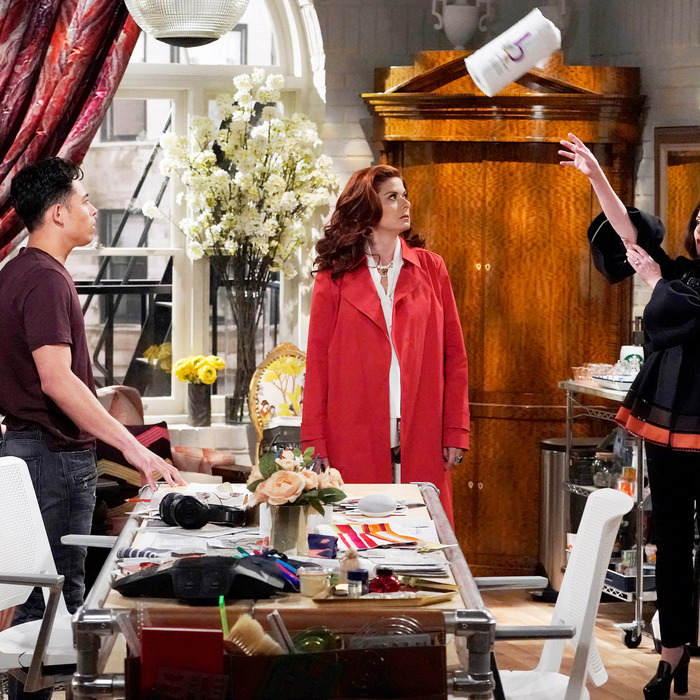 Photo: Getty Images / NBC
Here at the Strategist, we like to think of ourselves as crazy (in the good way) about the stuff we buy, but as much as we'd like to, we can't try everything. Which is why we have People's Choice, in which we find the best-reviewed products and single out the most convincing ones. (You can learn more about our rating system and how we pick each item here.)
And while we've written about lots of cleaning supplies before — including Swedish dishcloths for ecofriendly cleaning, natural cleaning products, and vacuums — here, we've rounded up the best paper towels as praised by the most enthusiastic reviewers on Amazon. Because most of these paper towels come in bulk, we based our best-rated (and less expensive) pick on the amount you're spending per roll. Although it may not be the cheapest overall, you're getting the most bang for your buck.
Best-rated paper towels
Nearly 700 five-star reviewers compare these Presto paper towels to those from Bounty, saying that if you want a less-expensive option, these are practically the same in texture and absorbency. One customer was "a loyal Bounty customer for a long time" but decided to change it up when she spotted this Amazon brand because these are much less expensive. Compared to Bounty, "there is a subtle difference," because these are "a little less soft," but "otherwise the quality and absorbency is the same." And she's not the only one who describes herself as previously "loyal" to Bounty. One more "loyal" customer bought these because they were less expensive, and she also thinks they're "very similar in texture and absorbency to Bounty towels," but they're a better value. "With three kiddos, three cats, and a puppy, paper towels are a necessity in my world, and I can't stand the cheap (ineffective) ones." And if you're still not convinced that these are just as good as the name-brand paper towels, one customer claims, "If I didn't see the label, I would think they were Bounty."
Best-rated (less expensive) paper towels
While most of the paper towels mentioned here come in large quantities, reviewers point out that this is truly a bulk order. You get 24 rolls in one box, which comes out to a little over a dollar for one roll so per roll, these are the cheapest of all the picks on Amazon. And there are plenty of customers who appreciate getting paper towels in bulk, like one customer who has six kids all under the age of 10. "Motherhood is messy. These bulk shipments make life simpler and cleaner for me," she writes. Plus, other reviewers say they work very well. "I just do not understand people that pay for a NAME and buy paper towels that are so much more costly than Sparkle," says one more reviewer. She thinks they're "just as absorbent, just as good (if not better), and cost way less" than the name brands. If you don't believe her, she challenges you to try them out "to see if it's worth all that extra money to keep buying the expensive ones. Just give them a try and watch the magic happen."
Best paper towels for small spills
These paper towels are often used by customers who don't use a ton of paper towels regularly, except for small spills and cleanups. "For a basic paper towel, this does the job," says one customer. She wasn't "looking for anything super absorbent" because she only uses them for small tasks, like spilled milk on the counter. She wouldn't necessarily say they're as "absorbent as a brand name, but it does the job well." And though Solimo is also an Amazon brand, their paper towels are a bit less absorbent than the Presto brand, according to reviewers, but one thinks they're "perfect" for her family of four. "We don't usually need more than one during meals, and for small cleanups I will sometimes use two," she adds. Big spills are left for her "bar mop towels." But she does use these for "cleaning mirrors, windows, or any other surface that has dust," because they're on the thin side and don't streak. Another ponders why you need a fancy brand name paper towel just to dry your hands. These Solimo paper towels come out to a little over a dollar per roll and get the job done. "These are perfect for what I need them for," she adds. And overall, for the price, she's "actually impressed with the softness and absorbency."
Most absorbent paper towels
There's lots of reviewers who believe Bounty is worth the extra money because they're "absorbent," a word used by nearly 150 reviewers to describe these rolls. "Other brands just do not compare," says one customer who buys Bounty "exclusively" because they're "absorbent and strong." She even thinks the "small sections" the paper towels are divided into make them last longer too. "Nine times out of ten, you only need the smaller section," she writes, adding that she definitely uses "less paper towels overall" because of that. Another customer actually had never used Bounty before, but after trying them out, she understands the hype. "I LOVE how big they are," she writes. "They are absorbent and strong, which is great when you have a creative eight-year-old who always wants to craft and paint." She too likes the quick-sizes, because, "Every mess doesn't require a large paper towel," she says. Despite other reviewers commenting how expensive Bounty is, she actually thinks these are "a good bang for your buck."
Best clothlike paper towels
Over 10 percent of reviewers describe these Viva paper towels as "clothlike." They're woven much tighter without the rigged texture many other paper towels have on the outside for scrubbing, giving them that "cloth" appearance and function. One oil painter calls them "the gold standard for wiping brushes and whatever else you need a towel for while painting." And while she just bought them for her brushes and "didn't count of loving these paper towels for every other paper towel duty," she actually ended up using them all around the house. "They're incredibly hardy and perform much like a thin cloth towel. I can rinse and reuse to clean all the kitchen counters, plus, clean the stainless steel gas cooktop." They're so sturdy, the artist was able to scrub "the filthy barbecue with bleach cleanser, rinsed it out, and scrubbed some more. These towels are tough yet soft, sturdy and disposable." Another even thinks these paper towels are "sent from above," they're that good. "They do not rip, tear, or fall apart easily like cheap-o paper towels." The main caveat for some reviewers is how expensive they are, but one customer thinks they "are the best paper towels you can buy," so they're worth it, especially "because you will use a lot less of them."
Best recycled paper towels
These Seventh Generation paper towels are "not different from Bounty, except 100 percent recycled," as one customer explains. Another reviewer describes them as "solid, clean, absorbent paper towels." While she notes there are "probably softer ones and there are certainly cheaper ones" out there, she's "not trying to make a pillow out of them" and ultimate she cares "more about the world [she's] leaving for the next generation than [she does] about a buck fifty." And these do work very well. One customer was fed up with other brands that "get wet and fall apart" because in the grand scheme of things, "It's not a bargain if you have to use more sheets for the same thing." She thinks the quality of these is "unmatched." And one more customer just thinks everyone needs to be conscious of how much waste they're producing. She always wants to "make responsible choices as the world otherwise circles the drain when it comes to all the unsustainable choices we as the human race made," and these recycled paper towels honestly are "the least we can do" for the environment.
Best unbleached paper towels