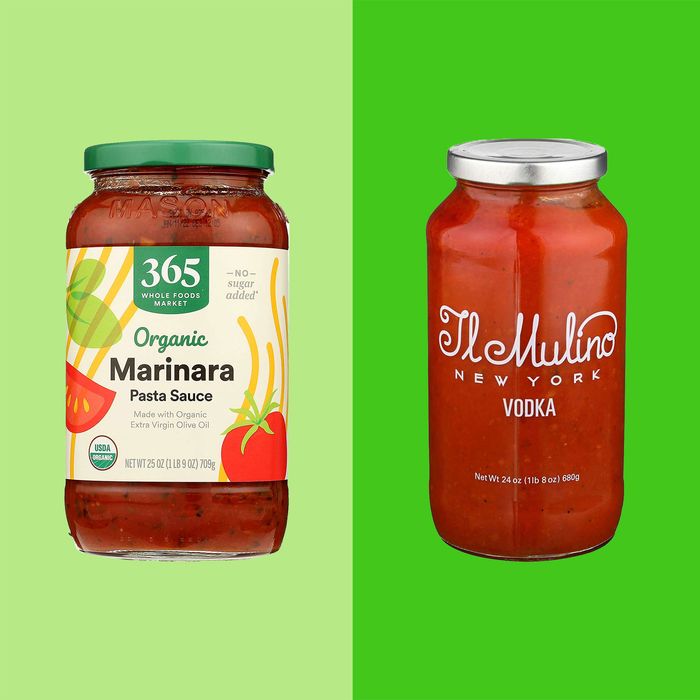 Photo-Illustration: The Strategist; Photos: Retailers
Any pasta lover will tell you that the best tomato sauce is homemade — preferably by a grandma. My own grandmother Myrtle Corsillo made some of the best tomato sauce I have ever tasted. It featured giant meatballs, lots of Parmesan cheese, and no onions, and she made it (with help from my aunts and cousins) in huge quantities so there were always leftovers to pass around after family gatherings. I have tried to copy it, with some success, but it takes all day to make correctly. For the times when I can't wait that long, a tasty dupe in a jar is the next best thing. But which jarred tomato sauces are the best? To find out, we asked five chefs and a food editor to tell us about the actually delicious and surprisingly inexpensive jarred tomato sauces they stock up on for quick meals in their own homes.
Best jarred tomato sauce
Rao's marinara was by far the most recommended tomato sauce, with four of our six experts calling it their go-to sauce in a jar. The brand is also a favorite of Strategist junior writer Leah Muncy, who buys its sensitive marinara because it doesn't mess with her IBS. "Rao's is so much better than everything else," says Maile Carpenter, Food Network Magazine's editor-in-chief, who sometimes uses it to stretch her homemade sauce. "It just tastes so good. I put in everything." At the start of lockdown, when other people were stocking up on canned beans, she "freaked out" and bought 30 jars of Rao's. "Costco sells a set of two jars for cheaper than I can get a single small jar in the city. So I really went nuts, and you know what? We went through it all," she says.
Chef Nyesha Arrington, who was recently featured on HBO Max's Selena + Chef, Erin Shambura, chef and owner of Fausto in Brooklyn, and chef Keesha O'Galdez are also fans. Shambura and Arrington say they like Rao's marinara for its balance of flavors, and O'Galdez likes that it's made without any added sugars or preservatives. "It definitely has an authentic taste and the sweet, delicate flavor comes solely from the tomatoes. I can eat it straight out of the jar," she says. According to Shambura, "The marinara is wonderful on its own, but sometimes, when I have some extra ingredients in the refrigerator, I like to elevate the flavors." She says this could be as simple as sautéing thinly sliced garlic or adding a dash of Calabrian chili.
Best (less expensive) jarred tomato sauce
If you're on a budget and looking for an organic option, O'Galdez and Arrington suggest trying Whole Foods 365 marinara. It's made with all-organic ingredients, including 100-percent-organic extra-virgin olive oil, and there is no added sugar. Arrington says it's what she chooses as a base for more elaborate dishes. "Whole Foods is the closest grocery store to my apartment, and on more than one occasion, I have bought their jarred tomato sauce to use as a base for red sauce dishes. I highly recommend adding a touch of garlic and basil," she says.
Best jarred vodka sauces


In addition to the four mentions of Rao's marinara sauce, the brand's vodka sauce also got a shout-out. It's the option Shambura recommends if you have time only to open a jar and pour. "When I make pasta at home, in a pinch, this sauce provides warmth of flavor and all the tastes I love," she says. "It's thick enough that it grabs onto the pasta perfectly, creamy, and flavorful" — everything she thinks a vodka sauce should be.