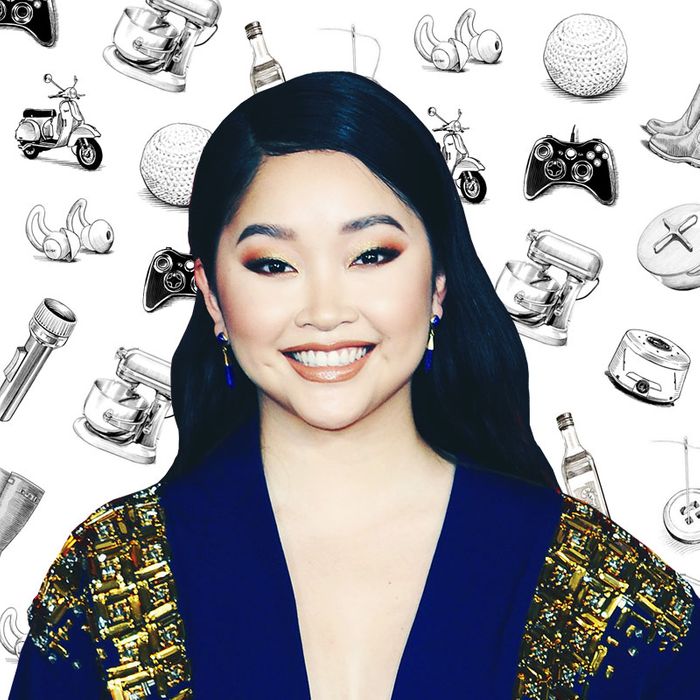 Illustration: Joe McKendry, Photo: Albert L. Ortega/Getty Images
If you're like us, you've probably wondered what famous people add to their carts. Not the JAR brooch and Louis XV chair but the hair spray and the electric toothbrush. We asked actress Lana Condor — who has partnered with Aerie as an #AerieReal Role Model — about the tea, marinara sauce, and face mask she can't live without.
I'm a clumsy person, so these keep me from dropping my cell phone all the time. Phones are so expensive these days, and it's very easy to break them. Having one of these saves me from the heartbreak of a shattered screen because I can hold on to my phone much easier. I got one right when they started becoming popular. I love them, like everyone my age probably does.
I prefer tea to coffee because coffee gives me the jitters, but I can drink tea throughout the day without feeling jittery. I think there's also health benefits to it — at least that's what people have told me. I'm a green-tea person, specifically, and for regular green tea, I like the Yogi brand. The bags have these really lovely inspirational quotes on them, which is always such a nice way to start your day.
I drink so much of this seltzer, probably five cans throughout the day. Not long ago, I was like, Is this healthy? I drink so much. There's no way this can be healthy. But then I looked it up, and I found out it's just as hydrating as regular water, which is great because I prefer sparkling water to regular water. There's just something about it that is so good. I like the lime flavor the best.
Gosh, I am stocked with maybe ten bottles of Rao's sauce at all times because I'm truly so addicted. I like to just eat it from the jar with a spoon — it's that good. But I put marinara sauce on everything. I like to put it on my bagels, which people think is a little odd. People put tomatoes on bagels, though, so putting tomato sauce on one is not that weird to me. Typically, if I make pizza, I'll make my own sauce from San Marzano tomatoes. But for most other Italian food, I'll use this sauce.
I don't draw — I use this to take notes on scripts and whatnot. I do everything on my iPad. Having an Apple Pencil makes my note-taking and annotating so much easier. And it looks cleaner: I have horrible handwriting that makes it look like I didn't graduate from kindergarten, but somehow this makes it look much neater. I got it about four years ago, and I use it every single day.
When I was in the sixth grade, my mom told me that it's never too early to start using eye cream, so I definitely think it's important to start anti-aging treatments as soon as possible. The sooner the better, if you ask me. I use this in the morning because I think it helps kind of wake up my skin. Sometimes I have such early mornings, so it kind of shocks me awake — that's what I love about it. I found it through a facialist who used it on me during a facial. I loved the results.
I keep it simple with my skin care — I have maybe three things that I always use because I don't have time for a 12-step routine. That's just a lot. This sleeping mask is a staple. It helps plump and hydrate and makes me less flaky if my skin is on the drie