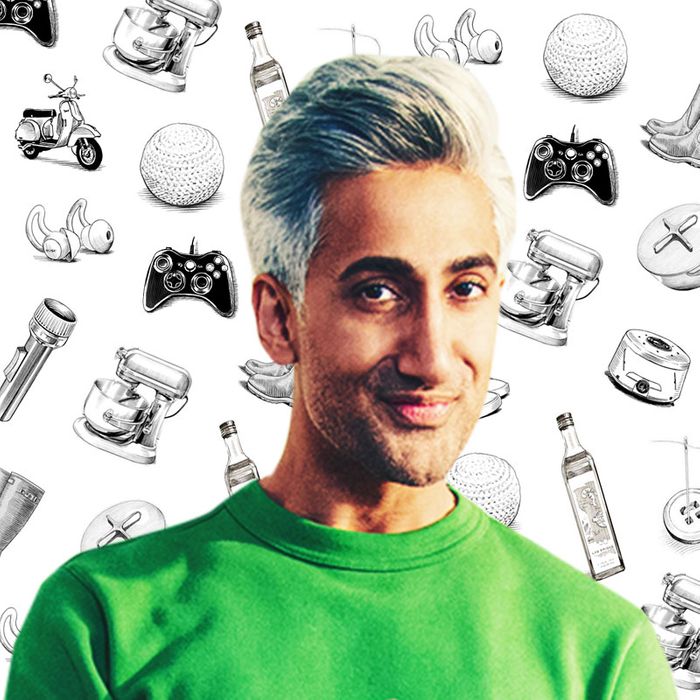 Photo-Illustration: Courtesy
If you're like us, you've probably wondered what famous people add to their carts. Not the JAR brooch and Louis XV chair but the hair spray and the electric toothbrush. We asked stylist Tan France of Queer Eye — who recently partnered with Starbucks for its "Stir It Up" Premium Instant coffee campaign — about the boxer briefs , beard trimmer, and speaker he can't live without.
This is going to make me sound pathetic, but I started using it because Carrie Bradshaw used it. I was obsessed with Sex and the City when I was a teenager. Carrie uses the pat-on one in the show, whereas I use the stick. I've tried lots of other lip balms, even a couple of fancy ones, but nothing lasts quite as long. I got this really expensive lip balm that cost, like, $20, and it did not do nearly as well. I didn't realize Karamo also uses Carmex. I would think that's something we would've known about each other. I've seen him dab a balm on his lips with his finger, but I didn't know it was Carmex!
If you ever see me in a plain T-shirt, it is probably the J.Crew Broken-in Tee. It comes in an array of colors and feels so much softer than most other T-shirts. I want my clothes to be as comfortable as possible and this is really, truly soft to the touch. Too many other T-shirts I've tried feel too box fresh. A small in this tee fits me perfectly, but if I want to French tuck, I'll wear a medium. Here's the thing with the French tuck: If the shirt you're wearing is too fitted, it does not look right. It has to be a bit oversized, so I bought a few mediums specifically for French-tucking.
I cook at home almost every day and I bake at least a few times a week. Every time I cook, I play Bollywood music — it's basically always playing in my house. My husband has learned to love it, too. He even has certain song requests when we cook together. Female Bollywood singers have really high-pitched voices, and if you use the wrong speaker, they can get really blown out. The Bose speaker maintains the quality of the vocals. They never sound too shrill, just very lovely. We had another speaker at first and I was like, "This sounds terrible. I can't stand her voice." So we did some research and got the Bose.
I tend to wear a lot of tight pants and I don't want the seam of my boxers to be too far down my leg, so I wear boxer-briefs because they're shorter. The fabric on these ones from Hanes is breathable, which is especially nice in the summer. They're the most comfortable boxer briefs I've found. I've tried expensive designer brands and they're just not as good to me. It's bull when people say the more you spend, the better the quality. That's not always the case. There's a reason why Hanes sells as many boxer briefs as they do.
I started using this about three years ago. I'm 38 and as I get older, the bags under my eyes are starting to screw me over. They do me so dirty. This eye cream makes me feel better when I put it on every morning. I'm going to have a baby soon — this summer, actually — so I'll be using a jade roller and this eye cream religiously because I know the baby will keep me awake every night.
I have a pair of men's 501s that I love, but I had to take them to get them tapered. After that, I found out the women's 501s come tapered. They fit just like the men's, but with a little bit of a higher waist — I love a high waist — and tapered fit. My only issue with women's jeans is that they're made with such tiny pockets. It sounds dumb, but why on earth are the pockets so shallow? Pockets on men's jeans are usually six-to-ten-inches deep, whereas pockets on women's are usually two to three. Has it ever occurred to anyone that women want to carry things in their pockets, too? The reason why she has to carry a purse all the time is because you're not giving her enough pocket space!
I mostly live in Salt Lake City, Utah, which is a very dry place. When I'm home, I can blow-dry my hair once and it will stay in place all day. But every time we shoot Queer Eye, we're always in a humid place and we always shoot in the summer. We're shooting in Austin right now, and I can't even properly explain how humid it is. Within two minutes of stepping out of the house, my hair curls up. So I straighten it with this in between every take. I probably straighten it at least 20 times a day while filming. Beauty specialists always reach out to me on Instagram and judge me so hard for the things I do to my hair, but I've got thick, thick, thick hair, so nothing will happen to it, I promise you. It's going to be just fine.