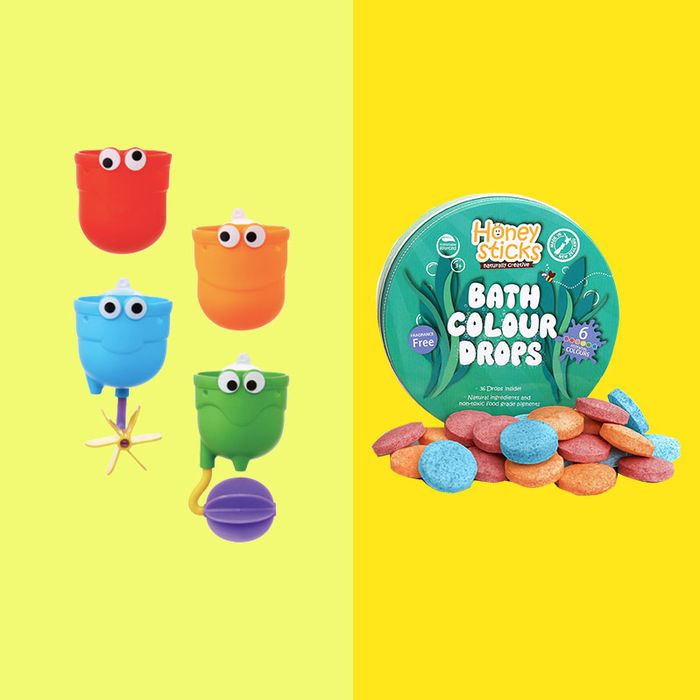 Photo-Illustration: retailers
One year ago, like so many others, my family of five was confined to our city home (an option I fully realize we were lucky to have). A calendar full of sports practices, play dates, and family outings suddenly turned bare at the same time that I, my husband, and our three girls (ages 9, 5, 3) wrestled with how to adapt to living — and working and learning and cooking and eating and playing — there. The kitchen doubled as an office, bedrooms as playrooms, and, when they couldn't get outside, the girls turned every other corner of our home into a play space, including the bathroom.
Before the pandemic, bath time for my three daughters was the most chaotic chore, a physically and emotionally grueling battle of wills that involved wrestling with tiny buttons and zippers, bartering, bribing, and tears (usually theirs, sometimes mine). But after they spent the summer splashing around in a dog-pool turned kiddie-pool, I bought them a few bubbles and bombs thinking they would help the girls see the tub as more of an indoor swimming pool. Soon enough, they started asking to play in the tub after school, or on weekend mornings. And I continued to buy more toys, because a bathroom, it turns out, is a most effective playroom. It confines my kids — and all their accoutrement — to a small space they can't just wander away from when their attention spans shift. Plus, when they're finished playing, the toys stay in the tub, and the girls leave clean. The only drawback is that I can't really leave them alone (not that I have anywhere to go). But what I can do is pull in a stool and grab a beer and a book, which makes it almost as relaxing as getting to take a bath of my own.
Whether you're buying them to get through the rest of the pandemic, or just to make bath time more bearable, below are the bubbles, bombs, crayons, toys, and other things I bought my girls for playtime in the tub.
Photo: retailer
While Santa brought my 5-year-old a red bike and a trampoline this past Christmas, when I asked her about her favorite thing she received from him, she named these soapy bath gels. Formulated to be used as shampoo or body wash, each gel is scented — strawberry, tangerine, and vanilla — and the kids love to mix them together in the included tiny bowl to make new fragrances. They fill the tub with bubbles and are also sulfate-, paraben-, and gluten-free. Most important, the delightful-smelling gels get the girls to wash their hair without complaints.