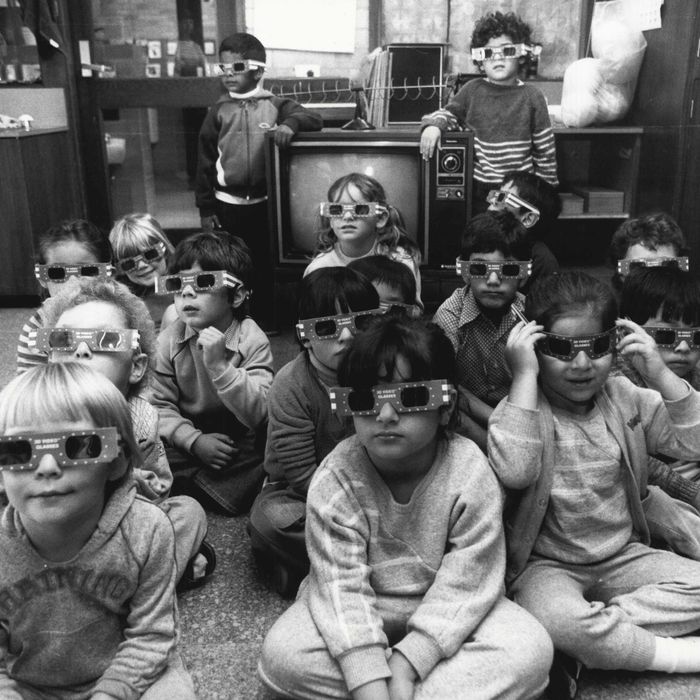 Photo: John Nobley/Fairfax Media via Getty Images
With so many kids attending school remotely, parents, teachers, and caregivers may be concerned about the strain on their eyes caused by sitting in front of a computer screen for hours at a time. It's a real concern: Dr. Milan Ranka, an ophthalmologist at Pediatric Ophthalmic Consultants in New York City, says he's seen a lot more complaints about issues like eye strain, headaches, fatigue, blurry vision, and other visual kinds of disturbances since kids started learning from home earlier this year. "This is very common and, unfortunately, it's in kids of all ages," says Ranka. "Previously we would see it mainly in our freshmen, sophomores, and juniors in high school at the end of a long year during midterms time, but now we're hearing about it in even the younger kids."
So what can parents do to combat those issues? Blue-light-blocking glasses, which have grown in popularity among adults in recent years, may seem like a good idea — and, anecdotally, we have heard from a couple parents who say they've seen some benefits after getting a pair for their kids. But as we learned in investigating blue-light glasses for adults, they do not actually help mitigate issues related to eye strain. "If you're looking at a book for five hours a day, you're going to have a lot of eye strain and there's no blue light coming from that," Ranka explains. Dr. Viola Kanevsky, an optometrist at Acuity NYC, adds, "I don't think blue light causes any more eye strain than going outside." A better way for kids to relieve eye strain and its related issues, according to Kanevsky and Ranka, would be following the 20-20-20 rule. "For every 20 minutes you're doing something, look 20 feet away, for 20 seconds," says Ranka. "I tell my 6-, 7-, and 8-year-old patients who are taking Zoom classes for multiple hours a day to just look out the window every 15 to 20 minutes; look for a tree and blink your eyes a few times."
Even though they won't do much to mitigate eye strain, blue-light glasses can help with other side-effects from kids' increased screen time — namely, poor sleep and migraines. "What blue light has in fact been shown to do is disrupt sleep patterns," explains Kanevsky. "Ideally, we want both adults and children to turn off devices within two hours of their projected bed time." But, of course, sometimes marathon study sessions or other work (or play) can get in the way of that. Some parents, as we noted, say their kids have experienced these sleep-related benefits after wearing blue-light glasses, adding that those benefits seem to have improved their days schooling from home, too. "I personally have noticed a huge difference in my daughter's sleep, but also in her focus and attention to the classwork she's doing," says Dr. Brook Sheehan, a California-based chiropractor and mom of a fourth-grader who has worn blue-light glasses for three years. "She is able to fall asleep faster, stays asleep, and wakes rested without redness under her eyes." Mom Kerri Kenney-Silver, a co-creator (and star of) Reno 911!, also told us her son found blue-light glasses helpful. "It wasn't an earth-shattering improvement, and the glasses took some getting used to, but eventually he said his eyes felt better at the end of a school day and he seemed to be falling asleep faster and waking up a little less groggy," she says.
If you're interested in trying out a pair for your child, we've rounded up 13 blue-light glasses for kids below, including the pairs Sheehan's and Kenney-Silver's kids wear and a few more that (we think) youngsters will approve of.
Experts have told us that because blue-light-blocking lenses all do the same thing, the price you pay for a pair has more to do with the quality and style of frames than the efficacy of their lenses. Our list includes styles across the price spectrum, starting with this affordable pair that Sheeran's daughter wears. The glasses have a black frame and pink arms and come with a rabbit-shaped waterproof case, a cleaning cloth, and a blue-light torch to test the lenses. As Sheeran explains, the brand has "really cute kid colors and shapes for the cases to make it fun." (Supporting her claim about colors, these are also available with blue arms, green arms, and red arms, in addition to an all-black style.)
This is the pair that Kenney-Silver bought for her son. While she says that they look "like something out of a cheap sci-fi movie," he loved the look, according to her.
If you want to invest in a pair, check out Felix Gray. It was one of the first companies to popularize so-called computer glasses and is considered the Warby Parker of blue-light blockers. The company's kids' line is available in both small (for ages 4–8) and large (for ages 9–13) sizes. Handcrafted with Italian acetate, this rounded pair is also available in black, tortoise, and green.
This (slightly more expensive) Felix Gray pair is designed for improving sleep and specifically targets the range of blue light that impacts melatonin secretion, according to the brand.
A reasonably priced pair that combines the colorful arms of Sheehan's daughter's glasses and the colorful lenses of Kenney-Silver's son's frames.
The little keyhole detail on these (light blue) blue-light blockers from Babiators, a brand known for its adorable baby sunglasses, makes all the difference. These come in two sizes: one for 3–5-year-olds and one for 6–10-year-olds.