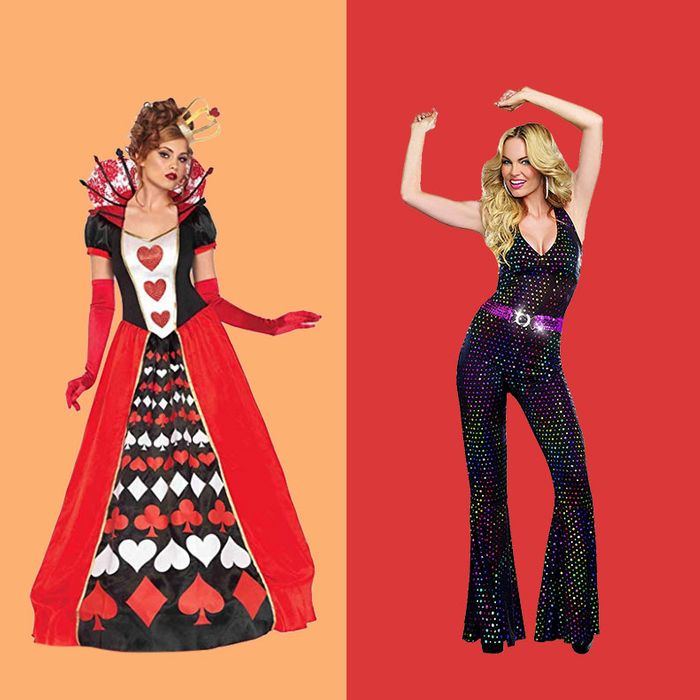 Photo: Courtesy Retailers
Here at the Strategist, we like to think of ourselves as crazy (in the good way) about the stuff we buy, but as much as we'd like to, we can't try everything. Which is why we have People's Choice, in which we find the best-reviewed products and single out the most convincing ones. (You can learn more about our rating system and how we pick each item here.)
And while we've written about lots of costumes before — including dog costumes, baby costumes, and children's costumes — here, we've rounded up the best (surprisingly tasteful) costumes for women, as praised by the most enthusiastic reviewers on Amazon.
Best-rated costume for women
Part of what makes this vinyl catsuit so appealing to so many reviewers is its versatility. Dozens opted to go as Catwoman (or just a cat), such as one reviewer who says her Catwoman costume came to life with "five-inch-heeled boots, a homemade mask, an ear set, gloves, and this suit." She says it "was effectively the talk of the party." But many reviewers thought outside the box with this as the base of their costume. One reviewer went as a jewelry thief and notes that this catsuit is comfortable. "It has great movement. I was able to do kicks and underarm turns," she writes, though she warns, "You do need either no-show-line garments or no lines at all, if you catch my drift. Because it will show everything." Another agrees that even though it's skintight, "You can jump around in it, do squats, do jumping jacks, sit comfortably, and not feel like you are about to rip the seams." A few felt this costume may work only for narrow frames, but one reviewer confirms, "This is the best jumpsuit you can buy for a thick girl like myself with a small waist. You may need a belt if you do have a big booty to show off your curves. I won best dressed in a costume contest and got lots of compliments."
Best-rated (less expensive) costume for women
This is another costume that reviewers made their own. Some chose to go as a vampire or witch, while others were simply Renaissance women. But regardless of what they ended up being, they appreciated how comfortable it was. One customer writes, "It's easy to wear and looks great. I think it's a great price for the quality." Many were shocked by the quality. "It's pretty well-made, and the fabric wasn't paper-thin like most costumes," another reviewer says. A third customer just expected "a passing costume to use for the day" but was blown away: "What arrived was of far better quality than expected, and the fit made me look and feel thin and sexy. I received MANY compliments. I am keeping this for use on future Halloweens."
And now some micro-picks for every type of women's Halloween costume you might be looking for.
Best witch costume for women
Women who wanted a more conservative costume appreciate that this witch costume is not too revealing. "I hate that most options for women are sexy this or sexy that. I just wanted a normal and fun costume to enjoy Halloween with my kids," writes one mom who says the "quality is outstanding, not cheaply or poorly made." On the quality, another reviewer writes, "It was VERY comfortable, not sheer, the right length, and by far my favorite costume to date." A few mention that the hat is flimsy, but many say it's easy enough to just get a new one (like this witch hat that was recommended to us by witches).
Best 50s-themed costume for women
"You'll want to rock and roll all day in your adorable poodle skirt," writes one customer who has worn this costume more than six times now. She accessorized the outfit with black-and-white saddle shoes and a black cardigan to make it look more authentic. "All together, it looks like I just stepped out of the soda shop." Many appreciate the quality of the costume, including one shopper who writes, "The material of the skirt is a heavy felt and is absolutely beautiful. The scarf is chiffon, just like the old days."
Best skeleton costume for women
This glow-in-the-dark skeleton costume was a big hit with reviewers because it's comfortable but cute. "It's sexy without being over-the-top, kind of a subtle sexiness about it. And it's comfortable," writes one reviewer. "You will definitely want black undies with this because you can see light colors through it." Another says, "This costume fit like a glove," explaining, "Hugs every place you want it to with NO camel toe. That is very important." A third reviewer thought it "might be a little too cartoony-looking," but she says, "I was pleasantly surprised by how much I liked this over the realer-looking skeletons."
Best hippie costume for women
Dozens of reviewers call this hippie-themed costume "fun." One who thinks it's "very fun to wear" says she got "sooo many compliments at a Halloween event" when wearing this. "I can't believe people used to dress like this," writes a slightly stunned customer, who adds that "it's a little short" and advises others to "wear shorts underneath." Another shopper agrees that it's very short, but she "fixed this easily with a pair of dark-brown leggings, which really complemented the whole look" (and also kept her warm). She adds that the boot covers really stole the show. They are "fabulous and feel wonderful on your legs," she says. Another customer writes that regardless of the length, this costume is still "very comfortable and makes it easy to do those wild and crazy Soul Train dances from back in the day."
Best flapper costume for women
"The fringe flies freely when dancing. I would definitely recommend this costume to anyone looking to have fun as a flapper," writes one reviewer of this costume. Another says it's actually "not costume-like": "The entire dress is covered with fringe and looks like an actual dress." Many plus-size women worried about the sizing, but as one review