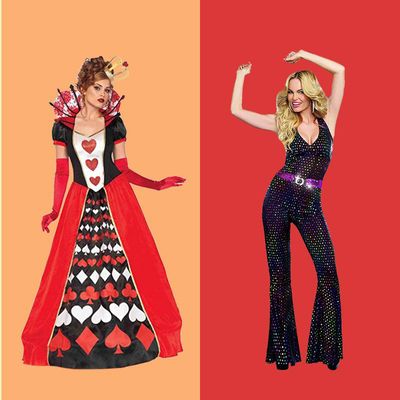 Photo-Illustration: Retailers
Although you likely won't be attending any costume parties or taking the little ones trick-or-treating this year, you can still find a colorful, topical, or just plain fun Halloween costume to celebrate from home. And while we've written about lots of costumes before — including dog costumes, baby costumes, and children's costumes — here, we've rounded up the best (surprisingly tasteful) costumes for women, as praised by the most enthusiastic reviewers on Amazon.
Related Articles: Best Halloween Décor for a Socially Distanced Halloween | Best Halloween Makeup
Best-rated costume for women
Nearly 2,000 reviewers were impressed with this '20s-era flapper costume, which includes a tassel flapper dress, a pearl necklace and bracelet, a pair of earrings, a pair of satin gloves, a headband, and a black cigarette holder. "For the price I wasn't expecting the dress to be so nice," writes one reviewer. "It fits great and is very comfortable. The gloves are silky, not stiff." Another wore it to a roaring twenties–themed party and found it "perfect" for the occasion, adding that it's "well-made" and will be their "go-to costume" for future costume parties. A third purchased it for their 73-year-old mom for a birthday party, writing that they were both impressed by the stitching and details. "Well worth the price," they write. "She is a former dress maker so super picky with clothes. She was surprised at the good quality." It's available in sizes XS to 5XL, and over 1,000 reviewers say that it runs true to size.
Best-rated (and less expensive) costume for women
Lots of reviewers chose to make this costume their own: Some went as a vampire or witch, while others were simply Renaissance women. But regardless of what they ended up being, they appreciated how comfortable it was. One customer writes, "It's easy to wear and looks great. I think it's a great price for the quality." Many were shocked by the quality. "It's pretty well-made, and the fabric wasn't paper-thin like most costumes," another reviewer says. A third customer just expected "a passing costume to use for the day" but was blown away: "What arrived was of far better quality than expected, and the fit made me look and feel thin and sexy. I received MANY compliments. I am keeping this for use on future Halloweens."
Best nautical costume for women
The main comment for this nautical-themed costume is that it's flirty without being too revealing. "It's sexy and fun without being too over-the-top, as I wanted it for going out to a bar on Halloween, not role-playing in the bedroom," writes one reviewer. She adds that while a lot of reviewers recommend wearing a petticoat underneath, she says, "The skirt is nice and puffy, plus it's long enough so I don't have to worry about bending a little." Another appreciates that this costume is "still a little on the flirty, fun side but still appropriate to be worn in public around children." For her, the selling point is also that it has "very nice material, and it's well made" for the under-$30 price tag.
Best witch costume for women
Women who wanted a more conservative costume appreciate that this witch costume is not too revealing. "I hate that most options for women are sexy this or sexy that. I just wanted a normal and fun costume to enjoy Halloween with my kids," writes one mom who says the "quality is outstanding, not cheaply or poorly made." On the quality, another reviewer writes, "It was VERY comfortable, not sheer, the right length, and by far my favorite costume to date." A few mention that the hat is flimsy, but many say it's easy enough to just get a new one (like this witch hat that was recommended to us by witches).
Best hippie costume for women
Nearly 70 percent of reviewers gave this '60s-inspired costume five stars, describing it as "so flattering," "the perfect fit," and "really nice quality." One purchaser, who ordered the size 3XL, says that it "fit perfectly," and that they even won a Halloween costume contest with it. "My roommate had a Halloween-themed birthday party during COVID, and this was the PERFECT last-minute costume," another shares. They add that while the lace-up detail on the chest looks revealing, it can be tightened for a more conservative fit. Others also note that it can run a little short if you're over five-foot-nine, though one writes that it makes for a "super cute" top to pair with bell-bottoms, too.
Best Catwoman costume for women
Part of what makes this vinyl catsuit so appealing to so many reviewers is its versatility. Dozens opted to go as Catwoman (or just a cat), such as one reviewer who says her Catwoman costume came to life with "five-inch-heeled boots, a homemade mask, an ear set, gloves, and this suit." She says it "was effectively the talk of the party." But many reviewers thought outside the box with this as the base of their costume. One reviewer went as a jewelry thief and notes that this catsuit is comfortable. "It has great movement. I was able to do kicks and underarm turns," she writes, though she warns, "You do need either no-show-line garments or no lines at all, if you catch my drift. Because it will show everything." Another agrees that even though it's skintight, "You can jump around in it, do squats, do jumping jacks, sit comfortably, and not feel like you are about to rip the seams." A few felt this costume may work only for narrow frames, but one reviewer confirms, "This is the best jumpsuit you can buy for a thick girl like myself with a small waist. You may need a belt if you do have a big booty to show off your curves. I won best dressed in a costume contest and got lots of compliments."
Best 50s-themed costume for women
"You'll want to rock and roll all day in your adorable poodle skirt," writes one customer who has worn this costume more than six times now. She accessorized the outfit with black-and-white saddle shoes and a black cardigan to make it look more authentic. "All together, it looks like I just stepped out of the soda shop." Many appreciate the quality of the costume, including one shopper who writes, "The material of the skirt is a heavy felt and is absolutely beautiful. The scarf is chiffon, just like the old days."
Best skeleton costume for women
This glow-in-the-dark skeleton costume was a big hit with reviewers because it's comfortable but cute. "It's sexy without being over-the-top, kind of a subtle sexiness about it. And it's comfortable," writes one reviewer. "You will definitely want black undies with this because you can see light colors through it." Another says, "This costume fit like a glove," explaining, "Hugs every place you want it to with NO camel toe. That is very important." A third reviewer thought it "might be a little too cartoony-looking," but she says, "I was pleasantly surprised by how much I liked this over the realer-looking skeletons."
Best Red Riding Hood costume for women
Lots of reviewers chose this Red Riding Hood costume because it's sexy without being too revealing, and it has enough size options to fit women of many different shapes. One reviewer explains, "The fit was perfect and sexy without looking like lingerie." A bunch of reviewers added an extra petticoat to give the skirt more volume. One says the extra layer "adds to the look and makes it better," but plenty were satisfied with the costume as is. Another reviewer appreciates that the back has "slightly stretchy material, so there's a bit of give to the costume for larger sizes." She adds, "This isn't an actual corset; it doesn't hold you in. But it covers the bust adequately, so it's very tasteful." One more shopper raves, "Curvy girls, THIS is your costume. This costume is actually amazing on me, and I say that not out of selfishness but happiness."
Best Snow White costume for women
"I was asked multiple times if this was a rented costume because of how beautiful it was," writes one owner of this classic Snow White costume. Another purchased this to complete her "Snow White and the Seven Dwarfs–themed family costumes for our Mickey Mouse Halloween party." She adds that it's "good quality and got a lot of compliments." Another reviewer calls it "typical costume quality, so it wouldn't be any good for jumping chain-link fences or anything like that," but overall, she's very impressed: "I love this freakin' dress! It won me first prize in a G-rated-costume contest." A bunch of people complain that it's much too long, but one says, "If you are a crafty person, you could easily cut off extra fabric to make it shorter." And another notes that the length is ideal for taller women: "The dress just barely touches the floor, so perfect length for me. To the people complaining about it being too long, I'd much rather it be too long than too short."
Best Cinderella costume for women
Many expected this costume to be cheap looking considering the price, but dozens of reviewers say this felt high-quality. One reviewer explains that her daughter requested she dress up like Cinderella for Halloween at her school, and this costume "exceeded all expectations." She writes, "Parents at my daughter's school actually thought I was a professional the school hired to come in costume! It fit wonderfully, and the quality is excellent." Another admits she's "so not a princess-type person" but thought this costume was "seriously magical," explaining, "I actually feel like a pretty, pretty princess when I wear this dress." Like many more reviewers, she suggests getting an additional petticoat to make the skirt really "pop."
Best Queen of Hearts costume for women
One reviewer describes this Queen of Hearts costume as "Disneyland quality": "Parents were asking to take pictures of their kids with me." Another reports that "this costume is a fabulous find" because it fits perfectly and looks well made, but she recommends putting a "large hoopskirt under it" because otherwise the dress is too long and less authentic looking. Another thinks the details on the costume stole the show, explaining, "It fits beautifully and has lots of nice details like gold piping on the bodice and playing-card-suit details on the collar. No sloppy workmanship or loose threads."
Best disco costume for women
"Super-foxy, disco bell-bottom jumpsuit," writes one customer who enjoyed this throwback look for Halloween. She says another standout feature of this jumpsuit is the cups sewn into the top so you don't "have to worry about wearing a bra, or bra straps showing." Another agrees that's a highlight of this costume but advises reviewers to get double-sided tape for the top, "otherwise you will spend your evening with wardrobe malfunctions or trying to prevent them at all costs." And yet another suggests you "wear a cami or something underneath if you're a little more modest."
Best pirate costume for women
"One head-turner of a costume to wear," writes one reviewer, who calls this costume "very piratey." She originally bought this for Halloween but, she writes, "It's such a beautiful dress I now wear it when my fiancé and I are alone." Another says it has the perfect balance of "cute without being too sexy." Many more also love the style of this pirate costume, but lots recommend purchasing a petticoat for underneath. One says the additional layer "really makes a world of difference." The set even comes with a money bag for wearers to carry their cash and phone, so they don't have to bring anything extra that isn't part of the theme.
Best Mad Hatter costume for women
One customer joined a group Alice in Wonderland theme as the Mad Hatter, writing, "I received a ton of compliments. It was very well made and warm on a 49 degree night." She's not the only one who reports receiving an overwhelming amount of compliments. "People asked me if I made my costume, because they couldn't believe it was from one of 'those packages,'" writes another reviewer, who thinks this costume will last for years. One shopper just appreciates that there's "no need to go looking for extras" since this costume comes with everything needed to complete the entire Mad Hatter look, including hat, gloves, and bow tie.
Best Wonder Woman costume
Many reviewers were surprised at how comfortable this costume is, especially since it laces up like a corset. One says it "was fine to wear all night," while another says it actually stays in place because it "comes with invisible straps to add security. Dozens admit they were skeptical ordering a costume like this without trying it on, but as one reviewer notes, "This one fit perfectly. I got SO many compliments on this costume, especially from families and kids who thought it looked really cool and realistic." And one more customer thinks this "is the perfect outfit for Halloween" because it feels "sexy but not slutty."
Best ninja costume for women
This ninja costume stole the show for being sexy but comfortable enough to wear for a long night. One partygoer says this costume "shows the perfect amount of cleavage without being obnoxious." Another reviewer "wore it for a party, and it was the best": "I did not worry about feeling fat all night or pulling and tugging at straps or a short skirt." One more originally skeptical shopper says it "fits like a glove," but the red ribbons on the legs come untied or fall down easily. She recommends gluing them on or stitching them in place as a quick, cheap solution.
Best Supergirl costume
People looking to dress up as a G-rated superhero turned to this top-rated Supergirl costume because, unlike the Wonder Woman costume in this list, this one covers a bit more. "Conservative enough to wear as the room mother for the kindergarten Halloween party, but then I was able to wear it out to an adult costume party, too," writes one reviewer, who calls this "borderline sexy." Another recommends this for a "cute, quick, cheap costume" because "it seems to be very well made." She notes that it tends to run a little large but says if you follow the measurement chart, you should be fine.
Best cheetah costume for women
This cheetah-print catsuit stood out to reviewers looking for a last-minute Halloween costume because it already comes with ears, a collar, and an attached tail, so no additional purchases are needed. One reviewer says it's so comfortable "it's like a second skin," while another writes, "It's stretchy and clings just right to every curve you have." A few mention that the back is much lower than expected, so your bra will show, but many recommend buying a backless adhesive bra to solve the problem.
Best tiger costume for women
One reviewer calls this a "very easy and sexy costume." Similar to the cheetah costume above, this one comes with ears and an attached tail. Reviewers say all they needed to add were a nose and whiskers, which can easily be accomplished with eyeliner. People even think this is one of the more comfortable costumes out there, including one wearer who writes, "I felt sassy and sexy in this outfit while still being comfortable and warm all night. I got all kinds of attention in this." Of the fit, another reviewer notes, "The material is very awesome to the touch, feels soft and hugs your every curve, so cute and comfortable. It's definitely an eye-catching costume."
Best monkey costume for women
Women with a need for comfort and a desire to look cute chose this monkey costume. "It is super-warm but not uncomfortably so, since it is still a dress. It was modest enough not to feel like you're exposing everything but was very flattering at the same time," explains one reviewer. Many more add that the thick fleece material and hood kept them warm on Halloween night. But many note that the attached tail is very long. One says the unexpectedly long appendage "caught me off guard." But another customer notes that it's easy to hook around your arm while you're walking so it's out of the way.
Best Oktoberfest costume for women
"Fantastic, sexy, and wow," describes one customer after wearing this Oktoberfest-themed costume for Halloween. Another says she got "so, so many compliments" from wearing this and says it came at a "very reasonable price," making it that much better. A bunch of reviewers note that it's very short, so they recommend purchasing a petticoat to go underneath to give it more length and volume. But aside from the length, a big appeal is that this whole costume is actually just one piece that you zip up the back. One reviewer says that aspect made it so much easier to get into and out of, especially after a late night. Another reviewer wore this to her church's Halloween costume party because "it's fairly modest but also cute, sexy, and sweet at the same time." Although one debates that it's truly not modest enough for church: After Halloween, she "wore it for my husband for a sexy German date night" and reports back that it was a success.
Best nurse costume for women
Buyers appreciate how flattering this nurse costume is. One says it has "nice enough material with just enough stretch to make it very figure hugging." Another reviewer thinks the best part is the shape of the top and belt because, as she writes, it "makes my waist look tiny and my breasts look …well, amazing!" Many think it's relatively comfortable, but, because of how short it is, a petticoat will make a difference. One says a petticoat "adds so much to the costume that you should definitely get it" but notes that something to be aware of is how the hat needs to be bobby-pinned in order to stay on "like a real nurse's hat, the kind no one wears anymore."
The Strategist is designed to surface the most useful, expert recommendations for things to buy across the vast e-commerce landscape. Some of our latest conquests include the best acne treatments, rolling luggage, pillows for side sleepers, natural anxiety remedies, and bath towels. We update links when possible, but note that deals can expire and all prices are subject to change.