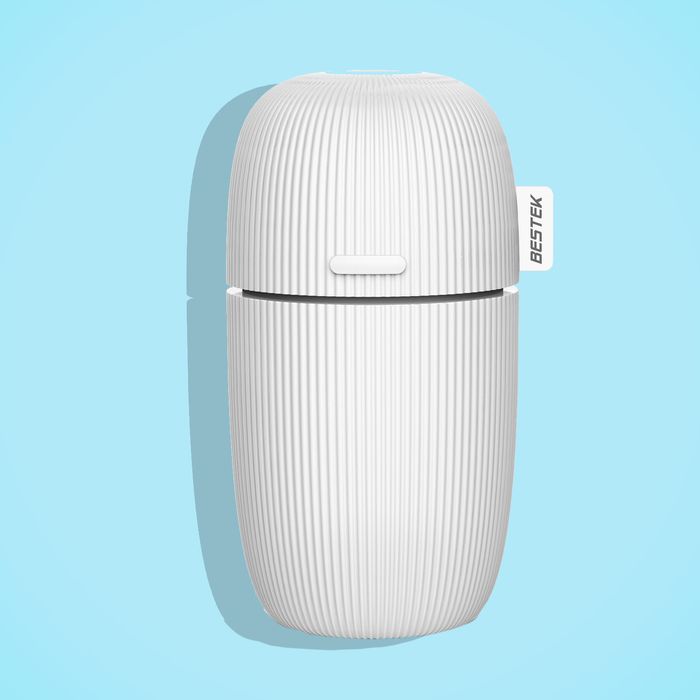 Call me 26-going-on-50, but I adore humidifiers. So much so that I recently came across a meme mocking people who act like humidifiers can cure depression, and unironically thought, It's me.
In the past, I've been attached to a certain mini Leibal USB humidifier. It moved with me from one arid office environment to another, where people seemed perplexed and delighted by it when they passed my desk. Emily Gould has the same one and loves it, which is fair, since it resembles an impossibly chic spaceship vaping away. But it did absolutely nothing for my skin. It would puff out thin wisps of air every so often, though on the most brutal January days with the heat cranking, my skin would get so irritated and flushed that I had to liberally reapply face mists, oils, and moisturizers just to stop my face from hurting.
So I did what any Strat staffer would do: hunt for a similar, cheaper, and better option. I'm suspicious of light-up, color-changing ones that look like they might belong at a rave or New Age-y gyno's office. I'm also wary of humidifiers in general being a piece of junk. At my last job, I tried to hook up a room-size Honeywell humidifier that would serve me and all of my colleagues, if it hadn't crapped out the minute I plugged it in.
After some digging, I found this all-white, ridged option from Bestek. Let me rattle off some of its perks. It's understated and doesn't take up too much real estate on my cluttered desk. It plugs right into my monitor, thanks to its USB cord. To me, it looks like a design-y urn (morbid, but true), while my colleague Maxine maintains that it resembles some sort of albino cactus. The tank is small, so I have to refill the humidifier daily for maximum puffing action. But it's very powerful for its size. This little guy never stops misting, so there's a continuous stream of cold air blowing on your face (if you, like me, keep it directly in your line of sight, occasionally lifting it to your face like you're in a Coca-Cola commercial). And my skin definitely feels better: more hydrated, not exactly "dewy," but definitely not in pain anymore.
Unlike others that produce whirring noises, this one is whisper-quiet. For those feeling extra crunchy, you can even add a drop or two of your favorite essential oil (though I don't recommend doing this at work unless you've established that your neighbors share your love of grapefruit patchouli).
And if you're reading this thinking, News flash, winter's almost over, you have never felt the sensation of a chill mist flowing over you in the depths of summer (or experienced springtime allergies). With extremely dry skin like mine, the added bliss of a little more moisture in the air is everything. If nothing else, there's something therapeutic about having a little vape machine puffing away at your desk like a functional art piece.
If you're looking for a different style of USB humidifier, here are some highly reviewed options from Amazon, according to hyperenthusiastic shoppers.
"Most hotels we stay in when we travel during the winter are severely lacking humidity. We wake up with our nasal passages dried out and uncomfortable. Yuck! I came across this nifty travel humidifier and decided to give it a try. It is wonderful. I purchased a bottle of Dasani water, drank it, and refilled it with distilled water to use in the machine. A full bottle lasts us at least three nights. The distilled water isn't necessary but a choice I made to delay any possible mineral build up. The mist is gentle, quiet, and works to add moisture to the air. The whole thing takes up very little space. Great invention."
"I LOVE this humidifier. It's so quiet that I forget that it's on. I get nosebleeds during the winter due to the dry air in my apt. I use this specifically in my enclosed bedroom and plug it in to use the whole night. I rest much more comfortably each night. There's something so soothing about the feel of the subtle movement of air within the room when I sleep. My partner, who snores for an entire choir, now barely gives a grunt during the night. Little did we know, we both suffered from the dry air in different ways. There's also the optional yellow light, which looks pretty romantic and warm. And three settings modes by pressing the 'on' button multiple times. All in all, I love my purchase, and I will recommend it to my colleagues who also want to use it in the office."