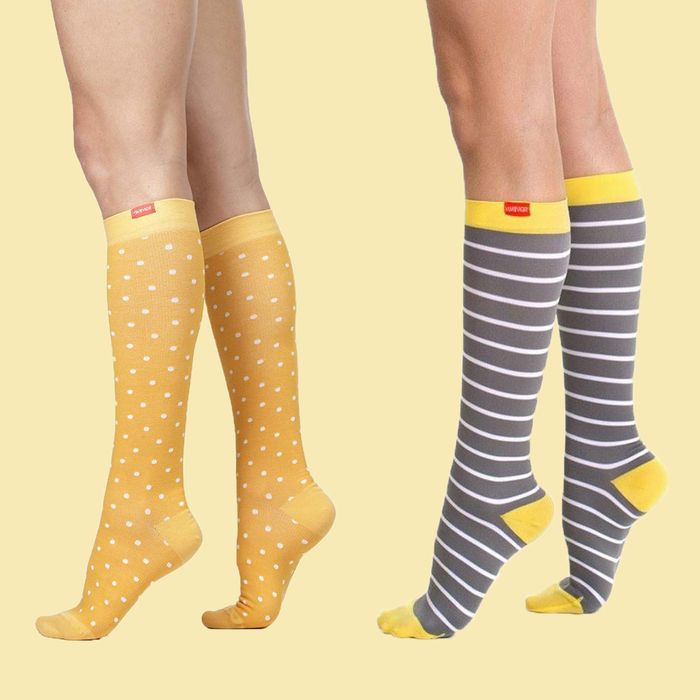 They don't scream, "I have varicose veins!"
Photo: Courtesy of the retailer
When my mother had both of her knees replaced at the same time a few years ago, the worst part of the recovery was her surgeon's edict that she should be wearing compression socks 22 hours a day for at least three months. Compression socks are a marvelous invention, keeping blood circulating throughout your limbs, but fashionable they are not. After a solid month of wearing nothing but tan, white, or black socks, she was desperate for something else. I Googled "hip compression socks," and much to my surprise, I found a bunch from Montana brand Vim & Vigr, and when I gifted her a few pairs, she cried from happiness when she opened the box.
Compression socks have long been associated with medical necessity, but there's no reason they have to be surgeon prescribed. Sitting at a desk all day usually means legs aren't getting enough circulation (it's why doctors say that a standing desk isn't necessarily so helpful as just getting up and walking around every hour or so). Since I am on my feet all day at work, I already begin and end every day with this yoga pose to let gravity do its thing, but adding compression socks to the mix has been a magic bullet. They work by utilizing a heavier-than-average elastic to create increased pressure on your legs, ankles, and feet, which then allows more blood to return to the heart — and the difference in how much less fatigued (and more energized) my legs feel is astounding.
The beauty of Vim & Vigr is that it takes nice-feeling black or tan compression socks and injects them with actual style. You can choose from tasteful micro dots, nautical stripes, or maybe a rugby look if you're so inclined (they make men's socks, too). I've started planning my workday outfits around them — this black-and-white striped pair in particular looks as cute peeking out of a pair of cropped jeans and a frilly blouse as it does with a knee-length skirt and T-shirt. Even if you're not the kind of person who goes for a statement-sock look, there are subtly patterned versions that quietly whisper when your pants ride up (and they're not saying, "I have varicose veins"). They're a perfect gift for the older mom or dad who wants compression without sacrificing personality.
More Strat-approved socks and compression wear
Strategist senior editor Simone Kitchens says of these Smartwool socks: "Day to day, walking around, usually in Converse, I need my socks to be very, very thin. I like the women's ultralightweight Smartwools: They don't get all bunched up, still show a little ankle, and while not cheap, they seem to live a longer life."