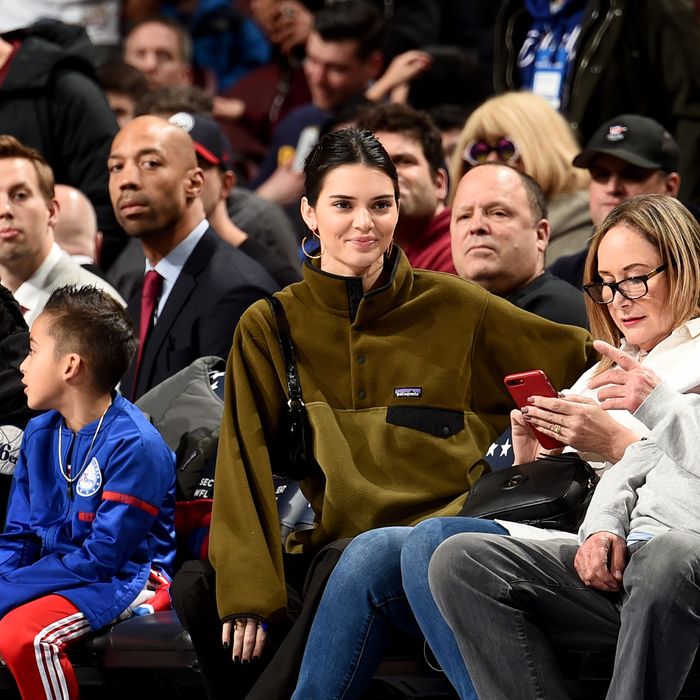 If you follow our monthly Strategist Haul, you're familiar with the idiosyncrasies of our editors' and writers' shopping habits. While we think of those as the highlights, there are plenty of other, less glamorous things we buy — and love — on the regular too. So whether you've wondered about the work bags we tote around or the underwear we're most loyal to, this is the Stuff We Buy Ourselves. In this edition, the fleeces our editors pile on when the temperature drops. Fleeces, of course, are not new — as you'll see below, our managing editor has been wearing hers for a decade — but trend forecasters predict the fuzzy look is here to stay (at least through this season). So if you don't own one, or if you must buy a new one to stay ever-current, here are our staffers' picks, ranging from tried and true favorites to stylish newcomers.
Alexis Swerdloff, Strategist editor
I got this fleece Everlane sweatshirt last year, and I have gotten a lot of wear out of it. (I actually have it in a rust color, which sold out, but this green is my second favorite shade.) It's just nubbly enough to nod to the current fuzzy fleece moment we're in without shouting it. Because of its texture, some people at first glance think it's a sweater as opposed to a sweatshirt — which makes me feel less schlubby when I wear it throughout the entirety of a weekend (which I have been known to do).
Maxine Builder, managing editor
Let's not kid ourselves: The only fleece that matters (and the one that everyone seems to be trying to rip off these days) is Patagonia's sherpa fleece. I have the Retro-X jacket in beige with a kelly-green pocket and trim that I got back in 2009 at the Patagonia outlet in Freeport, Maine, and I expect it to last many years to come.
Rio Viera-Newton, writer
A fancy fleece was never something I thought my closet was missing. But I decided to impulse buy this particular one with some credit I had at Le Point. I love Sandy Liang and thought this might be my only chance to actually own something of hers — and I have since fallen deeply and madly in love with it. It's cozy and casual enough to wear lounging around my house on a cold morning, or over workout clothes en route to the yoga studio. But it's also chic and fun enough to wear to important meetings or on dinner dates with my boyfriend. I basically live in it.
Anthony Rotunno, senior editor
With two Patagonia fleeces already in my closet — a Synchilla Snap-T Pullover and a Retro Pile Pullover — I thought I had more than enough to ride out the extended fuzzy moment we're in. But then my husband showed me this J.Crew number, with a print inspired by those on sweaters handmade by the Cowichan people of British Columba. The sweaters — which we have three of at home, in similar tan/cream/brown palettes — are known for their thick, chunky knit and intricate designs; they're really special pieces, but because of their bulk, not the easiest to wear all the time. The fleece is kind of a happier medium, at least when it comes to everyday wear. It definitely has the Cowichan spirit, aesthetically, but is lighter weight and easier to layer, while also still being warm. And, of course, fuzzy.
Karen Iorio Adelson, senior writer
I bought this fleece with my alma mater's logo on it when I was visiting the campus in May, and I've just been waiting for the weather to get cold enough to wear it. I spent many summer nights in my apartment cuddling in it with the air conditioner cranked up. I adore the color, it's very cozy, has a big, front "kangaroo" style pocket, and I like that I can snap or unsnap the neck depending on the temperature.
Peter Martin, senior editor
I got this fleece eight years ago when my friend convinced me to climb Mt. Kilimanjaro with her, and all these years later it's still my favorite in terms of warmth and comfort. On Kili, I wore it on top of a Mountain Hardware base layer and under a North Face softshell on colder days. (When it got really cold I added a down sweater.) In normal life, once fall kicks in, I seem to wear it every weekend. It's soft and thick(ish) and warm enough that I can wear it over a T-shirt and be fine going outside even when the temperature dips into the 40s. I do miss having side pockets, but at least there's a chest zip to hold my wallet and keys.