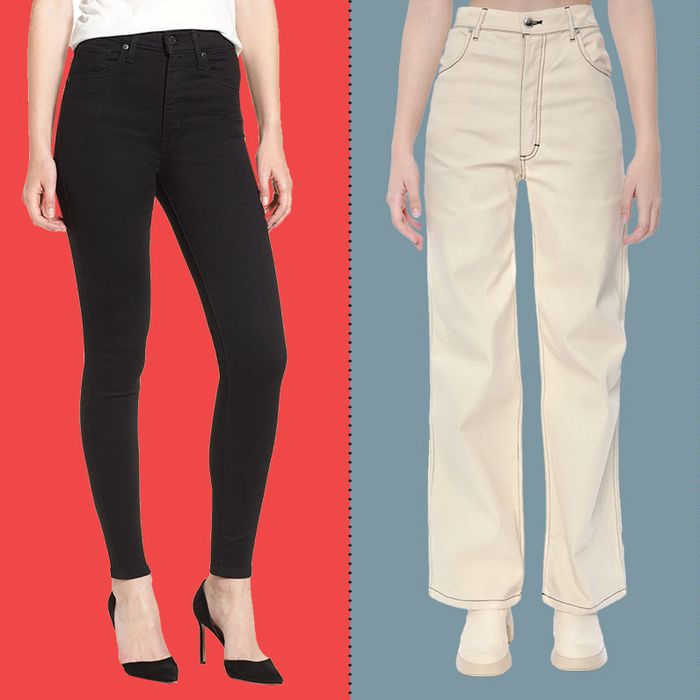 Photo: Courtesy of retailers
If you follow our monthly Strategist Haul, you're familiar with the idiosyncrasies of our editors' and writers' shopping habits. While we think of those as the highlights, there are plenty of other, less glamorous things we buy — and love — on the regular too. So whether you've wondered about the work bags we tote around or the underwear we're most loyal to, this is the Stuff We Buy Ourselves. In this edition, the jeans our editors swear by.
Alexis Swerdloff, Strategist editor
I'm a parody of a Strategist editor — so sue me! — but these Everlane jeans are my go-tos. Post-baby, my goal was to find a pair of stretchy high-waisted jeans that would keep things "tight" without digging into my stomach, and these do just that. I find them to be the most comfortable high-waisted jeans I've ever encountered, and the faded black wash feels somewhat authentic.
Anthony Rotunno, senior editor
I've been buying my jeans from Acne for about a decade. Even as some trendier guys have moved toward looser-cut pants, I'm still a fan of a tapered, skinnier silhouette. The River is Acne's current iteration of said silhouette, evolving from previous versions called the Town and the Roc, which I also own (all told, I have four pairs in my current rotation, and I've worn at least another four to death over the years). The cut is slim, but not cling-to-your-legs skinny, with a higher waist. I like the higher waist because even my smaller tees are easy to wear untucked without showing any skin; I also think it makes tucked-in shirts look nicer, too, because it swallows more fabric. Depending on the denim and the wash, the price can vary, and these are admittedly never cheap, no matter the style. But I wear jeans a lot (probably four to five days a week), and Acne's generally last for years. I bought one of the pairs in my current rotation back in 2016 and it still looks as good as the newer ones, though it feels a bit lighter, like I've been wearing it regularly for the past three years.
Maxine Builder, managing editor
I have different jeans for different occasions, though all of them are high-waisted. My go-to, everyday jeans are these slightly cropped Levi's Wedgies. They make my butt look good, and they're comfortable and easy to throw on.
Photo: Adelson, Karen
The jeans I wear when the dress code is business casual are these Madewell jeans. The super-dark wash means they're a bit dressier than my frayed Wedgies.
My black jeans are Levi's 501s, which are the skinniest jeans I wear these days, so I appreciate that they have a little bit of stretch. I also like that the color is called "Black Heart," because that is exactly how black I want my black Levi's to be.
Chloe Anello, junior writer