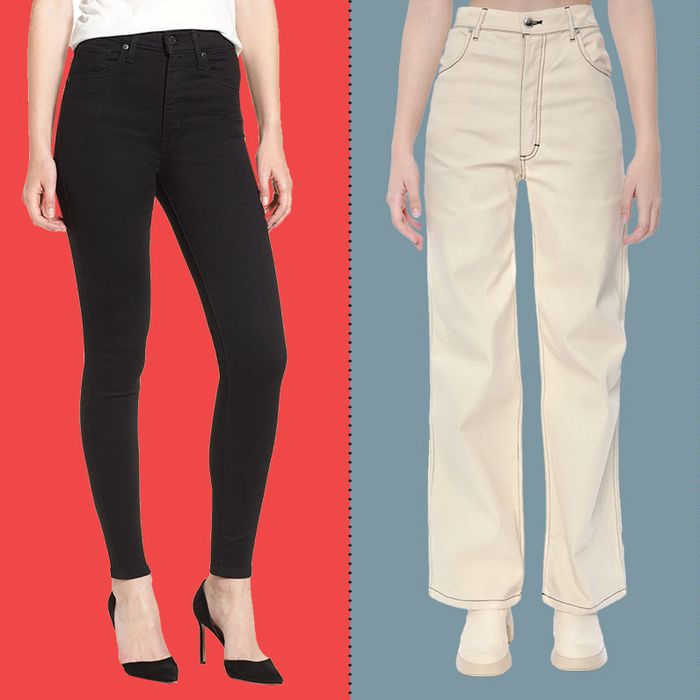 Photo: Courtesy of retailers
If you follow our monthly Strategist Haul, you're familiar with the idiosyncrasies of our editors' and writers' shopping habits. While we think of those as the highlights, there are plenty of other, less glamorous things we buy — and love — on the regular too. So whether you've wondered about the work bags we tote around or the underwear we're most loyal to, this is the Stuff We Buy Ourselves. In this edition, the jeans our editors swear by.
Alexis Swerdloff, Strategist editor
I'm a parody of a Strategist editor — so sue me! — but these Everlane jeans are my go-tos. Post-baby, my goal was to find a pair of stretchy high-waisted jeans that would keep things "tight" without digging into my stomach, and these do just that. I find them to be the most comfortable high-waisted jeans I've ever encountered, and the faded black wash feels somewhat authentic.
Anthony Rotunno, senior editor
I've been buying my jeans from Acne for about a decade. Even as some trendier guys have moved toward looser-cut pants, I'm still a fan of a tapered, skinnier silhouette. The River is Acne's current iteration of said silhouette, evolving from previous versions called the Town and the Roc, which I also own (all told, I have four pairs in my current rotation, and I've worn at least another four to death over the years). The cut is slim, but not cling-to-your-legs skinny, with a higher waist. I like the higher waist because even my smaller tees are easy to wear untucked without showing any skin; I also think it makes tucked-in shirts look nicer, too, because it swallows more fabric. Depending on the denim and the wash, the price can vary, and these are admittedly never cheap, no matter the style. But I wear jeans a lot (probably four to five days a week), and Acne's generally last for years. I bought one of the pairs in my current rotation back in 2016 and it still looks as good as the newer ones, though it feels a bit lighter, like I've been wearing it regularly for the past three years.
Maxine Builder, managing editor
I have different jeans for different occasions, though all of them are high-waisted. My go-to, everyday jeans are these slightly cropped Levi's Wedgies. They make my butt look good, and they're comfortable and easy to throw on.
Photo: Adelson, Karen
The jeans I wear when the dress code is business casual are these Madewell jeans. The super-dark wash means they're a bit dressier than my frayed Wedgies.
My black jeans are Levi's 501s, which are the skinniest jeans I wear these days, so I appreciate that they have a little bit of stretch. I also like that the color is called "Black Heart," because that is exactly how black I want my black Levi's to be.
Chloe Anello, junior writer
I have 20-something pairs of jeans, and picking a favorite feels like being asked to choose a favorite pet; however, I probably wear these Madewell ones the most. They're extra comfy yet don't look sloppy. I'm one of those people who lounge in jeans (yes, instead of sweatpants I relax in denim), and these are perfect for that. Even though they're made of rigid denim, which admittedly doesn't sound pleasant, the relaxed fit makes them comfortable, while said rigid denim ensures they won't stretch out too much. Trust me, I'd never lounge in skinny jeans.
Hilary Reid, writer
I'm always on the hunt for a good pair of vintage Levi's (who isn't?), but my most reliable jeans are these Stella McCartney ones that I found at Barneys' big summer sale a couple years ago — I think I paid $25 for them, which felt like an accomplishment. They're in a vibrant, 1970s-ish blue and have straight legs that aren't clingy, despite the 2 percent elastane content in the fabric. The fit actually reminds me of vintage jeans, but the tiny bit of stretch makes them more comfortable for sitting, and the rise is somewhere between mid and high, which is ideal for tucking in a button-down shirt or a turtleneck in the fall.
Liza Corsillo, writer
I don't have a strategy for buying jeans. I kind of just haphazardly try things on. So I end up with a lot of jeans that I don't love. But every once in a while I discover a pair that really work. These black jeans from Topshop are my current favorite. They're an upgrade from my Madewell skinny jeans (which now feel too skinny), and despite having a straight fit, the Topshop pair is slightly tapered, not baggy. The best thing about these jeans is how they curve in at the waist. I'm five-seven and either wear a size 28 or 29, and these hit me right at the ankles — a length that works well for all kinds of shoes and boots. Plus, the material is kind of thin and stretchy but doesn't get slack after a few wears. There's a pair of them in blue on sale at Nordstrom right now that I might buy because I like the fit so much.
For these, however, I did have a plan. I went to the Everlane store in Nolita to try them on after reading about how much Everlane super-shoppers like them and seeing them on several co-workers. I definitely don't think of them as "cool" jeans, more like basic work-appropriate denim that's also extremely comfortable and flattering. Again, I like that the waist actually hits me at my waist and curves in, so I never get that little gap in the back. I also love the length. I don't think I will ever look like a movie star does in jeans (my ultimate denim dream has always been to look like Geena Davis or Susan Sarandon in Thelma & Louise), but I do feel like these Everlane jeans give me confidence and make me feel put-together.
David Notis, writer
I'm a little embarrassed to put jeans this expensive on here and to have people know about this part of my life. Blue in Green is probably my favorite store in New York City, and it specializes in Japanese denim. I buy one pair there every three or so years, and I probably go to the store ten times between each pair to annoy everyone there and try on a bunch of things and pretend I know stuff about denim. (They could not be more patient and helpful, for the record.)
I bought these last week. It was kind of a weird time to buy them because it's the middle of summer, but I like knowing I have them ready to go when temperatures cool down. They're based on a Levi's 501 fit, and I like how simple they are; they don't necessarily call attention to the fact that they cost way too much. Again, they're really expensive, but I plan to have them for many years, and very few things can come close to this degree of quality, so I feel okay about it.
Since the 501 fit is basically what I've always looked for in a pair of jeans, last year I bit the bullet and went directly to the source, scooping up four different pairs. Aside from the fit, I like them for their strong hardware and because they're 100 percent cotton (I really don't like "stretch denim" because I find it doesn't age well and feels kind of nasty after a while).
I bought my pairs back when Levi's was still making its "Premium" jeans with denim from a supplier called Cone Mills White Oak Plant, which I believe has since closed down. (It was one of the last remaining American denim manufacturers, and it supplied Levi's and a bunch of other more expensive denim lines — Liza sometimes calls me a "heritage bro," and I am fine with that). But even though Cone Mills is apparently no longer supplying the denim, looking at these jeans and mine, I doubt anyone (except for maybe a heritage bro like me) would know the difference.
Karen Iorio Adelson, senior writer
I love the clean, elongating look of black skinny jeans, and this pair from Topshop is perfect. Since they're simple and streamlined, I can pair them with pretty much anything. They're fitted (while still being stretchy and comfortable), and there's no weird gaping anywhere. Plus, because they come in a petite length, I don't have to get them hemmed (which is usually the case, as I'm 4'11").
Simone Kitchens, senior editor