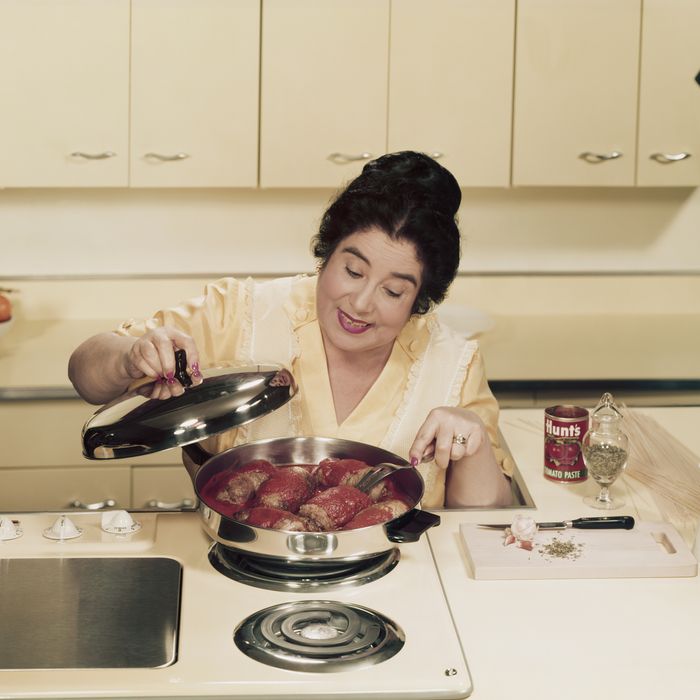 Photo: Tom Kelley Archive/Getty Images
Here at the Strategist, we like to think of ourselves as crazy (in the good way) about the stuff we buy, but as much as we'd like to, we can't try everything. Which is why we have People's Choice, in which we find the best-reviewed products and single out the most convincing reviews. (You can learn more about our rating system and how we pick each item here.)
And while we've written about nonstick pans, slow cookers, toasters and toaster ovens, blenders, and even food-storage containers, here, we're rounding up the best frying pans, skillets, and woks you can find on Amazon.
Best-rated (and least expensive) skillet
With over 15,000 reviews, over two-thirds of which are five stars, this skillet from Lodge is loved by reviewers for its price, versatility, and durability. "I love it on the stove, in the oven, on the grill, or sitting right down in the coals of a campfire," one enthusiastic reviewer writes. "Nothing heats as well and as evenly as cast iron. This 12-inch skillet is big enough for six quarter-pound burgers, lumberjack-size pancakes, a couple trout or bass, and it's deep enough to bake an upside-down cake for dessert."
As another reviewer notes, "I have used far far more expensive nonstick pans in the past. All of them eventually wear out." The Lodge, on the other hand, "is indestructible. I have left the heat on and forgotten about it, no problem. I can use a sharp metal spatula without worrying. As for non-stickiness, the other day I cooked an egg in it with just a tiny bit of sausage grease. The egg didn't even try to stick." Cleaning this skillet is "a breeze as you just run some water over it and brush off any gunk. If you find out a way to get something to stick to it, you can just put it in the oven to burn it off, and reseason. Try that with a nonstick pan."
And now for some micro-picks for every type of frying pan and skillet you might be looking for.
Best enameled cast-iron skillet
This Cuisinart enamel cast-iron skillet is neither "the cheapest nor most expensive one of these skillets I looked at, but it's done just as well as the more costly ones," says one reviewer. Another reviewer claims that this fry pan is "so much more durable that the high-tech polymer coatings, regardless of what their makers claim. This is something you can buy and use for decades." This reviewer notes, "It's heavy, compared to aluminum or stainless," but adds that it "conducts heat very evenly and the cast iron won't flex and allow the coating to crack. It's also very attractive sitting in the kitchen, is very nicely finished and there are no unnecessary and useless design features to go out of style—a 'timeless design … This is a real, old-fashioned value. An attractive, functional and useful tool you can buy once and use for decades to come—which makes it a very good value."
Best enameled cast-iron skillet with iron handle
"For those unfamiliar with Le Creuset," as one reviewer notes, "the inside of the pan is not bare cast iron, it is a black glaze that never rusts or needs special care, just heating a bit of oil in it before the first use improves non-stick qualities of the pan significantly. But you don't have to do this as cooking in the pan a few times will create the same effect." The result is, as they continue, "the non-stick qualities of the interior of this pan are great, and the black glaze they use inside the pan browns food perfectly." Another reviewer who'd "been researching safer alternatives to Teflon-based cookware" liked that this Le Creuset's construction's made "it heat evenly, it goes from stovetop to oven nicely and is continually self-seasoning to prevent sticking." Another reviewer notes, "The bottom is glazed, so I don't worry about scratching the glass top of the electric or induction stovetops."
Best stainless-steel skillet
Reviewers who were looking for an alternative to Teflon pans, which as one person notes "can warp" and "peel off" over time, loved this stainless-steel Cuisinart for its durable construction and price point. As one reviewer writes, "The stainless-steel layering goes all the way up the sides of this pan." Another adds: "MultiClad pans are equal to All-Clad, have better engineered handles, and are about a third the price." One reviewer added praise to the Cuisinart's handles: "They are sturdy and made of the same stainless steel as the pan. They can be put in the oven up to 500 degrees. I never thought I needed this function until I started cooking roasts. It is great to be able to cook everything in one pan."
Best carbon steel frying pan
According to one reviewer, "these carbon steel pans are popular in Europe but never caught on in the U.S. households, probably because they require seasoning — which isn't so scary." But reviewers claim that the De Buyer's high maintenance is also rewarding. "It is definitely the only piece of kitchen equipment I have ever owned that will let you know immediately, and with emphasis, when you are not treating it right," a reviewer notes. "If you don't film it with oil when you are done with it, it will rust. If you don't film it with oil and heat it to smoking before you cook, your food will probably stick. It looks ugly as it patinas. Acidic food will destroy your patina if it is not sufficiently well established." But, this reviewer adds, "if you treat it right, and give it the respect and maintenance that it is due, it will be the last and only sauté pan you will ever need. It will not warp, it distributes heat evenly through its thick base, it retains heat like cast iron. Now that I know what I am doing, I can't believe I ever used anything else." Another reviewer summed up the appeal of all this work simply: "I just cooked bacon and then scrambled eggs and literally NO sticking."
Best nonstick skillet
This skillet has been featured in our roundup of nonstick frying pans as the best and least expensive nonstick pan available on Amazon. "Nothing has ever stuck to it, no matter how burned it was," says one enthusiastic reviewer who claims to use pan "almost every day for sautéing or frying." They add, "It is so versatile, and because it is 12 inches wide, it can hold enough food for the four of us. Cleanup is superfast, and the pan also heats up fast, so it makes getting the cooking job done a lot faster, too." Another reviewer writes that the sloped sides "make this my new go-to nonstick pan … You can knock out a breakfast for 1 or 2 people in a matter of minutes. Food will slide right off. I'm tempted to pick up a spare or two for when this inevitably needs to be replaced in the future."
This T-fal model's affordability also made it a favorite among reviewers. "At this price point, you cannot beat the quality of this pan," another person writes. "We have used this thing for everything — sauces, searing steaks, sautéing vegetables to finishing stuff off in the oven and it does it all very well. So if you are looking for a great non-stick budget pan look no further than the T-fal professional series of pans, you will not be disappointed!"
Best ceramic fry pan
One person, who was in the market for "another hard anodized pan with ceramic type coating," writes that "this T-fal pan truly lives up to its credentials." As they note, "It is nonstick, it cooks everything evenly, it does not chip or stain and washes off perfectly. BUT most impressive is how lightweight it is; it feels half its size." And while another reviewer warns that "ceramic-lined pans start out great, but you have to be really careful of temperature, can't put them in the dishwasher because the non-stick won't last," they were impressed with how "it has retained its non-stick so well. I finally bought the larger size too. It goes in the dishwasher if you want, although cleanup is so easy I rarely bother. I can use metal utensils without a problem. Even the outside of the pan has stayed pretty clean."
Best stone skillet