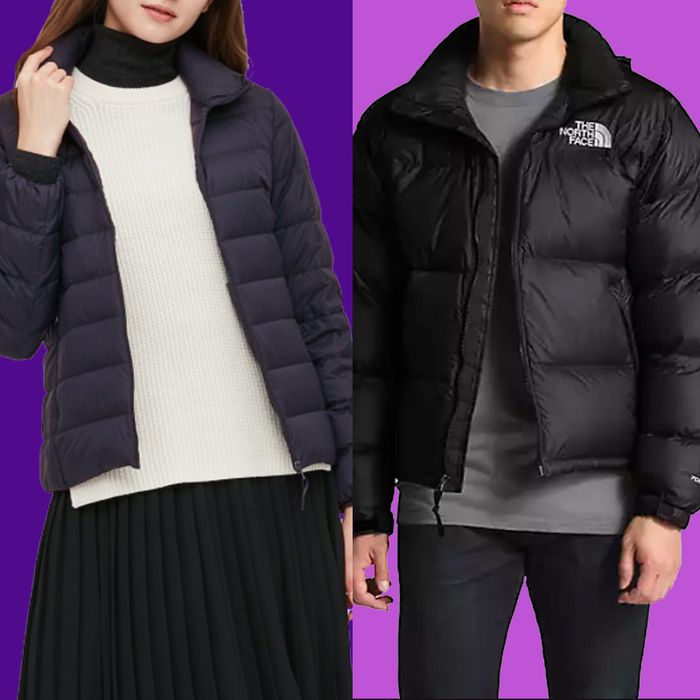 If you follow our monthly "Strategist Haul," you're familiar with the idiosyncrasies of our editors' and writers' shopping habits. While we think of those as the highlights, there are plenty of other, less glamorous things we buy — and love — on the regular too. So whether you've wondered about the work bags we tote around or the underwear we're most loyal to, this is the "Stuff We Buy Ourselves." In this edition, the puffer coats our editors and writers are wearing this winter (no less than three of us, it turns out, are Nuptse owners).
Alexis Swerdloff, Strategist editor
Photo: retailer
I actually got my black North Face Nuptse puffer in … 1996! And believe it or not, it has held up immaculately and does not look like it's pushing 25 years old. I got it during my freshman year of high school, at the height of the North Face comeback and following its stint on the cover of New York Magazine. (I wrote about this for New York's fashion issue a few years ago.) I had yet to reach puberty, and the jacket was a little oversized; now it's nicely cropped and sits just above my waist. I will say there were a good dozen years or so when the coat hung unworn in my parents' closet, but about five or six years ago I rediscovered it and it's been part of my winter rotation since.
Jordan Bowman, writer
Like Alexis, I have loved the North Face Nuptse puffer since middle school. Growing up in Queens, it was all you ever saw. Even though it has a sort of ridiculous, bulbous shape, it was always a certified banger in my mind. I managed to pick up a retro version two years ago, and I started walking around like I was a member of the Wu Tang Clan; I felt as though I had been transported back to the '90s. The jacket is warm, too, like you-can-wear-just-a-T-shirt-under-it-in-the-middle-of-a-blizzard warm. I once made the mistake of wearing a bunch of layers underneath it, then walked into a mall and started sweating like a D-League player being watched by NBA scouts. That 700-down fill is no joke. There's also this great piece from the Cut, written by my friend Lei Takanashi, about the history of the North Face and its link to New York culture in the '90s. It made me realize the Nuptse is as much a signifier of New York as it is a warm piece of outdoor gear. Protect ya neck in the winter and cop a Nuptse.
Louis Cheslaw, writer
What's left to say about it? I secured mine on Grailed (via Moscow) because these were so hard to track down in the city last winter, but I'm really glad I went to the trouble. It's the most comfortable, flattering winter jacket. I treat mine carefully (never wearing it in the rain) to preserve the down for years to come so I can rock it whether or not it's still in fashion.
I have owned this puffer for literally eight years, and because it's so light and packable, I don't think anything I own has seen as much action in that time. While it's a perfect outerwear piece on its own, I especially love how it's thin enough to slip (relatively) unnoticed under a wool or canvas coat, adding a layer of warmth anytime you're worried that your stylish jacket alone won't be enough. Sadly, the down has just about fully flattened by now — but for eight years and under $70, that's a hell of a run.
Karen Iorio Adelson, senior writer
Photo: retailer
When I first put the Super Puff on, I was surprised by how lightweight it felt, and I had some initial doubts that it would keep me warm. Luckily, I was wrong: Even though it doesn't feel heavy at all, it does a great job of blocking the cold thanks to its wind-resistant material. I love that the pockets are fleece lined so I can keep my hands warm when I forget gloves, and the sleeves have thumbholes! Full disclosure: Aritzia actually sent me this coat, but I'd been eyeing it for a while and had been planning on buying it this year anyway.
Maxine Builder, deputy editor
Regular readers of the Strategist (and my co-workers) should not be shocked to learn that my favorite puffer jacket is from Patagonia. Years ago, my dad got me a black packable men's puffer at the brand's outlet store in Freeport, Maine; the exact style is no longer available, but it's very similar to the Down Sweater. I sort of look like the Michelin Man when I put it on, maybe because it's the men's version. (If you want a slim fit, there's a women's version, too.) But man, it's warm. It's also super-lightweight because it's down, so I never really overheat while wearing it. The one downside: Down is not waterproof, so I need to throw a shell over the puffer if there's any threat of snow or rain, but it's lightweight enough that it's never a problem to layer it under either my navy Snowbelle or black Torrentshell. It's so comfortable I even find myself throwing it on when I get a little chilly in the house, in lieu of putting on a sweatshirt or finding a blanket.
Chloe Anello, writer