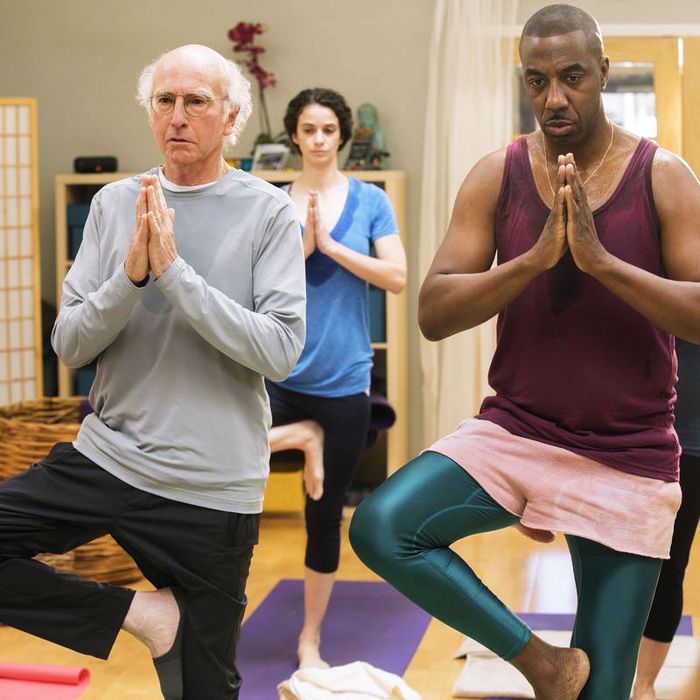 Workout gear for men can be a very particular thing — workout gear for yogis can be a battleground. Some guys want "loose and airy" while others want "form-fitting and stretchy." There are those who swear by the latest antimicrobial, moisture-wicking fabrics, while others insist on plain organic cotton. Whatever your preference may be, get clothes specifically designed for yoga. "Many [men] opt for traditional gym clothes," says Alex Lamb, Director of Operations at Modo Yoga NYC. "I often find that about halfway through the class they're regretting it." Regular gym clothes work in a pinch, but they aren't always built to accommodate the full range of motion some yoga poses require — you don't want to be worried about exposing upper thigh or belly while mid-pose. "It's less distracting when you have the right gear," says Lamb, "so you can really focus on your body and breath." We spoke with eleven experts (including nine male yogis) who told us all about their favorite yoga-ready shorts, pants, and tops.
Best yoga tops
Lamb's studio focuses on hot yoga, so he always recommends high-tech fabrics. "Sweat-wicking is key," he says, because after about 15 minutes of hot yoga "that cotton T-shirt is going to be glued to your skin." He really likes the tanks from a Canadian brand called Ryu. "Their tanks are comfortable and fit in such a great way; somehow they stay put no matter what position you're in without feeling like you're wearing a compression garment."
Yoga instructor Ben Wisch wears this Lululemon tank when he gives classes. The moisture-wicking material and mesh ventilation make it super breathable.
Sometimes a simple cotton tank top is perfect, says yoga instructor James Fideler. The organic material breathes well, and the cut is optimal because it allows full freedom of movement and "doesn't bind around the shoulders and armpits."
Photo: Rich Legg/© Rich Legg
Dean Pohlman, founder of Man Flow Yoga and author of Yoga Fitness for Men told us this high-tech T-shirt from Rhone is his favorite. "[It's] super comfortable and soft, doesn't bunch at all when doing yoga, and is very form-fitting," he says. He even wears it casually with jeans sometimes.
For a simple option that's easier on the budget, you can look to the Uniqlo AIRism line. Yuuki Hirano, manager and founder of Dou Yoga in Brookyn, says this T-shirt is great for yoga because the material is thin, breathable, comfortable, and "dries really quickly."