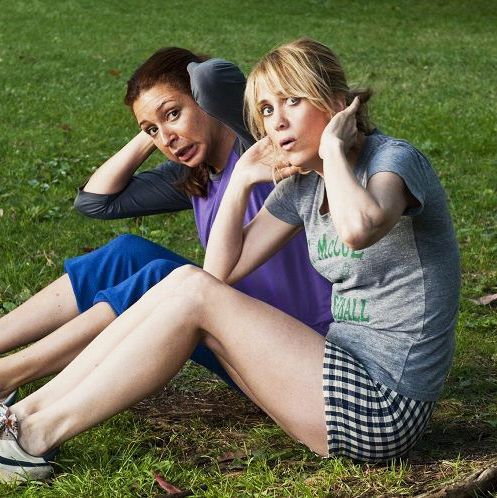 Photo: Courtesy of Universal Pictures.
The right workout top (one that's not a grimy T-shirt from the back of the closet) is breathable and comfortable while providing the right amount of coverage. That's a surprisingly difficult thing to find. To help women of all different shapes and preferences narrow down their options, we consulted a panel of fitness experts on the workout tops they rely on to get them through anything from a low-impact workout like yoga to a sweaty, high-intensity class. There are some cropped tops for people who don't like feeling constricted, plus loose, airy, sweat-wicking tanks for those leaning into their fitness resolutions. If you're re-upping on all of your workout basics, don't forget to consult our guides to the best workout bras, leggings, and shoes, too.
Cropped workout tanks
There was a clear preference among the fitness experts we spoke to for airier cropped tanks (since they're the next best thing to wearing a sports bra by itself). Trainer Tara Laferrara says she always gets compliments on this laser-cut tank that she likes for yoga or weight training. "It's super cute and sporty, and the length is long enough to just show a hint of a waistline."
Equinox personal trainer T'Nisha Glenn also recommends Alo Yoga for cropped styles, like this ruched tank: "It's cotton, super breathable, and VERY stylish with a little midriff showing if you're into it."
This racerback training top looks and feels like wearing a sports bra, which is why it's a favorite of Judine Saintgerard's, a coach at Tone House. "It's super stylish, cropped, and has minimal fabric. It's great for pretty much any workout."
And for the especially sweaty, Laferrara recommends a comfier tank like this Athleta one. "It's roomy and breathable, making it a great option for just about any type of workout."
This Nux tank doesn't look strictly like a workout top, which is why Glenn says she loves wearing it with regular clothes outside the gym. "It's form-fitting and great for days when you're feeling super confident and don't mind showing some skin, but also great for yoga, animal flow, and things of that nature."
Workout tanks
Not everyone wants a cropped fit, but your tank should at least keep you cool during workouts. Hollis Tuttle, a coach at Mile High Run Club, finds that this Lululemon racerback with "anti-stink technology" does the trick during runs. "It's very breathable, light (even when sweaty), drys quickly, and does not chafe."
Here's a tank that ties up in the back, which NASM-certified personal trainer and yoga teacher Lauren Seib recommends as a "go-to for crushing outdoor miles or PRs at CrossFit." It has ventilated strips down the back for keeping cool, and she adds that "the chafe-free seamless fabric moves with you."
This top you can wear unfurled or tied up. Saint Gerard says she usually keeps it tied up like a cropped top, but likes having options. Unfurled, it's a good option for bloated days, but even then, "the material is super light and breathable. I've made it through full track sprints and Tone House workouts without feeling the need to take this one off!"
For a workout top with built-in support, Y7 founder and CEO Sarah Larson Levey says her favorite workout top is the Ebb to Street tank from Lululemon. "I love that it has a built-in bra and vertical ribbing, which makes it super slimming, so it doesn't bunch up during workouts."
Open-back workout tanks
If you want to avoid a sweaty back situation at the gym, you could invest in a stylish open-back top like this Lululemon one that Seib recommends for its versatility. "Wear it 'open and flowy' for barre and crushing weights in the gym (okay, or during PMS), or tied up in the back for practicing your arm balances next vinyasa."
Photo: Michael Underwood
Glenn likes the bubble shape of this open-back, drawstring-bottom Onzie tank. "You can wear high-waisted leggings and show some stomach … or not. The back is totally open and very stylish."
For a more affordable version, we always find that Gap Body options are reasonably priced and do the job well.
Muscle tees
Muscle tees are not just for those with bulging biceps: they're also nice and airy for sweaty workouts, and more forgiving than tighter tanks. Seib says they're great for showing off your arms, or a cute sports bra: "Who doesn't love a good muscle tee?" She considers this Alo Yoga one an absolute workout essential. "It's so soft and the high neckline is perfect for any low-impact studio class."
For a double-duty workout top, Laferrara says, "I wear this top out as much as I wear it at my gym. It's great for coaching, working out, and going out, because it's incredibly breathable and cute."
For a budget option, Seib says these Forever 21 tees are her barre go-to. "I seriously have these in every color. Sweaty workout-approved on the cheap," she says. "I love the flowy silhouette along with the open back."
Here's our own personal favorite muscle tee to wear with tights during yoga. There's no visible branding, which I love, and it's made with a very breathable cotton material. There's also a cropped version, if you want to show some midriff.
Workout T-shirts
If you prefer a T-shirt style over a tank, Glenn recommends training in something like this anti-stink Lululemon top, "because it's form-fitting so you can see your movement patterns well, but also covered up if it's not a belly-showing kind of day."
Outdoor Voices has a nice selection of modern boxy shapes and less "traditionally workout-leaning" styles, too, like this sweat-wicking and fast-drying "Sweatee" shirt.
We also love the understated look of this Nikelab cropped tee that you could easily wear beyond the gym. It feels very "off-duty model."
Plus-size workout tops