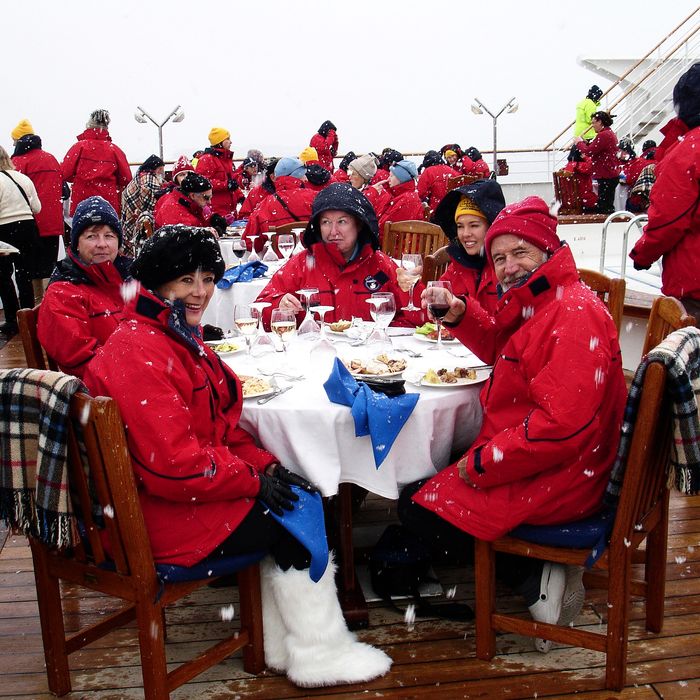 Photo-Illustration: Auscape/Universal Images Group via Getty
After a brief stint of allowing indoor dining with reduced capacity, New York City has once again limited restaurants to outside service, takeout, and delivery in response to rising COVID-19 rates. While eating alfresco was lovely during the summer, now that it's cold out, it's a bit of a different story — one that involves more preparation and much warmer clothes. You could go the extreme route and put on a wearable sleeping bag, like Strategist writer Kayla Levy, or for something a little less noticeable, take a hint from winter athletes, who rely on base layers to stay warm even in extreme weather.
Ira Rosh, divisional merchandise manager at Paragon Sports, says these close-fitting tops and bottoms worn underneath your outfit are designed to trap warm air near your body and wick away any moisture that might accumulate if you sweat. Rosh says to look for wool, silk, or synthetic base layers. Unlike cotton, these materials pull moisture away from your skin to keep you from feeling cold and damp. "We semi-joke that 'cotton kills' because if you get wet it's not a good plan," Rosh says. Read on for a breakdown of each materials' benefits, along with pieces recommended by Rosh and other outdoors experts. Then toss them on under a warm sweater and pants, top it off with your warmest jacket, and continue supporting those local restaurants (comfortably).
Best wool base layers
"Wool is going to offer a greater warmth factor overall," Rosh says, so if you're someone who gets cold easily or you plan on being outside in freezing weather, consider going with wool base layers. And you shouldn't worry about it feeling scratchy on your skin, Rosh assures us: "Most wool base layer products are merino, which has a much higher tactile comfort-feel. It's not your grandma's itchy wool sweater anymore." He says most brands offer different weight wool pieces. They're usually measured in grams per square meter (or GSM), with heavier ones being thicker and warmer than lighter ones. Icebreaker, one of Rosh's favorite brands, sells wool base layers in weights from 150 GSM (which the brand calls "ultralight") to a "midweight" 260. You'll sometimes see wool base layers or socks labeled as "expedition weight," which Rosh says is typically the brand's thickest and warmest material. The 200 GSM tops and bottoms pictured here are light and thin enough to fit under your clothes while still feeling plenty warm. Although your personal cold tolerance, activity level, and the weather will determine which weight is right for you.
Like Icebreaker, Smartwool is another leader in the merino-wool base-layer space. Rosh mentioned it, as have many other outdoorsy types we've spoken to in the past. In a Strategist story on the best base layers for athletic pursuits, Andy Docken, director of the Aspen Mountain Ski School in Aspen, Colorado, recommended Smartwool base-layer tops because, along with being warm and cozy, they can stay odor-free for a few wears in between washes. REI category merchandising manager Shelly Wilkinson also raved about Smartwool leggings when we went in search of the best long underwear for women. "Merino 250 is the warmest base-layer option that Smartwool offers," she says. "It helps maintain comfort whether the climate is warm, cold, or in between.