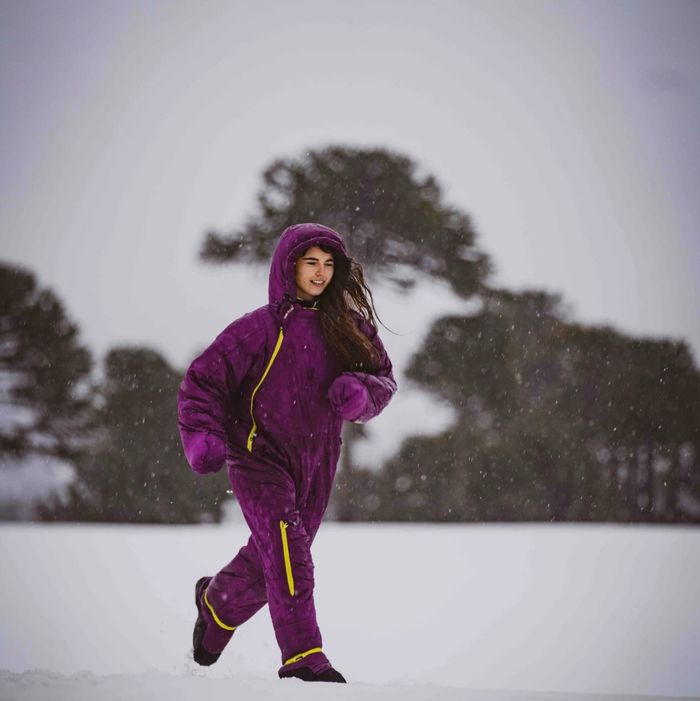 You too could frolic (in Prospect Park) like this.
Photo: Selk'bag
Usually, getting dressed when it's cold out is a personal production: leggings, long underwear, and cashmere socks under sweaters, jackets, and scarves — not to mention the extra layers that I tote around now that I'm regularly spending more than a few minutes walking around or waiting in line outside. But after this season's first snow, when my partner and I set off on a walk around the neighborhood in the slightly below-freezing weather, he felt cold, even with long underwear and a puffer, but I — a self-described "extremely cold person" — was quite warm, because over my leggings and sweater, I was wearing a Selk'bag.
I would describe the Selk'bag as a wearable, formfitting sleeping bag, but it's essentially an insulated suit, which isn't exactly an innovation. The most hard-core outdoorsy people — like Mount Everest mountaineers — have worn similar-looking snowsuits for years in subzero temperatures, and these down-insulated full-body suits are the gold standard of warm outdoor gear. But they come with a premium price tag, too: usually well over $1,000. Plus, these heavy-duty down suits, with their thick down and technical specs — like integrated suspenders and dozens of buttons and zippers — aren't really designed for everyday wear.
The Selk'bag is actually suited for city living, with lots of features that make it functional for activities like walking around the park or standing in line at the Park Slope Food Co-op. There's a two-way zipper that gives you access into your pants pockets, so you can grab your wallet while checking out at a store, and the elastic hand enclosures double as gloves in a pinch. The wearable sleeping bag is filled with synthetic insulation, not down, so it's not going to be destroyed in the rain, and it's better suited for keeping you warm at slightly above-freezing temperatures than below. It's also under $200, which isn't cheap but includes many of the benefits of wearing a full-on insulated snowsuit for far less than the cost of a month's rent (though I got mine from the brand).
[Editor's Note: The purple-toned original Selk'bag is now only available, in limited stock, on Amazon, though some other colorways are still in stock at the Selk'bag site for now.]
And the Selk'bag has made going outside in cold weather much easier. The only thing I have to do to stay warm is unzip and step inside. It has kept me well insulated during dinner in Prospect Park with friends, while waiting in an hour-plus line at the co-op, and even after a bike ride to the Upper West Side. (Plus, once I want to take it off or I get too hot, it packs down perfectly into my small 14-liter backpack and weighs only four pounds.) It's roomy enough to wear over a jacket and pants, which I've done on extremely cold occasions, but I typically wear it over some base layers, like long underwear and a sweater, and I am just as warm as when I'm decked out in my fleece-lined jeans and RefrigiWear jacket.
Perhaps the most obvious drawback of the Selk'bag is that it actually looks a little ridiculous. But then again, biking 18 miles round trip to have bagels outside on the Upper West Side in below-freezing weather, or waiting over an hour outside in order to buy specific organic sweet potatoes for a Thanksgiving pie, is also ridiculous. Such is 2020. In the grand scheme of this year, an adult walking down the street or waiting in line in a purple insulated bodysuit hasn't been enough to get any of the New Yorkers I've crossed paths with to bat an eye. And, through the lens of the "relentless" gorpcore trend, I'm actually beginning to see its aesthetic appeal. In fact, the only person to stop me in the street on Sixth Avenue in Park Slope said, "You look cozy. Where can I get one?"