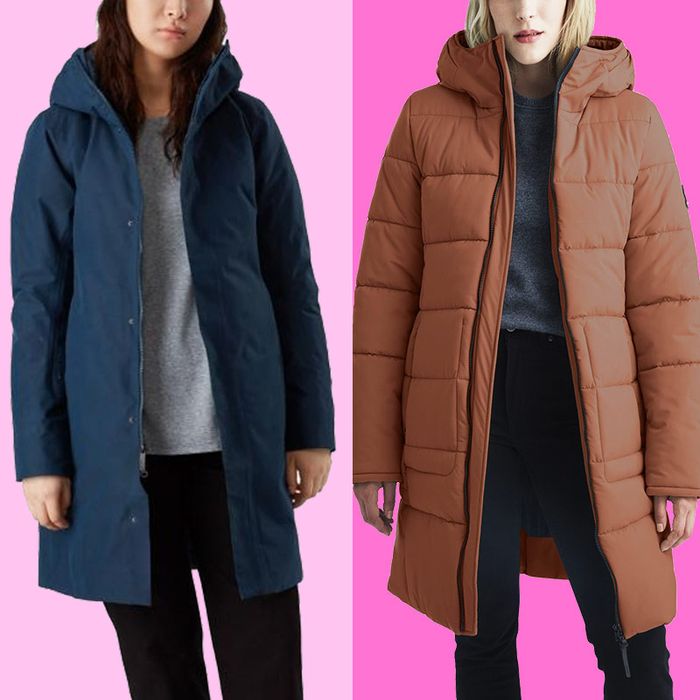 Photo-Illustration: retailers
As someone who married one, I can tell you that Canadians are very proud of two things: their maple syrup and their ability to withstand truly cold winters. Actually, make that enjoy truly cold winters. After recently moving to Montreal, I learned that frosty outdoor activities are built into Canadian culture and infrastructure; the park near my apartment, for instance, has designated paths for cross-country skiing, and people skate on the pond the minute it freezes over. With the pandemic now forcing people the world over to pursue frosty outdoor activities if they want to socialize safely, Canadians' seemingly innate ability to do so got me thinking: What coats do they depend on to keep them warm in temperatures as low as minus 22 degrees? (Yes, that's Fahrenheit.)
One brand with a country-plus-animal name might immediately spring to mind, but, reader, the words Canada Goose actually do not appear next to any of the coats on this list. Having spent each of my socially distanced walks through Montreal eyeing the logo of every jacket I pass, the brand doesn't appear to be a top seller in its namesake land — or at least the parts of it I've been to. This hunch was confirmed by Gabrielle, a customer-service specialist at Montreal-based retailer Altitude Sports (who asked that I not use her last name so she could speak freely about various brands her store sells). "Since it has the Canada in the name, it's an easy reference for anyone looking for their first winter coat," says Gabrielle, explaining the brand's popularity with coat-buyers outside of Canada. "But I'd say that people tend to wear them more for their fashion than practicality. It's not a great performance brand for outdoor activities."
With that out of the way, you might be wondering, What makes a Canadian-made (or -designed) coat different from an American one? "I'd say that Canadian brands, as compared to American brands, take the constant cold of our winter into consideration," explains Gabrielle. "While American brands design for varying winter climates, Canada has pretty much the same cold temperatures all winter across all territories, so our designs reflect that." Stephanie Renaud, who specializes in outerwear and cycling-apparel sales at Vancouver-based retailer MEC (or Mountain Equipment Co-op, which is basically a Canadian REI), agrees. "Canadian coats are different because they're designed with coldest-of-the-cold winters in mind. Our winter jackets are robust, weatherproof, and have extra puff where you need it in the shoulders, sleeves, and cuffs. They're built for warmth." (It's worth noting that Canada Goose coats are also built for warmth — the folks I talked to say they just aren't purchased as much as the other brands on this list.)
Speaking of this list, here's how I compiled it: After noting the logos and brands I saw on my aforementioned regular walks through Montreal, I reached out to winter-apparel experts like Gabrielle and Renaud about the coats they say are most popular among their Canadian clientele. The selection below reflects the overlap in the brands I saw most often and the ones the experts mentioned as their top sellers. (In some cases, I've included a few coats from a single brand for folks who like to shop around.) While many of the coats that follow are less expensive than comparable Canada Goose jackets, none of them are what you'd call cheap. But in addition to being built for warmth, many are built to last, with several coming with lifetime warranties (where applicable, I've noted which brands offer such guarantees). Of course, the fact that some of the brands are lesser known is in part due to them being less available in the U.S. But any coats on this list that aren't sold by American retailers will still ship to the United States — just be sure to check any foreign retailers' international shipping information for more details on how that works.
The sporty (second-best-known) brand: Arc'teryx
Next to Canada Goose, Arc'teryx is probably the most familiar Canadian coat brand to American consumers (its outerwear has appeared on the Strategist's lists of the best jackets for bike commuters, the best men's raincoats, and even in our piece on the trendiest holiday gifts for men in 2020). Started in 1989 by a couple of mountain climbers, the brand is based in North Vancouver near the Coast Mountains, where the design team tests out its products. "It's one of the most technical brands on the market," says Gabrielle, who praises the brand's variety of cold-weather coats — "There is something for every kind of winter activity, from hiking to climbing" — and notes that many of them are made with Gore-Tex fabric that "offers guaranteed waterproof, windproof, and breathable protection."
Gabrielle says that the brand's Cerium and Atom jackets are most recommended at Altitude Sports, in part due to their versatility. Their insulation (down in the Cerium, synthetic in the Atom) traps body heat, and although they're not fully waterproof, they are slim enough to be worn underneath a completely waterproof shell in case of snow or rain. The coats' shorter lengths — they hit at, or just below, the hips — mean that your stride isn't hindered when hiking or cross-country skiing or doing most any other outdoor activity. To wit, I see a lot of these coats out on Mont Royal on both the cross-country skiers and those walking up and down the mountain.
As Gabrielle noted, Arc'teryx also sells heavier-duty coats, like these parkas, that combine the warmth and insulation of the jackets above with waterproof, windproof Gore-Tex exteriors for days when it's both cold and wet (so fun). The parkas also have insulated hoods and two-way zippers, with the latter allowing for more mobility even with the coats' extra length.
The brand beloved by Montrealers: Kanuk
Another top brand at Altitude Sports, says Gabrielle, is Kanuk. The brainchild of a textile family looking to develop warmer coats to withstand the Canadian cold, Kanuk's products have been designed and made in Montreal for 50 years. "Kanuk is a standard here for a very warm winter coat," Gabrielle says (the emphasis on very warm her own). "A lot of people here in Montreal have vintage Kanuk coats because they are still amazing, even years after." She identifies as one of those people, adding, "The brand's excellent quality practically guarantees that their old models are just as warm as the new ones." For those who want a new Kanuk coat that looks like an old one, Gabrielle adds that "Kanuk has a new collection that looks a lot like their old models." I've seen the brand's little owl logo on the sleeve of Montrealers of all ages and genders, and, to her point, it's hard to tell by the naked eye which are new coats and which were purchased years ago. The fact that all of Kanuk's coats come with a lifetime warranty that covers any sort of manufacturing or material defects further supports the brand's buy-now, wear-forever reputation.
These, the brand's classic winter parkas for men and women, have a simple silhouette and come in every muted color you could want (along with a few bright ones, too). I first spotted the coats on a couple while waiting at the vet; the duo arrived on bikes and the jackets' above-knee length makes them easy to pedal in, I'd imagine. The woman's version has a borrowed-from-the-boys feel and looks nearly identical save for its (very gentle) shaping around the waist. The parkas — which the brand says will keep you warm in temps as low as minus 13 degrees Fahrenheit — have synthetic insulation that holds up well to frequent washing. (In fact, all of the Kanuk coats on this list feature this so-called Thermo+ synthetic insulation, but the brand uses RDS-certified, Canadian-white-duck down to insulate other coats.) The parkas' waterproof, windproof exterior fabric is matte, not shiny, and you can also buy attachable real- or faux-fur collars to keep the wind off your cheeks.
Here's another Kanuk style I spot often — a longer puffer coat that isn't so puffy. The extra length will protect butts and thighs from cold winds and cold seats.
And here are two of the vintage-inspired, newly made coats from Kanuk's Heritage collection that Gabrielle mentioned. In addition to the selection of coats on its own website, you can find some Kanuk styles at Ssense, too.
The minimalist (eco-conscious) brand: Quartz Co.
The Montreal-based Quartz Co. debuted in 2015 as the relaunch of an older brand, Quartz Nature, that was founded in 1997 and outfitted expedition teams and the Canadian Police Corp. Gabrielle says that it has quickly built a reputation for "designing performance outerwear with the planet in mind by using recycled textile fibers made from plastic bottles." Like Kanuk's products, Quartz Co.'s coats come with a lifetime warranty that includes free repairs or replacements for any sort of material or manufacturing defects. Minimalist and understated in its designs, its parkas lack any obvious logos save for a small insignia on the shoulder, something I spotted often on walks through Mile End and the Plateau (the Williamsburg and West Village of Montreal, if you will).
The Ines is one of those Goldilocksian women's parkas: puffy but not too puffy, long but not too long, cozy but not sloppy. More than half of the coat — 65 percent — is made of recycled materials, and it is insulated with RDS-certified Canadian-white-duck down sourced from farms in Quebec and Alberta. (The coat is from the brand's Forward collection, a line of garments that are Bluesign, Global Recycle Standard, and Oeko-Tex certified, which are three very official ways of saying the stuff is sustainably manufactured.) There's also a version with a coyote-fur brim, and, no matter which you buy, know that all of Quartz Co.'s coats are machine washable — just be sure to remove any fur trim. The brand's Labrador parka for men is similar to the women's Ines in that it's made with recycled materials, insulated with responsibly sourced down, and certified by all of those important-sounding agencies. According to the brand, both coats are treated with C6 durable water repellent, a waterproofing agent that's more environmentally friendly than other fabric finishes. In addition to the coats available on the company's website, you can also find a handful at Amazon.
Photo: retailer
Editor's note: MEC lists prices in Canadian dollars, so the prices shown for the Great Northern Down Parka and Tremblant Jacket are approximate conversions to U.S. dollars.
No conversation about Canadian outdoor gear or apparel is complete without mentioning MEC, which has been the country's go-to retailer for all things outdoorsy since it opened in 1971. It carries a lot of the same brands as American outdoor stores (Patagonia, the North Face, et al.), and, like the best American outdoor stores, it also has an in-house label that is very popular due to its very high quality. My husband has an MEC backpack that's going on 15 years old and still serves us very well on our grocery runs. Renaud confirmed what I already learned about MEC's in-house line from Canadians like my husband when she told me that of all the brands the store carries, two of its top-selling coats for women and men are styles from the MEC label. (To be clear, she did not recommend these as superior to other brands' — or even other MEC — coats but simply shared that they are among the store's top-selling coats for women and men.)
The exterior of the women's Great Northern Down Parka, Renaud explains, is treated with a "waterproof yet breathable laminate designed to shut out snow, sleet, and wind blasts," and both it and the men's Tremblant jacket are insulated with a "plush layer of RDS-certified down to keep you warm." Like the Arc'teryx jackets that began this list, the water-resistant men's Tremblant can be easily layered. But unlike those Arc'teryx jackets, there's a good chance nobody at your outdoor hangout will have ever heard of the brand (unless, of course, you're hanging out with a bunch of Canadians).
The brand with thoughtful (functional) details: Indygena
Photo: retailer
Editor's note: MEC lists prices in Canadian dollars, so the price shown is an approximate conversion to U.S. dollars.
While it only makes women's clothing, Renaud says that the coats from Montreal-based brand Indygena are another top-selling style at MEC. "Indygena really knows how to protect you from the elements without compromising style," she explains of its appeal. (The brand says it also makes efforts not to compromise with regard to sustainability, either.) Indygena's Ayaba Leggero Parka "has been a top style this season" at MEC, according to Renaud, who says that the coat insulated with RDS-certified down is not only "one of the warmest jackets we offer but also has a waterproof, breathable exterior that is totally windproof to buffer gusts." She adds that "one of my favorite features is the second zipper closer to your neck," explaining that "it gives you extra room when you want to wear your favorite scarf or neck warmer." Also handy: The zippers on the coat's rear kick pleats, which I've seen ice skaters and pedestrians adjust so they can better glide across the lake in Parc La Fontaine or amble over small mountains of snow on street corners.
The Strategist is designed to surface the most useful, expert recommendations for things to buy across the vast e-commerce landscape. Some of our latest conquests include the best acne treatments, rolling luggage, pillows for side sleepers, natural anxiety remedies, and bath towels. We update links when possible, but note that deals can expire and all prices are subject to change.