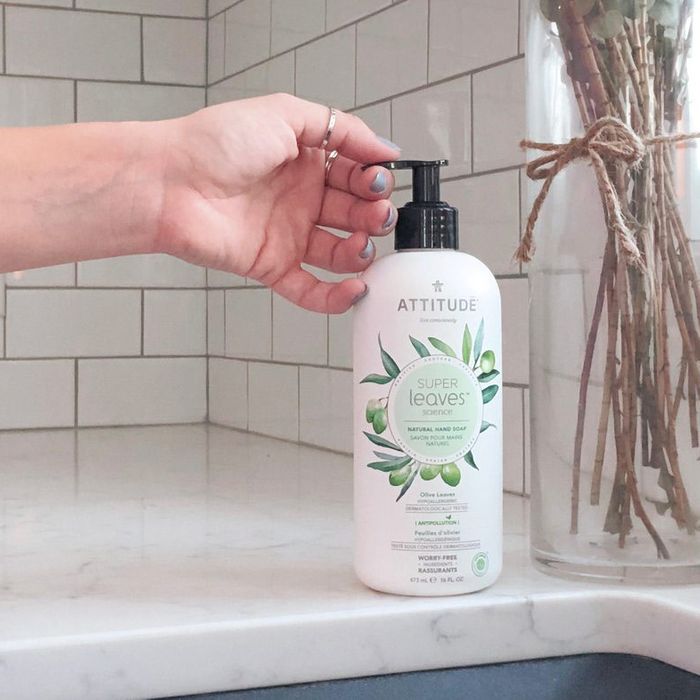 My husband and I recently moved to Montreal for his new job, and as part of our international-move-during-a-pandemic procedure, we had to go into a strict 14-day quarantine after touching down in Quebec. To make the most of it, we holed up in a beautiful cabin in the Laurentian mountains, an Airbnb rental I will not remember for its charming Scandinavian style or proximity to excellent hiking, but for being appointed with the best hand soap I've ever used.
While it's fair to say my obsession with the hand soap probably wouldn't have developed were it not for the obsessed-with-hand-soap times we are living in, the present moment has made us all more aware of what we're washing our hands with because we're doing it so often. Those, like me, who always need to hit freshly scrubbed hands with some soothing lotion afterward, will appreciate what I think is my new favorite soap's biggest draw: I haven't once had to follow a wash with any lotion in the month or so since I've been using it. The soap, from eco-conscious, Montreal-based brand Attitude, soothes and softens hands all on its own, not to mention lathers nicely and leaves no residue behind. Plus, it smells just orange-y enough — and not of the fruit, but the leaves of orange trees, as if you went and crushed a handful of them in your palm. (Its ingredients, tellingly, include orange-leaf extracts in addition to watercress and nasturtium, but the soap comes in other scents, including lemon, olive, and white tea — all of which I have used and smell just as balanced.)
Editor's note: You can also buy the hand soap in bulk here.
Attitude, I should note, did not just make the cabin's hand soap but also the laundry detergent, shampoo, and all-purpose cleaner we found there. My husband, a native Canadian, had also never heard of the brand (which launched back in 2005) before we arrived. Our fortunate, forced introduction to Attitude led me to look into it a bit more, and I learned that eco-conscious is actually putting it lightly, as every product Attitude makes is vegan (meaning they contain only plant- and mineral-based ingredients), cruelty-free, and hypoallergenic. All its products are biodegradable, and its packaging is Ecologo-certified for its reduced environmental impact. Additionally, all of its body products are verified by the Environmental Working Group, which means the EWG has declared they are free of toxic or potentially harmful ingredients. What's more, for every product purchased from Attitude or "in a participating store," the brand promises to plant a tree. Which is why, between its product offerings, reasonable prices, and ethos, Attitude sort of reminds me of Mrs. Meyer's — if Mrs. Meyer hailed from the True North and was more concerned with deforestation.
More
Attitude
products
I
own
While we've since traded the Airbnb for our permanent Canadian home, my husband and I continue to use (and buy) the Attitude hand soap we discovered there, along with several more of its products, including its excellent laundry detergent. The formula, which includes green-tea extract, passes the ultimate test of my sweaty workout clothes, which always come out smelling fresh and free of any filmy, soapy residue. The detergent, which is formulated for cold-water washes (making it even more sustainable), also did a bang-up job of getting our dog's dirty paw prints off of the cabin's white duvet cover. My husband — who is scented-laundry-soap-averse — notably had no issue with its smell, calling it "nicely subtle" (like with the hand soaps, there are several detergent varieties you can choose from). Those who go through lots of laundry detergent can also buy it in bulk.