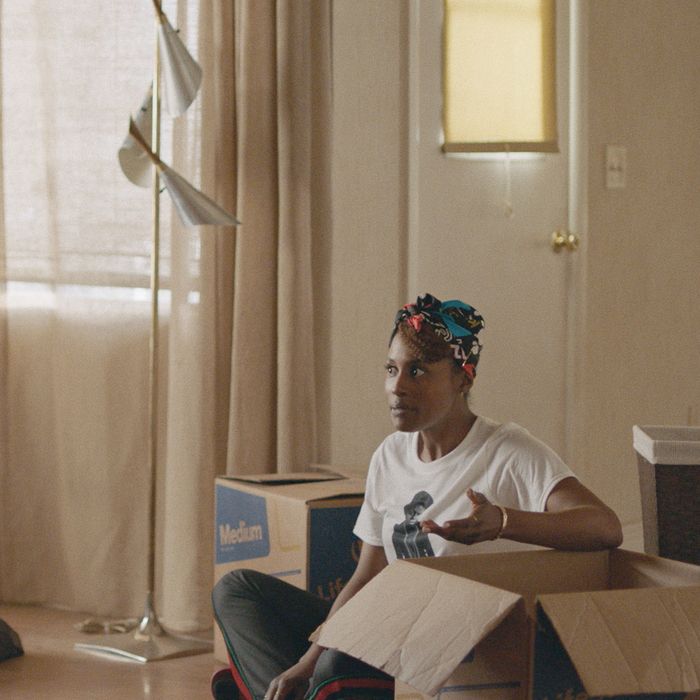 All the excitement of getting a new apartment or new house can be quickly crushed with the idea of moving — especially if you're trying to pack up and sort through all your accumulated items without any help from movers. "I mean, you just feel like you've been hit by a train when you move by yourself, right?" says Beth Penn, founder of organizing company Bneato Bar. Whether you're attempting to move on your own to save money, or to avoid as much human contact as possible during a global pandemic, there are a number of things out there to help you move like the pros. From boxes, to dollies, and protective handwear, we asked Penn, and three other moving and organizing experts, about everything you're going to need to get the job done.
If saving money is your main goal, or if you just want to streamline the process, there are some free things you can do ahead of moving day to make the process easier before you buy anything. Our experts suggest starting early and purging as much as possible so you'll have less to move. If you're renting a truck, check if your new neighborhood requires a parking permit, and if your new or old building will require a Certificate of Insurance, typically used to prove that your moving company has insurance incase of damage or injury, for your DIY move. Once you have that in order, you can start packing up and moving with the help of the items below.
A sturdy box is an obvious must-have for moving, but the way you pack the box can also impact how secure your items are inside. Jamie Hord, chief organizing officer of MakeSpace and co-founder of Horderly, says that boxes should be reserved for heavy and delicate items, and Penn recommends packing like with like. "If I already know what I'm moving into, like if I know the drawers are going to be essentially the same in the bathroom, I'm going to pack by drawer," she says. This way you can also mark boxes with their intended destination and unpack accordingly. It's also important to keep in mind that you are going to be lifting the boxes yourself so Lindsay Dow, content marketing manager at moving company Two Men and a Truck, says the least back-breaking way to pack a box is to remember, "the heavier the item, the smaller the box." Dow adds, "Pillows and lighter items can go in large boxes, books and other heavy items go in small boxes."
These specific moving boxes from the Container Store come recommended by Hord. They are made from 100 percent recycled materials while still being one of the strongest boxes on the market with a 32 rating on the edge crush test, a performance test that measures the stacking strength of a corrugated cardboard box. "The combined structure of the boxes and security of the packing tape will ensure your items are safe and sound," Hord says.
Penn recommended these, which have the same edge crush test score as the boxes above but come packaged in a ten-pack. That means you are stuck with one size of box, but since they do not come preassembled, they're easy to store if you don't use them all.
You can give your items extra security by wrapping them with packing paper while you pack. "Dishes and other breakables can be wrapped in packing paper and placed in a dish pack box for the best packing option to avoid damages," says Dow. Packing paper can also be crumpled up to stuff any half-filled boxes to protect against shifting and potential damage while in transit. Bubble wrap would offer the same type of protection, but Judd Levine, the president of Maffucci Moving and Storage, recommends "reams of paper (non-printed) instead because it keeps box count down and they are less costly." If you really don't want to spend money on literal sheets of paper, "You can also use towels, sheets and blankets in lieu of packing paper or bubble wrap," says Hord.
Protecting items that are too big for boxes is just as important as packing things away properly. You can do this by using furniture pads or blankets to wrap "any kind of like glass table tops, or just any type of furniture that when you're moving you don't want it to hit the walls when you're putting it on a dolly and sending it out of the apartment or house," says Penn. "Most furniture gets wrapped in that because it's going to go in a moving truck and you don't want it to get dirty or dinged. It's also protecting the walls." Levine also notes that wrapping the furniture before it goes in say a rented truck is also especially important if you're moving during a public health crisis like COVID-19. "You never know when you're renting a truck and doing it yourself who's been in there before you," he says. "You just want to make sure that the materials are clean."
This two-pack of professional-grade moving blankets from Uboxes comes recommended by Penn. They can be thrown over a couch or dresser to protect the furniture while in transit or and the walls while squeezing it through a narrow hallway.
If you're only moving by yourself just this once and never plan on doing it again, Levine recommends these paper, single-use moving pads. They offer the same protection and are less expensive. Because they are made from paper they are also lightweight, which is important to keep in mind since you will be carrying the load.
Mattress covers serve a similar purpose as the blankets and pads above — protecting your mattress from any outside elements or dingy moving vans — but with the added protection of it being completely enclosed. "If you get an unknown truck that isn't being cleaned on a day to day basis and you don't know who has been in it, it could've been someone having an issue with bedbugs," says Levine, who even recommends shrink wrapping the mattress first and then covering it with a mattress bag. But even if you have a new mattress waiting for you at your new place, and you are planning to dispose of your old one, you'll probably need one of these bags; Penn reminds New York City residents that "you have to cover it with a mattress cover" before disposing of it. The fine for disposing of a mattress improperly is $100, according to the New York sanitation website.
Levine is a fan of using shrink wrap to cover a mattress while moving it, but he extends that to anything else upholstered, too. It's basically a heavy-duty cling wrap, similar to what you would use to cover up your leftovers, but on a much larger scale. It comes on a spool, sticks to itself, holds everything together, and can be easily cut off when you get to your destination. Penn says it's also great to put this wrap "around the furniture pads to stay on to the furniture," and to secure drawers. "Maybe something needs to be closed, but not necessarily protected like a bin of plastic drawers, You can wrap that so it doesn't fly open when it's in transit or in the trunk." It's another way to protect breakable items from shattering as well. Shrink wrap can go around a glass lamp or TV, especially if it's not being packed in a box, for added protection.
Now that you have everything packed up, it's time to actually move it all, and if you're doing it on your own, moving home's worth of stuff down even one set of stairs can be discouraging, but a dolly can help. According to Penn, you need two types: four-wheel furniture dollies and two-wheel utility dollies, or hand trucks.
Four-wheel furniture dollies like this are best for furniture, Penn says. If you are moving in and out of a building with an elevator, you could easily tip your sofa over and slide it out on one of these. Penn says they also come in handy for moving out miscellaneous items as well. "What I see movers do is they take that four-wheel dolly, and they'll put a big sturdy open box on top of that," she explains. "They'll load it with miscellaneous stuff, and that's a way to transport things as well, because again, you don't want to be making all the trips." There are only a few times when a dolly like this might come in handy, so Penn recommends renting one, which U-Haul offers starting at $7. If you want to make an investment, this well-rated one has a 1,000-pound capacity, and rolls smoothly on four swivel casters.
This type of dolly, also known as a hand truck, is better suited for someone moving in and out of a building with stairs. That's because you can drag it either up or down those steps (carefully, of course). You can stack a few boxes on it, or small pieces of furniture. But what Hord likes about this one is that it's something you will be able to use beyond moving day, "for moving groceries, big deliveries or furniture around your home." This one from the Container Store can fold up for storage and is lightweight but still has a carrying capacity of 150 pounds.
If you're moving more heavy duty stuff, Levine recommends a hand truck from Uline. "If you have a refrigerator, or a large cabinet, a dolly sometimes doesn't suffice, and you would need a hand truck where you can kind of lean it back and it gives you a little bit more traction for a higher piece or heavier piece than just sliding it on a dolly," he explains. This standard one has a capacity of 500 pounds, so you can swiftly maneuver household appliances or that grandfather clock you inherited out of your current place and into your new home.
Pandemic or not, a pair of gloves will do you good when moving, but Penn warns against using the disposable ones you might be wearing on your local grocery store runs these days. "My acquaintance just moved to New York, and she said they were using gloves, but she said it actually was terrible because you're sweating and they fill up with water and I was like, that's disgusting," she says. Penn instead recommends these work gloves, which are breathable. Plus, they literally protect your hands as you drag stuff up, down, and around: "Your hands are really going to take a beating if you're doing this on your own."
The Strategist is designed to surface the most useful, expert recommendations for things to buy across the vast e-commerce landscape. Some of our latest conquests include the best acne treatments, rolling luggage, pillows for side sleepers, natural anxiety remedies, and bath towels. We update links when possible, but note that deals can expire and all prices are subject to change.