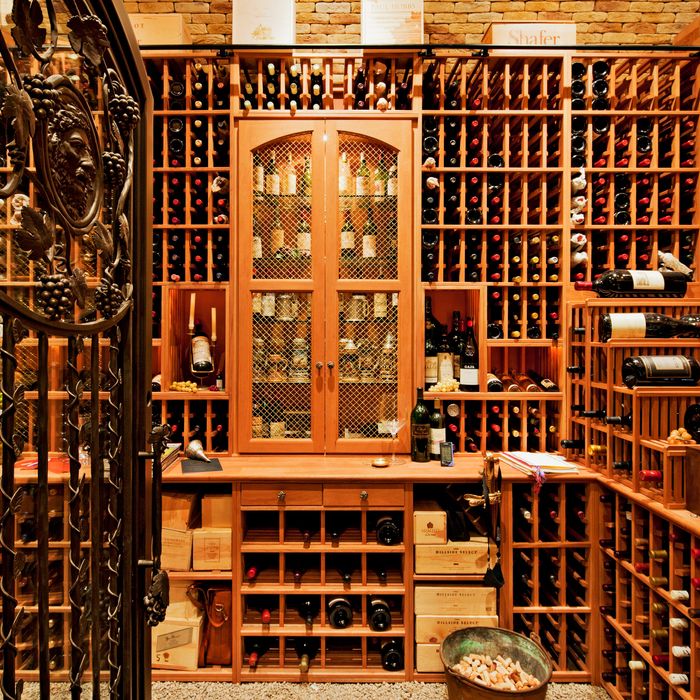 For when your personal wine cellar doesn't look like this.
Photo: George Gutenberg/Getty Images
You know you're a wine lover in need of a wine cooler when you start struggling to fit groceries in between the stacked bottles in your refrigerator. It might also be time to get a wine fridge if you're starting to collect more serious vintages, and don't have access to a cool, dry cellar for safe, long-term storage. Or maybe you just want your houseguests to think your wine's nicer than it really is. After all, jokes Katie O'Byrne, the director of recruiting at Kitchen Culture and former sommelier at Otium in downtown Los Angeles, "Nothing says 'I'm a grown-ass, fancy wino' like a proper wine fridge."
The problem with buying a proper wine fridge is that they aren't cheap, and when you look at them online, they all kind of look the same. But when you're spending this much money on a new home appliance, you want to be sure it actually works (especially if you're using it to store rare and expensive things). So to help you find the perfect wine fridge for the way you drink, we talked to sommeliers, winemakers, restaurateurs, and even one refrigeration expert turned wine importer about the wine coolers and fridges they trust with their own one-of-a-kind bottles.
Best overall wine refrigerator
Even though he has a lot of bottles of wine in his collection, Roman Roth, a winemaker and partner at Wölffer Estate Vineyard on Long Island, has found that he only needs a small wine cooler, since the bulk of the bottles can be stored in his dark, temperature-controlled basement. "I like the small, dual-zone coolers like the 32 Bottle Dual Zone Refrigerator from Wine Enthusiast," he says, noting that a glass door is fine for small fridges, which are mostly used for short-term storage. However, Roth notes that "if people prefer to use the large wine refrigerators, I always recommend they use one with a solid door, not a glass door where light can get to the wine" and possibly damage it during long-term storage. Brittany Villafañe, the head sommelier at DB Bistro Moderne also recommends this cooler from Wine Enthusiast. She told us she's a general fan of the brand, and that she likes how this specific model offers dual temperature zones "so that you can safely store your whites along with your reds at optimum temperature." Dual-zone fridges are also great for people who enjoy entertaining because both white and red wines can be served at their own best temperatures, straight from the fridge.
Best (less expensive) wine refrigerator
Once her collection started to accumulate beyond a handful of bottles, O'Byrne bought an Ivation 12-bottle fridge on Amazon. "I have been extremely happy with it," she says. "It's quiet, compact, and super easy to set up; it was able to reach 50 degrees Fahrenheit within 20 minutes of plugging it in, which meant I was on to my third bottle of chilled white wine an hour after it arrived on my doorstep."
Note: O'Byrne's 12-bottle Ivation fridge is currently sold out, so we've included the still-in-stock 34-bottle version of this fridge.
Best thermoelectric wine refrigerator
Justin Marquez, the general manager of Lincoln Ristorante, has been working with wine refrigerators for more than a decade. Professionally, he's used EuroCave refrigerators, which he says were "totally sufficient for our needs at the time." (You can find two EuroCaves further down on this list.) But at home, Marquez has a (now-discontinued) 28-bottle wine refrigerator from a brand called ElectroBoss. "I've never spent more than $150 or $200 on a wine fridge," he says, "mainly because I stick to smaller-size fridges." His advice: "Find a refrigerator that's going to keep your wine at a consistent temperature, around 48 to 55 degrees for storing purposes, and at the proper humidity so that the corks don't deteriorate." Instead of a compressor, a thermoelectric refrigerator uses static, which means it works a bit like an old, non-self-defrosting refrigerator. It doesn't have a fan, meaning nothing is blowing, vibrating, or — god forbid — collecting dust, overheating, and ruining all of your precious bottles stored within. "That's what doomed my first wine cooler," Marquez says. "Living in a pre-war apartment in New York City, I was always fighting dust. Eventually, that dust clogged the air intake of my refrigerator and it started blowing hot air instead of cold." This thermoelectric option satisfies Marquez's conditions and is particularly well-reviewed.
Best energy-efficient wine refrigerator
If keeping your electricity bill low is as important to you as buying a great wine fridge, writer and Black Wine Professionals founder Julia Coney recommends the entire line of fridges from NewAir. "I like NewAir because they come in an array of prices and sizes," she says. "They offer single- and dual-temperature-zone refrigerators with very low noise, and they are energy-efficient."
Best-looking wine refrigerator
In addition to giving us his own recommendation, Marquez also pointed us to this wine fridge used at home by Lincoln Ristorante's executive chef, Shea Gallante. It's admittedly pricer than others on this list (though not the most expensive), but Gallante says he's used it for more than seven years without any problems, and that the sleek-looking cooler fits seamlessly into his kitchen design. Indeed, Kitchenaid products are often praised as the best in their class for both their quality construction and good looks (we've called the brand's stand mixer the "Kleenex of stand mixers"), which is why you might recognize its wine fridges in photos of home-décor influencers' butlers pantries on Instagram. Gallante's favorite model allows you to customize the door panel to match your cabinets, but if you'd rather skip that step, you can choose between black or stainless steel doors. Plus, it features dual-zone temperature control, UV-protective glass, and a lockout control to avoid accidental or unsupervised access to your bottles.
Best compact wine refrigerator
If you're operating with limited space but still want to be able to collect wine, this 20-inch fridge from EdgeStar is ideal. "This is the one we keep under the bars at our restaurants," says Nialls Fallon, co-owner and drinks director at The Fly, Cervo's, and Hart's in Brooklyn. "It takes busy service abuse and keeps going. We've had the one at Cervo's for almost four years and it still holds the temperature perfectly."
Best 50-bottle wine refrigerator
Julian Albornoz, the sommelier at Atlas Restaurant Group's the Bygone, told us he first received two of these — his favorite wine fridges — as gifts. "Each [has] a capacity of 50 bottles, and features single-zone temperature, humidity, and touch control," he explains. If you drink a lot of wine and don't have a proper basement for long-term storage, this fridge is a great alternative, according to Albornoz. "I prefer the single-zone temperature as opposed to dual-zone because I like keeping bottles (whites, reds, rosé, and orange!) all at cellar temperature, which is around 58 degrees Fahrenheit. This way they can mature properly and the risk of damage is minimal."
Best restaurant-quality wine refrigerator for home use
If you're the type of wine enthusiast who insists on a professional-grade fridge for at-home use, Zach Jones, the wine director at Chicago's Pacific Standard Time, suggests Allavino's single-zone fridge. "We use Allavino Flexcount Classic Series wine refrigerators at the restaurant, and they are actually perfect for home use as well," Jones says, adding that you'll generally want your at-home model to have about a third of the capacity of a commercial version. "At the restaurant, we have a few of the 174-bottle model, but for home use, the 56-bottle model works beautifully."
Best wine refrigerator with an opaque door
"I know they are super pricey, but I love anything EuroCave, and I've always had great experiences with them at home," says Joe Campanale, the owner and beverage director at Fausto in Brooklyn. He calls these fridges "nearly indestructible," adding that "whenever I've bought something from a less expensive manufacturer, they haven't held up as well." One of the nice perks of this expensive 74-bottle wine fridge is that the door is opaque, which will protect your bottles from UV damage when you're storing them for years rather than months. Another attractive feature is that interior is entirely customizable. "You can choose how many shelves you want within the fridge, and you can change the orientation of the door, which is extra helpful in tight New York City apartments," Campanale explains. "Plus, it's lockable, so it's great if you want to keep your wine away from your teenagers or your guests crashing at your place while you're out of town."
Best (less expensive) wine fridge with an opaque door
If you're looking for something more affordable and don't need the 74-bottle capacity of the above Eurocave, this 18-bottle wine cooler from expert-recommended brand Wine Enthusiast (the maker of our best-overall wine refrigerator) is a great alternative. Its door is only half opaque; the bottom opaque half protects bottles for longer-term storage, while the top glass half shows bottles ready to serve. Amazon reviewers rate this fridge very highly, as it still protects your most valuable vintages at a much more palatable price.
Best large-capacity wine refrigerator
Cedric Nicaise, the wine director at Eleven Madison Park, also recommends a model from EuroCave, for many of the same reasons as Campanale — including that it works very well if you're trying to fit a lot of wine into a cramped New York City apartment. "This is one of the best models if you are looking to maximize capacity because you can store a ton of wine in these; it's just about the most wine you can store in this amount of space." With a bottle capacity of 178, this six-foot-tall cooler definitely maximizes the amount of wine you can keep chilled with a minimal footprint.
Best nonelectric wine refrigerator
On the other hand, if you're just looking for a basic cooler to keep your wine cold when it's not being refrigerated, James Murphy, the owner of the restaurant and wine bar Four Horsemen in Williamsburg (and LCD Soundsystem frontman), stands by Yeti. "The Yeti 250, which my band used the shit out of on tour, lets you dump a few cases of wine into it with a little bit of ice. Load it onto a hot semi-truck in the dead of summer for a week, and nothing ever gets warm. It's bonkers. Three of those things and you have a serious portable wine bar, which we did."
The Strategist is designed to surface the most useful, expert recommendations for things to buy across the vast e-commerce landscape. Some of our latest conquests include the best acne treatments, rolling luggage, pillows for side sleepers, natural anxiety remedies, and bath towels. We update links when possible, but note that deals can expire and all prices are subject to change.
Every editorial product is independently selected. If you buy something through our links, New York may earn an affiliate commission.