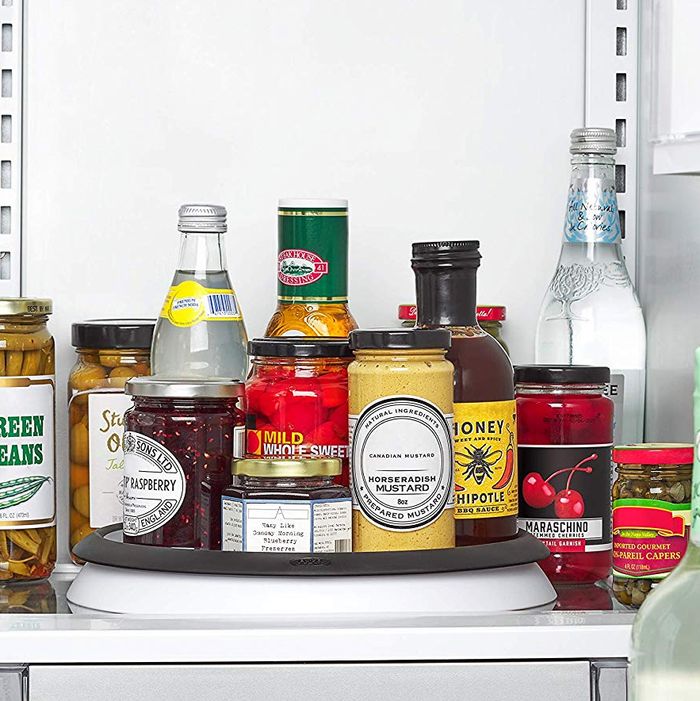 A lazy Susan in action.
Photo: Courtesy Retailer
Here at the Strategist, we like to think of ourselves as crazy (in the good way) about the stuff we buy, but as much as we'd like to, we can't try everything. Which is why we have People's Choice, in which we find the best-reviewed products and single out the most convincing ones. (You can learn more about our rating system and how we pick each item here.)
And while we've written about lots of organizers before — including makeup organizers, shoe organizers, and desk organizers — here, we've rounded up the best kitchen cabinet organizers, as praised by the most enthusiastic reviewers on Amazon.
Best-rated kitchen cabinet organizer
"It seems weird to love a stackable can rack organizer but I do," writes one reviewer, who bought two of these organizers, because "with these organizers, I am able to find things and my pantry is so much nicer looking." And nearly 500 more reviewers say this can rack organizer gave them back a tremendous amount of space, though more than one admits that assembly is "a little dicey." The results, however, speak for themselves. "We have a large pantry that is now, for the first time ever, very neatly organized," one customer writes, while another says, "The three racks fit all sorts of cans, from tuna to large bean cans. I like not having to dig around the cupboards for something when I'm in the middle of making dinner. I also like taking quick inventory before a shopping trip. Very convenient."
Best-rated (less expensive) kitchen cabinet organizer
"I thought I was going to have to dedicate half a drawer for all of my wraps. Now this takes up only a quarter of a shelf," writes one reviewer of this organizer wrap, before calling it the "perfect solution for a small kitchen." And many more reviewers with limited space appreciate this wrap organizer rack. "This rack allowed me to empty a drawer full of bags, foil, and wrap," one reviewer writes, adding, "It is more than strong enough for the light weight of kitchen food savers and I bet the top rack could hold a restaurant level plastic wrap dispenser." And as this reviewer puts it, "Not having my foil and other wraps fall over anymore probably brings me more joy than it should, but everything looks so much tidier, and sometimes it's the little things in life, you know?"
And now for some micro-picks for every type of kitchen cabinet organizer you might be looking for.
A third of over 2,200 five-star reviewers describe this Seville Classics cabinet shelf as "sturdy." One customer says they "completely transformed" her cabinets because they are "perfect for turning those two-shelf cabinets into four shelves. Also, I find that they are quite attractive and blend nicely into the rest of the cabinet." A "Fiestaware collector" says "these expandable shelves are the bomb." He adds that although they're thin, "They are extremely sturdy. I have no concern that these sturdy shelves will hold my heavy dishes. If you need to expand your storage, get these." That this shelf is expandable also appealed to reviewers. One customer has "awkward-sized cabinets," which made it difficult to find organizers that fit. He calls this "the perfect solution" because he "made it exactly the right size for my cabinets." He came back over two years later to update his review, adding, "This expandable shelf still looks new. It doesn't have any chipping or scratching, and it has never sagged or buckled."
Best stackable kitchen cabinet organizer
These stackable shelves gave reviewers extra room in their cabinets. One reviewer says they actually gave him "double the space" in his cabinet for dishes and snacks. Another agrees that these have definitely increased and organized the shelf space, writing, "The stackable feature is really great if you need that method and they are very heavy duty, also, chromed. No sagging, no matter how large the cans are that you stack on them." And one reviewer has stacked a lot on them: "I stacked them 3 high with heavy pots and pans. They are holding up very well." And another reviewer actually has a lot of cabinet space and uses these to "divide the space in one of our deep cabinets" that he admits "had become a dump bin."
Best corner kitchen cabinet organizer
"It's amazing how something so simple can transform a cabinet," writes one customer, adding, "This corner shelf is sturdy enough to hold a stack of ceramic plates without bending at all." Another reviewer specifically wanted a corner rack because "corner shelves make good use of dead space" and these ones in particular are "sturdy and easy to clean. They actually make the inside of the cabinets more attractive." A few question how sturdy and strong this shelf actually is, especially if intended to hold plates or pots, but one reviewer explains, "This corner shelving is about as sturdy as you can get without being too industrial strength. The size is generous and it is well made to hold heavy burdens."
Best expandable spice rack
This wood spice rack received high marks because not only is it more "attractive" than its wire and plastic counterparts, but it's also expandable. One reviewer says his cabinets are "circa when the dinosaurs roamed the earth," which makes it difficult for him to find the right size organizers. "Since purchasing this wonderful expandable spice rack," he writes, "now all of my spices get to shine like the stars they are. Even when expanded completely, the wood is extremely solid and strong, and can hold just about anything you may want to put on it." Another customer specifically loves "the fact that it doesn't have a wire base," explaining, "The spices don't wiggle like they would on wire." A third reviewer reports that "they hold about 12 spices per tray, using the usual McCormick or Spice Islands-sized jars." And one more notes these are the racks to buy because "the wood is a nice color and matches the inside of most cabinets."
Best non-skid spice rack
One customer kept their five-star review short and sweet: "I like the grip on the shelves." And lots of reviewers appreciate the non-skid grid, which, according to one, is there to "prevent things from sliding off." Several reviewers notice a difference between the grippy option and other spice racks, which would cause jars to "constantly slipped off when reaching for the bottles," according to one reviewer. The design itself is clever, too. One reviewer appreciates how "the bottom step is about an inch off the ground so I can put spices in front, giving me four levels to view labels from." A third reviewer adds that the all-plastic construction means, "The whole thing is easy to clean, so if you have any spills, they are easily wiped off and no staining will occur."
Best kitchen cabinet organizer for spices
Unlike a spice rack, this organizer creates drawer space for spices that's compact enough to store in a cabinet, and for many, it makes cooking much easier. "My spice-finding strategy used to be kind of hunter-gatherer, now I'm like a seasoned (ha) librarian. Everything is alphabetized and I could find my cayenne blindfolded," says one reviewer. Another reviewer writes that this organizer "saved my life," explaining that in their new kitchen they didn't have room for spices or a spice rack. "When I found this one, I knew I had the answer. I was able to stack two of these in the space under my cabinet and they look great with my stainless steel appliances." A few more reviewers, in less of a crisis, say this just helped them stay organized. One reviewer explains, "This turned a messy cupboard into organized glory. My husband is the spice guy/chef in our house. Our cabinet was being taken over by spices. It is a bit pricey for plastic, but worth it."
Best kitchen cabinet organizer for plastic lids
Reviewers commiserate over how difficult it is to organize plastic lids. But more than one reviewer says this organizer was life-changing, like one who says she knows it "sounds silly," but explains, "No longer do I have storage container Jenga. No more stuff falling out of the cabinet every time I open the cupboard. Now I can stack my lids in the organizer and my storage containers fit nicely on the shelf, and I have a lot of storage containers." Many reviewers say these are easy to install. "In under 15 minutes I took my nightmare lid drawer and turned it into a functional, convenient storage space," writes one reviewer who says this was the first step to getting her "tiny, chaotic kitchen under control." Another customer calls this "the best invention ever, aside from Post-it notes and Ziploc bags," explaining that she used to sort her tupperware every month, but with this, she's stopped that routine. Now, her "life is now complete."
Best kitchen cabinet organizer for pots and pans
Customers love that this organizer saves their pans from scratches that occur when stacked on top of one another. "The pans take up less space than before, are easier to reach, and have enough space between each rack so that the pans don't get scratched," writes one reviewer. Another appreciates that she no longer has to "stack pans on top of each other with a cloth in between," but most important, this rack "neatly organized my pans." Another "fellow neat freak" says this rack also makes the pots "easy to grab," explaining, "Instead of constantly rearranging everything in order of size each time I do the dishes, which is every day, I just slide them in wherever." And one more says it has room for every possible pot (even cast-iron) you could have, writing, "It holds all of my large skillets with room for nesting with some."
Best kitchen cabinet organizer for pot lids
"I've always had problems with finding the pot's lid. This simple rack lets me put them all in one spot. It's terrific," writes one customer. Many more agree that this offered a simple solution to their disorganization. One reviewer has "awkward casserole lids" that never fit in the drawer in an organized manner, but with this rack, she writes, "Awesome product. Very sturdy with lots of options for positioning your lids based on size and height." Another reports that it's "fully adjustable to hold seven lids of varying sizes." And one gets more specific, explaining, "I am storing six Calphalon pot/pan lids easily, and I think I can fit one more with some adjustments. My lids range from very thin to thicker saucepan lids with a one inch slotted lip so that you can drain or pour things from the saucepan. This is a useful item and makes life so much easier than digging around for the right lid while you are in the middle of cooking."
Best kitchen cabinet turntable
Nearly 200 customers very specifically bought these large turntables for the corners of their kitchen cabinets. "The turntable fills the corner where the shelves join. Previously it was difficult to use the area as items always needed to be moved to reach into that space," one reviewer explains. Another also has "that awkward inner corner on each shelf that is so hard to reach when the shelves are full on both sides." With this lazy Susan, they write, "Not only do they look great, but they are durable, they hold a lot of stuff, they spin smoothly, they really make such better use of those awkward corners and they are totally easy to access." One baking enthusiast has only used these for over five years all around his kitchen, saying they work for more than just the corners, as he notes, "They work beautifully, spin easily, and look like the day I purchased them. So easy to wipe off when needed to keep clean."
Best wooden kitchen cabinet turntable
Because this turntable is made from wood, dozens of customers think it's sturdier than the plastic competitors. A few complain that it is pricer but at least one reviewer doesn't mind because "it's very attractive and sturdy. Looks great on the table and allows us to keep all the table stuff, like salt, pepper, napkins, candle, etc all in one place." One customer actually wasn't sure how the quality would be, saying they were "worried it would be wobbly or fall apart easily," but reports back, "It's quite sturdy, very simple to assemble, attractive and spins easily." And one more reviewer fawns over the wood, writing, "There's a lot of light bamboo wood in the kitchen appliance world, but I love that this one is a little more moody. I have a kitchen color combo of black, grey, silver and blue, so my woods need some edginess when it comes to style. This one lets me put tall and short pieces in it and spins perfectly. Not to mention attractively."
Best tiered kitchen cabinet turntable
The customers of this Madesmart tiered turntable are no strangers to lazy Susans. One reviewer had his old turntable for "over 30, yup, 30 years" but it broke because he dropped it. Although distraught, he purchased this one and loves it just as much, writing, "Everything that fit on my old turntable fit on this one. It turns so smoothly and the base is a smidge bigger than the top, so it keeps other things from bumping it and causing it to not spin." Another has owned multiple turntables before, including three-tiered options, but says, "With different sized spice holders, lower tiers would block the others and it just didn't hold that much." This two-tier options "seems to hold much more and the spices are easily identifiable in it," she adds. But first-time owners like this turntable, too. One says she's "so happy and amazed with this lazy Susan," explaining, "I grew up with an unorganized chaotic spice shelf, then I made my own, and I hate it. This device has me on cloud nine! I will never again have to take every spice out just to find the one I'm looking for."
Best small kitchen cabinet turntable
A quarter of all five-star reviewers use this turntable specifically for spices. One calls it "life changing," explaining that she actually owned another turntable she picked up at HomeGoods, but "it can barely spin without knocking something over." After buying this, she "never knew this could make such a difference. It is very durable and spins smoothly." Another customer says he wasn't sold on the plastic, because he typically prefers the durable construction of wood items, but he loves these: "These are light, sturdy, easy to clean, super easy to spin and hold an amazing amount of cans on a pantry shelf. These don't squeak and I have them piled reallllly high." Many more just appreciate the instant organization it gave them in their cabinets. One reviewer writes that these saved her from "having to paw through the cupboard and knocking stuff over," adding, "Now all I have to do is give it a whirl and pluck what I need. They're so handy that I'm trying to think of more places they would be useful."
Best kitchen cabinet organizer for cutting boards
People agree that cutting boards are a bit awkward to store and organize, but this hanging organizer helps. "My cutting boards always took up so much counter space and would randomly slide and fall down, which was so frustrating." After buying this, she writes, "This is a great idea and fits perfectly over my cabinet so it hides my cutting boards but also gives me so much of my counter space back." Another reviewer, who recently moved to a smaller kitchen and has "been doing everything to make sure there's a place for everything and no wasted space," uses this organizer for her cutting boards and other things like foil, cling wrap, and parchment paper, too, freeing up even more space.
Best kitchen cabinet organizer with pull-out drawers
"These have made a world of difference in terms of organizing my cabinets. No more crouching down and digging through a bunch of random crap every time I need to find a cleaning product," explains one reviewer who admits they are "not an organized person by nature." They add that they have used this "under the kitchen sink for cleaning products and tools" for several years now "and it's held up very well." And over 200 reviewers appreciate this slide-out design, even though they're meant to be hidden away, one customer writes, "They're nice enough looking that they don't have to be hidden." According to another reviewer, "All the unruly bottles and packets are now corralled into the easily sliding drawers and are easily accessible. Great idea. Great price."
Best pull-out kitchen cabinet organizer shelf
People say after installing these, it became much easier to reach everything in their lower cabinets. "I no longer have to kneel on the floor, reaching into the 'abyss' in the back of my cabinet under the sink. Now, I can easily access all of the stuff under there," writes one reviewer. They also note that this made them "much more organized." And many more say that not only does this make it easier to access items in their cabinet, but it makes sure everything has a place. One reviewer says she is "actually cooking more and trying more recipes because I can get to whatever I need in the kitchen" after buying this drawer. They even roll smoothy, "as if they were professional laboratory equipment," as one reviewer puts it. They also add that they're easy to install, and overall, "the perfect solution."
Best slide-out kitchen cabinet organizer for bakeware
"This holds all our sheet bakeware and our cutting boards. No more crawling around looking for them, and we were able to get them out of all the weird places we used to spread them out," writes one reviewer who also adds that "the quality is good." Bakeware comes in a plethora of shapes, making neatly storing all the trays and tins difficult. This sliding rack organizes everything easily. One reviewer says he was "able to fit quite a lot" on this tray, including "two round pizza pans, four sheet pans, six white plastic-type cutting boards, and two thick cutting boards." They exclaim, "This is a lot of storage in a small amount of space." Some wonder how durable this rack will be, but one "young engineer" puts any hesitation to rest: "The quality of the construction was excellent and the use of finger nuts and shoulder bolts made assembly a snap. Add to that clear instructions, an alignment template and an extra fastener of each type for those of us with fumble fingers and success is virtually guaranteed. Oh, it holds my wife's cookie sheets and baking pans very well."
The Strategist is designed to surface the most useful, expert recommendations for things to buy across the vast e-commerce landscape. Some of our latest conquests include the best acne treatments, rolling luggage, pillows for side sleepers, natural anxiety remedies, and bath towels. We update links when possible, but note that deals can expire and all prices are subject to change.