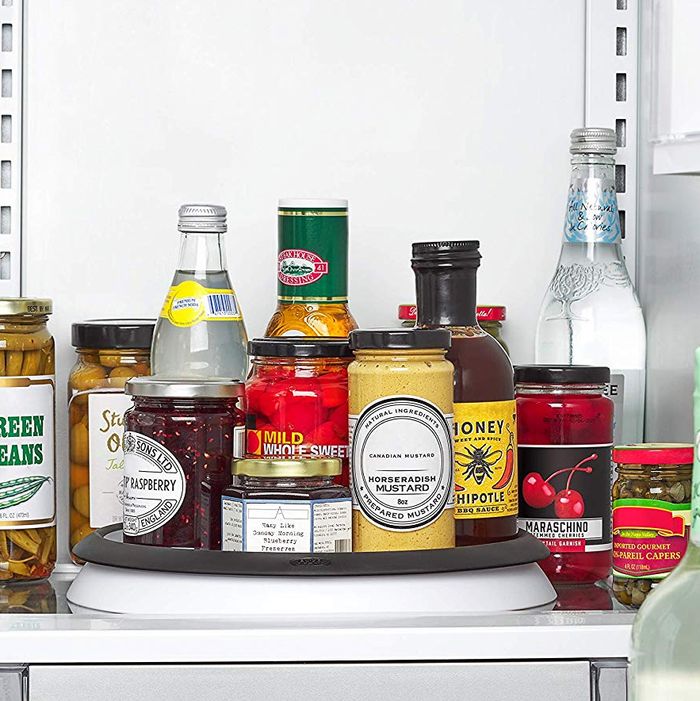 A lazy Susan in action.
Photo: Courtesy Retailer
Here at the Strategist, we like to think of ourselves as crazy (in the good way) about the stuff we buy, but as much as we'd like to, we can't try everything. Which is why we have People's Choice, in which we find the best-reviewed products and single out the most convincing ones. (You can learn more about our rating system and how we pick each item here.)
And while we've written about lots of organizers before — including makeup organizers, shoe organizers, and desk organizers — here, we've rounded up the best kitchen cabinet organizers, as praised by the most enthusiastic reviewers on Amazon.
Best-rated kitchen cabinet organizer
"It seems weird to love a stackable can rack organizer but I do," writes one reviewer, who bought two of these organizers, because "with these organizers, I am able to find things and my pantry is so much nicer looking." And nearly 500 more reviewers say this can rack organizer gave them back a tremendous amount of space, though more than one admits that assembly is "a little dicey." The results, however, speak for themselves. "We have a large pantry that is now, for the first time ever, very neatly organized," one customer writes, while another says, "The three racks fit all sorts of cans, from tuna to large bean cans. I like not having to dig around the cupboards for something when I'm in the middle of making dinner. I also like taking quick inventory before a shopping trip. Very convenient."
Best-rated (less expensive) kitchen cabinet organizer
"I thought I was going to have to dedicate half a drawer for all of my wraps. Now this takes up only a quarter of a shelf," writes one reviewer of this organizer wrap, before calling it the "perfect solution for a small kitchen." And many more reviewers with limited space appreciate this wrap organizer rack. "This rack allowed me to empty a drawer full of bags, foil, and wrap," one reviewer writes, adding, "It is more than strong enough for the light weight of kitchen food savers and I bet the top rack could hold a restaurant level plastic wrap dispenser." And as this reviewer puts it, "Not having my foil and other wraps fall over anymore probably brings me more joy than it should, but everything looks so much tidier, and sometimes it's the little things in life, you know?"
And now for some micro-picks for every type of kitchen cabinet organizer you might be looking for.
A third of over 2,200 five-star reviewers describe this Seville Classics cabinet shelf as "sturdy." One customer says they "completely transformed" her cabinets because they are "perfect for turning those two-shelf cabinets into four shelves. Also, I find that they are quite attractive and blend nicely into the rest of the cabinet." A "Fiestaware collector" says "these expandable shelves are the bomb." He adds that although they're thin, "They are extremely sturdy. I have no concern that these sturdy shelves will hold my heavy dishes. If you need to expand your storage, get these." That this shelf is expandable also appealed to reviewers. One customer has "awkward-sized cabinets," which made it difficult to find organizers that fit. He calls this "the perfect solution" because he "made it exactly the right size for my cabinets." He came back over two years later to update his review, adding, "This expandable shelf still looks new. It doesn't have any chipping or scratching, and it has never sagged or buckled."
Best stackable kitchen cabinet organizer
These stackable shelves gave reviewers extra room in their cabinets. One reviewer says they actually gave him "double the space" in his cabinet for dishes and snacks. Another agrees that these have definitely increased and organized the shelf space, writing, "The stackable feature is really great if you need that method and they are very heavy duty, also, chromed. No sagging, no matter how large the cans are that you stack on them." And one reviewer has stacked a lot on them: "I stacked them 3 high with heavy pots and pans. They are holding up very well." And another reviewer actually has a lot of cabinet space and uses these to "divide the space in one of our deep cabinets" that he admits "had become a dump bin."
Best corner kitchen cabinet organizer
"It's amazing how something so simple can transform a cabinet," writes one customer, adding, "This corner shelf is sturdy enough to hold a stack of ceramic plates without bending at all." Another reviewer specifically wanted a corner rack because "corner shelves make good use of dead space" and these ones in particular are "sturdy and easy to clean. They actually make the inside of the cabinets more attractive." A few question how sturdy and strong this shelf actually is, especially if intended to hold plates or pots, but one reviewer explains, "This corner shelving is about as sturdy as you can get without being too industrial strength. The size is generous and it is well made to hold heavy burdens."
Best expandable spice rack
This wood spice rack received high marks because not only is it more "attractive" than its wire and plastic counterparts, but it's also expandable. One reviewer says his cabinets are "circa when the dinosaurs roamed the earth," which makes it difficult for him to find the right size organizers. "Since purchasing this wonderful expandable spice rack," he writes, "now all of my spices get to shine like the stars they are. Even when expanded completely, the wood is extremely solid and strong, and can hold just about anything you may want to put on it." Another customer specifically loves "the fact that it doesn't have a wire base," explaining, "The spices don't wiggle like they would on wire." A third reviewer reports that "they hold about 12 spices per tray, using the usual McCormick or Spice Islands-sized jars." And one more notes these are the racks to buy because "the wood is a nice color and matches the inside of most cabinets."
Best non-skid spice rack