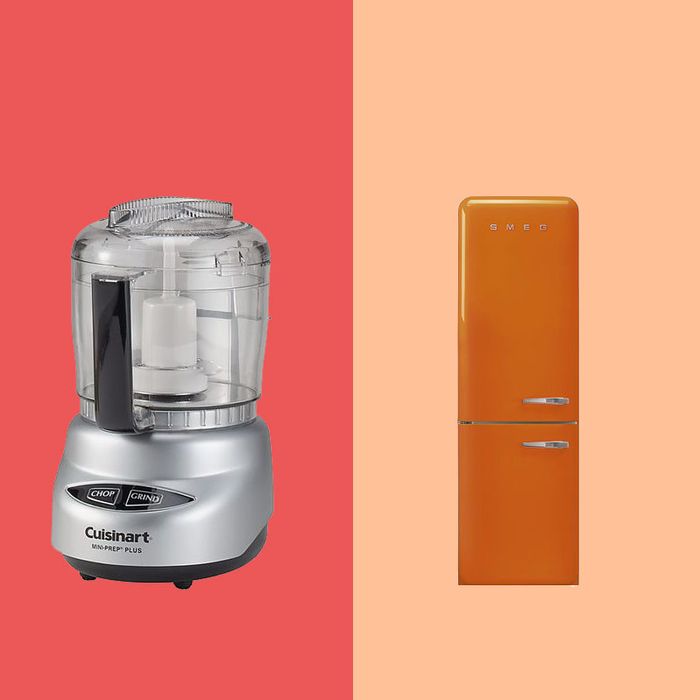 Photo-Illustration: retailers
Millions of city dwellers live in tiny apartments with even tinier kitchens. When you have only a couple of cabinets and drawers and a sliver of counter space to work with, you have to be smart. There are many ways to do this (magnetic spice racks! Cutting boards on turned-off burners!), but it can be especially tricky when it comes to appliances — the big guys you have to plug in, turn on, use, and then put away somewhere. To help find the most powerful appliances with smaller-than-usual footprints, we spoke to several experts that are used to (and even thrive on) making small kitchens functional. Read on to find their recommendations for food processors, blenders, refrigerators, and more that are as good as, if not even better than, their full-size counterparts.
Best compact food processors
Alexandra Carfioli, who runs the Instagram account Tiny Apartment Kitchen (an ode to her 90-square-foot kitchen), loves her Proctor Silex. "This is definitely the smallest appliance I own, but it's my go to," she says. "I use it to make sauces, hummus, and dips, and even to finely mince vegetables. This smaller size is perfect so I can make the right amount for two people … and maybe some leftovers." And it takes up only half the space of our favorite full-size best-rated food processor.
Former Strategist writer Nikita Richardson bakes a lot, so she needed something slightly bigger than the Proctor Silex above. "The Cuisinart Mini-Prep is small enough to keep stored away underneath my sink when I don't need it," she says, "but large enough to take on significant tasks like grinding down pecans for my favorite apple-honey-pecan muffins or making homemade almond butter." Strategist writer Emma Wartzman has also had one for ages and uses it on the regular for pesto, breadcrumbs, dressings, and more.
Best compact microwave
Colin Chee is the founder of the YouTube channel Never Too Small and a full-time resident of a 37-square-foot micro apartment. "I have seen a lot of different compact appliances used in different tiny space settings when filming different tiny apartments in different cities," he says. That's why he can wholeheartedly endorse LG's NeoChef as the best compact microwave. "It's a pretty powerful little unit," Chee says. "It generates heat evenly so you don't have to stir the food half way through to heat it up properly."
Best compact waffle iron
Richardson has owned the Dash Mini Waffle Maker for a few years now. It's a small but mighty device that helps her whip up a picture-perfect brunch for friends. How good is this mini waffle maker? Good enough to be Amazon's best-reviewed waffle maker, with a 4.7-star rating after 61,000 reviews. At just six inches in diameter, this machine makes waffles that are slightly smaller than an Eggo, but two to three times as thick.
Best compact espresso machines
If you truly have no counter space to spare, consider this stovetop model, which comes recommended from Alison Carroll, co-founder of Wonder Valley. She calls it "a perfect marriage of functionality and design," brewing two espressos at once on top of a burner.
Best compact drip coffee maker
We've written about the Aeropress before, as a great, space-saving way to make coffee. Travel writer Andrew Parks packs his up in his suitcase for trips, and Strategist editor Maxine Builder uses one for camping. Chee is also a fan: "It's durable and affordable," he says. "It also comes with a travel mug with a lid, suitable for on-the-go morning coffee."
Best compact coffee grinders
As we learned in our story on the best coffee grinders, according to baristas, the best overall coffee grinder is also the most compact at just over a foot tall with a footprint of 5-by-6 inches. As Joanna Lareau, general manager at Blue Bottle in Chelsea Market, told us, "It's simple to use and super-consistent."
If that's still too big, Elliott Foos, director of coffee at Daymoves café in Brooklyn, says you should consider a handcrank grinder that'll fit in your silverware drawer. This one was recommended in our roundup of the best coffee grinders.
Best compact blenders