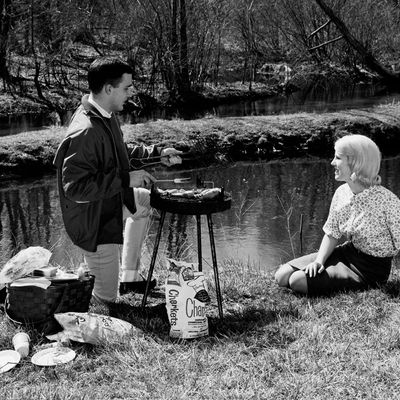 Photo: SuperStock/Getty Images/SuperStock RM
"Grilling is really simple. You don't need anything really fancy," explains Joe Carroll, owner of Fette Sau in Williamsburg. "You could really take a wok and a grill grate and fill it up with some charcoal and cook in that." But grilling in the city, especially one as dense as New York, gets a little more complicated, since space is at a premium, and there's a strictish fire code that dictates where and how you can legally get your grill and chill on. The red tape doesn't mean that your quest to grill is impossible, though. It turns out that you don't even need all that much stuff to make the freshly grilled burgers, hot dogs, and sausages of your dreams a reality, even if you don't have a backyard.
So we consulted four barbecue experts — Carroll; Hugh Mangum, pitmaster at Mighty Quinn's Barbeque; chef Matt Horn of Horn Barbecue in Oakland, California; and Mark Jenner, the editor-in-chief of barbecue site FoodFireFriends.com — to help you figure out what essential grilling tools you actually need in order to grill on your terrace or in the park, when space and budgets are limited.
Though it might seem counterintuitive, a charcoal grill is the best option for city dwellers to finagle than a gas or propane one, even if you do have plenty of backyard space. Charcoal grills are generally cheaper than gas grills, and these kettle-style Webers, in particular, are "bomb-proof," as Mangum describes it, meaning that it can endure pretty much any wear and tear you might inflict on it when you're lugging it around. Plus, if you're using a charcoal grill, adds Carroll, "then you don't have to worry about getting propane filled. Most people don't have cars to drive to Home Depot and get their propane tanks filled up."
Mangum recommends the Weber Smokey Joe, which has the similarly robust construction to his favorite classic Weber, just smaller. However, if you're really in a pinch, or just think this grilling thing is a onetime excursion and don't want a portable grill taking up valuable apartment space in the off-season, Carroll notes that a disposable grill will also get the job done. Either way, just be sure that you're setting up in city parks' designated barbecuing areas.
If your space is especially limited, Jenner says Weber's Go-Anywhere Grill is perfect. It comes in both gas and charcoal versions, and its flat, rectangular design and foldable legs, which keep the lid in place, make it even easier to store and transport than a grill with a round top.
"You can set up two-zone grilling, banking coals to one side more easily," Jenner says. "This allows you to have high heat one side, low heat the other, and have more control and precision over your cooking, even doing low-and-slow smoking, adding wood chips for flavor to some cuts of meat." And, for comparison's sake, it can hold one more burger than the Smokey Joe.
Whether you're grilling in a backyard on a full-size kettle, on a terrace in a portable grill, or even in a park on a communal grill, you're going to want a chimney starter. It's the best way to get your fire going, and as Mangum explains, "You don't want to grill over coals that are still getting hot, so if the coals are black and they haven't worked through to that red or white stage, then you're going to get the taste of charcoal on your food as opposed to the taste of the grill."
Photo: Retailer
Once again, if space is an issue, Jenner has a solution. Weber also offers a compact version of its chimney starter that's approximately six inches shorter but still gets coals ready to go in 15 minutes or less. "It has the same great build quality and features, just smaller and, hence, easier to pack and carry," Jenner says.
A stiff, wire grill brush is a must-have for any grill, but especially communal ones, where the previous users may not have been kind enough to clean their messes. "You want to clean the grill first and make sure there's no dried-up, crusty bits and stuff on the grill," says Carroll, though there's no need to worry about someone else's leftover grill bits contaminating your meat. Mangum explains, "Once you get it up to temperature, it's burning everything off anyway, so there's no real cross contamination there. As long as you get it nice and hot, you should be good. You do, however, want to brush both before and after grilling, and you're going to have an easier time doing it when the grill is hot.
For those just getting into grilling, it can be hard to determine exactly when you should pull that steak off the grill. Both Jenner and Horn say it's better to cook to an internal temperature than to an arbitrary appearance of doneness, and "using a thermometer is a great way to accurately achieve a desired temp," Horn says.
"With things on the grill, particularly if smothered with BBQ sauce, they can look well cooked, or even burned, but still be dangerously under-temperature inside," Jenner says, adding that beginners should look to the USDA's official internal temperatures recommendations for guidance. Having tested plenty of instant-read thermometers, Jenner says his favorite is the Thermapen Mk4, but if that proves too pricey, he also likes the Lavatools Javelin PRO for daily use.
Speaking of sauces, if you plan on smothering your grilled goods with additional flavor, you'll need a proper basting brush. "You never know when you're going to want to apply some sauce, marinade, or herbed butter to a meat; it's always great to be prepared," says Horn.
Though you might be tempted to get a multipiece barbecue tool set in a stylish case, that's overkill. All you really need is a good pair of tongs and a spatula. And beware the classic barbecue-style tongs with prongs. "A lot of times, the ones that come with the packages have little spikes in them and they wind up tearing sausage," explains Carroll. He also likes having a spatula for flipping burgers. "Any good, long spatula will kind of do the job."
You could bring along a roll of paper towels, but the sturdier and arguably more ecofriendly cleaning solution would be to have some bar rags or "throwaway" kitchen towels that you don't mind getting dirty. They're great for cleaning up messes, as well as serving as makeshift oven mitts. You can also use one to clean and oil your grill grate before you use it. "If you put a few coats of oil on the grill grates before you start grilling, it kind of creates a nonstick surface on there, and it just makes grilling easier," advises Carroll. Simply soak the rag in vegetable or canola oil, something that can withstand high heat, and then pick it up with your tongs and rub it over the grate. This is an especially clutch trick on communal park grills, since the oil also sort of cleans the cooking surface of soot, but it's something you can do with your own personal or portable grill.
Photo: Retailers
The main reason grilling in tight quarters is not advised is because of the risk of fires, and one of the easiest ways to accidentally start a fire is from flare-ups. That's when fat from the meat drips onto the coal and creates a huge, fast flame that can go far if you're not paying attention. It's not only potentially dangerous – it also tastes bad. "That'll give a sooty taste on the meat, and it'll also burn the meat before it cooks it well enough inside. So keeping that fire down is really key," says Carroll, and both he and Mangum recommend keeping a spray bottle filled with water on hand. "As soon as you see a flare-up, a little quick squirt tamps it down."
Your responsibility to keeping your city fire-free continues even after you finish grilling. "It sometimes takes as long as two days for coals to be completely cold," explains Mangum. "So you don't put any coals for at least two days into a trash bag, or else that trash bag will go up in flames." Instead, both barbecue experts recommend getting a stainless-steel can with no holes and a lid. Put the spent ash and coals in there, with the lid on, once you're done with it, so you don't accidentally set anything on fire. And if you're grilling in a designated area of a New York City park, be sure to dispose of the coals in red metal barrels, not a regular trash can.
The Strategist is designed to surface the most useful, expert recommendations for things to buy across the vast e-commerce landscape. Some of our latest conquests include the best women's jeans, rolling luggage, pillows for side sleepers, ultraflattering pants, and bath towels. We update links when possible, but note that deals can expire and all prices are subject to change.
Every editorial product is independently selected. If you buy something through our links, New York may earn an affiliate commission.