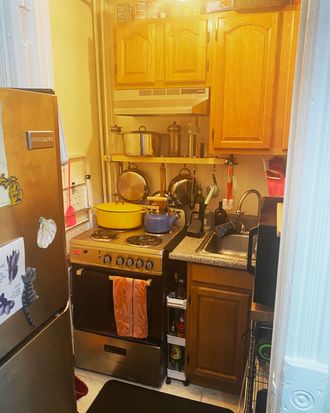 The author's kitchen is too small to fit a fridge, so hers sits just outside of it in the living room.
Photo: Hannah Starke
After a very long winter at home with roommates, I moved into my first solo apartment this spring. I haven't stopped talking about it since: The place is rent-stabilized, near an express train, and has French doors, exposed brick, stained glass, southern exposure, and wood accents older than my grandparents. But it also has a kitchen that's better described as a 22-square-foot closet. Four cabinets (two half-size) hang above a sink and oven, which sit on either side of a sliver of countertop that's just big enough for a Nutribullet. Beneath the sink there are two more cabinets. With no room for a fridge, mine lives just outside the kitchen, in my living room.
This wouldn't have given pre-pandemic Hannah, whose dinners primarily came from the frozen-foods section of Trader Joe's, a moment's pause. But after a year spent cooking the majority of my meals at home and actually enjoying it, I had no choice but to optimize every square inch of the kitchen. Even though this apartment is not my forever home, I wanted stuff that not only met my spatial needs but would also last for years (if not decades) and look nice enough to distract visitors from the shock of how tiny the area is. Armed with the dimensions of every nook and cranny, I spent months acquiring products. From fridge magnets that store my Swiffer, to a dish rack that rolls up, to some skinny-wheeled shelving that slips beneath my counter, read on for the 16 things I got to eke every bit of function out of my 22-square-foot kitchen.
Photo: retailer
First, I needed a place to keep pots and pans. I initially looked at pot racks made to fit in a corner but realized that even those space-saving models would bump up against my oven door. So I turned to wall-mounted options and landed on this affordable, sturdy rack that was mercifully easy to put together. I installed it above my oven and like that it comes with hooks — I can't fit a utensil crock on my counter, so I use the hooks to hang any tools I need while I'm cooking.
Photo: retailer
Speaking of products that keep things in reach while I cook, I outfitted the side of my refrigerator that faces into the kitchen with all kinds of storage. Among the stuff is this magnetic knife bar, which currently holds my chef's knife, a smaller knife, and two pairs of scissors — and can easily fit more.
Also stuck to the kitchen-facing side of my fridge is this magnetic paper-towel holder that has a shelf where I keep all my gummy vitamins.