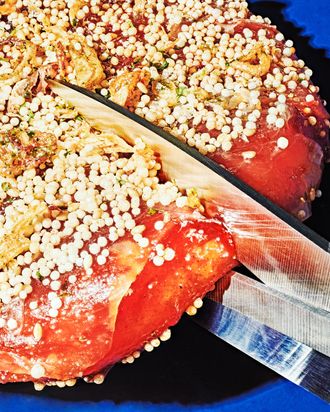 At Kawi, you cut your own roasted rice cake with chile jam, country ham, and furikake.
Photo: Keirnan Monaghan; Theo Vamvounakis
A somewhat unfamiliar utensil is starting to make its way into traditional table settings: scissors. As Grub Street recently documented, a growing number of New York City restaurants are starting to add the versatile clippers to the dining experience. At Barano and Violet, two of the city's prime pizza destinations, "pizza shears" allow the chefs to serve their pies whole on cooling racks, preserving the crust's crispiness for as long as possible. "It just keeps the pie in better condition," Barano chef Al Di Meglio says, and it's easier for the customer. Chef Matt Hyland of Violet agrees; he serves pizza with scissors for similar reasons.
But scissors are for more than just pizza. At the newly opened Kawi in Hudson Yards, Chef Eunjo Park riffs on Korean cuisine and its longstanding custom of incorporating scissors as utensils. Park sees scissors as a "multifunctional tool" and "developed a deep appreciation" for them during a year cooking in Korea. "I really liked the idea of an interactive element that would break through the barriers of fine dining and insert a playful aspect," she says. We reached out to Di Meglio, Hyland, and Park about how they found their perfect shears and their suggestions for how home chefs can get in on the scissors action.
Good for: Meat and herbs
Hyland did a lot of tests with his team to make sure he found the best scissors for his new restaurant, Violet, which specializes in grilled pizza. "I went on Amazon and ordered every pair they had — about 20 pairs," says Hyland. "Then we made a bunch of pizzas and stood around the bar snipping away." They wanted to find a pair that looked nice, was comfortable to hold, and had long blades ("Our pizzas are pretty big," Hyland explains). They narrowed the field down to two similar-looking pairs, one with a regular handle, and the Ggomi's with the offset handle. "The offset handle put it over the edge," says Hyland, because it makes the scissors "easier to use when you're sitting at a table, and you don't have to lift up the pizza as much." Most customers really like the scissors, which unfortunately means they have a tendency to disappear. Hyland has a sense of humor about it: "We've had a bunch stolen already, so we'll be ordering more."
For the home chef: The Ggomi scissors diners use to cut their grilled pizzas at Violet are actually made to cut meat for Korean barbecue (barbecue short ribs, or galbi, in particular). The long blades, one of which has a serrated edge, make this a strong, heavy-duty scissor. Hyland says a home chef could use this to cut any sort of meat or even to snip herbs. It would be great to have on-hand when grilling outdoors, or for quickly cutting up meat for a stir-fry.
Good for: Pizza and flatbread
Di Meglio's team took the same initial approach and ordered a bunch of scissors on Amazon. He found the perfect pair, an all-steel shear made by Chef'n with long blades and a "strong cut," but the company discontinued them. "I'm completely heartbroken," says Di Meglio. "I can't find another pair." They bought about ten dozen since opening, and now they're down to about two or three dozen. (Customers occasionally walk off with them, it's inevitable, he says). Chef'n put out a new model with the same design, but it has plastic handles, which should be fine for most home cooks, but is a dealbreaker for Di Meglio. He puts his scissors through a lot of wear and tear; each pair is washed and given to multiple diners each night, and an all-steel construction just holds up better. "Plastic handles dull over time. They look older, they get beaten up, they fall apart. Steel looks good and it doesn't break."
Di Meglio has been "scouring the internet" for leftover steel pairs and asked around the industry for suggestions, but so far nothing fits the bill. "I know Carbone uses really nice ones for the mozzarella, but the waiter uses it and walks away, they don't need to worry about it getting stolen."
For the home chef: Because of their pronounced cutting angle, Di Meglio says these are perfect for things like pizza and flatbread. And even though the plastic handles on the Chef'n are a no-go for Di Meglio, he says it cuts just as well as his beloved all-steel model, so we would still highly recommend them for home use.
Good for: Noodles, fish, herbs
Chef Park said she wanted to find something that struck the perfect balance between function, and feel: "We wanted them to be functional, first and foremost, but also weighty in your hand while still feeling manageable." Park also wanted something with the right look, that was "beautiful" and would "match the feel of the room." Unlike the other chefs, she went with a pair not originally designed for culinary use: professional-grade stainless-steel tailor shears. They have the long blades of Hyland's pick, and the all-steel solid construction of Di Meglio's original Chef'n scissors. As for the the scissor theft issue, Park is cautiously optimistic: "No one has stolen them … yet."
For the home chef: While these are technically "tailor's scissors," they can be put to good use in the average kitchen. At Kawi, servers use these scissors table side to quickly divide and portion out dishes for customers. The long and sharp blades should easily help with any sort of food prep where you don't want to break out a kitchen knife. Parks says scissors are a useful tool for home cooks, and can be used for "cutting noodles, breaking down fish, or snipping herbs for garnish."
The Strategist is designed to surface the most useful, expert recommendations for things to buy across the vast e-commerce landscape. Some of our latest conquests include the best acne treatments, rolling luggage, pillows for side sleepers, natural anxiety remedies, and bath towels. We update links when possible, but note that deals can expire and all prices are subject to change.