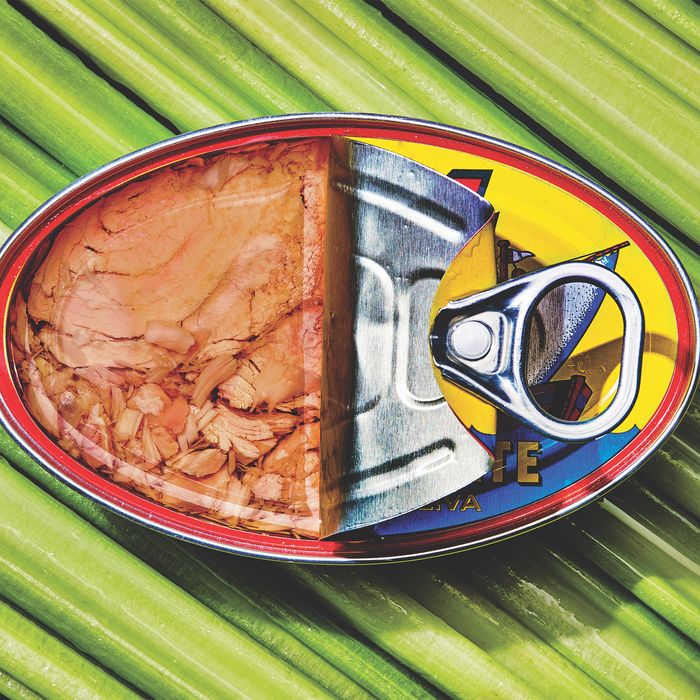 Photo: Bobby Doherty, Styling by Jamie Kimm
The early months of the pandemic reacquainted many of us with shelf-stable food items — according to reports, Goya's sales shot up 400 percent in March 2020 alone. Anchovies, long the topping "held" from a dish, quickly took center stage on Instagram (in sandwiches, on heaps of linguine), and humble canned tuna shifted from the back of the pantry to front and center. And while grocery-store trips have certainly become less threatening since that time, the virtues of canned and tinned foods remain: They're versatile, long-lasting, and surprisingly flavorful. Not to mention the fact that there's something specifically delightful about eating a perfectly salty, spicy, or sweet item (whether it's a smoked oyster or a sour cherry) plucked straight from a completely contained package. To find out the tinned, jarred, and canned foods chefs and home cooks stock their pantries with — pandemic or not — we asked everyone from Ernesto's Ryan Bartlow, who suggested a tin of splurge-y white asparagus, to Nom Wah's Julie Cole, who recommended stocking up on Campbell's Cream of Celery — which she calls "the Ferrari of canned soups."
Best tinned and jarred fish
Four of the chefs and home cooks we talked to topped their list of tinned goods with Don Bocarte Anchovies. "The creme de la creme of anchovies are Don Bocarte salt cured anchovies packed in olive oil," says Nialls Fallon, a partner at Hart's, Cervo's, and The Fly. "They taste like butter and melt in your mouth — I could drink the oil when I'm done it's so damn good." Fallon told us that the anchovies come from the Bay of Biscay and are "painstakingly gutted and fileted by hand, then packed in large barrels in concentric circles with salt added after each layer." Then they're aged for several months, and rinsed and packed by hand in Spanish olive oil. Danny Bowien of Mission Chinese is a fan, too, as is Julia Sherman, of Salad for President and Angie Mar, chef at the Beatrice Inn.
Michael Schall, co-owner of Bar Camillo and Locanda Vini e Olii says that his restaurant's "No. 1 choice" for tinned food are these anchovies from Agostino Recca. "I am just addicted to them, as are a lot of our customers." (This customer can attest to their addictive qualities.) Schall says the anchovies have a just-right amount of saltiness, and are "big enough to feel substantial if you are eating them by themselves." But if eating straight anchovies sounds like a lot, Schall says they're great for cooking, too: "Melt them in the pan with some olive oil and a clove of garlic, toss with freshly cooked spaghetti, and you have one of the best all-time afternoon pasta dishes." Chef and farmer Phoebe Cole-Smith is a fan of the Agostino Recca anchovies, as well.
"I've ate more than my fair share of anchovies — just ask my editor, who has politely tried to explain there are other things to write about— and I don't think there are any better on the planet than these," says Grub Street writer Chris Crowley of these sea salt anchovies from Nettuno. "They're kind of a splurge, but they go a long way: preserved only in sea salt, they're plump and possibly as close to a hit of pure MSG as you can get."
For something a bit less expensive, Carolina Santos Neves, executive chef of American Bar, recommends this Cento tin, which she says, despite the low price are still high-quality enough to eat on their own.
Another less-expensive anchovy option comes to us from chef Mia Lillingston, who says "not only is the packaging on Ortiz anchovies so aesthetically pleasing, they're also good quality, prepared by hand and totally delicious when simply eaten on toasted bread with olive oil." Lillingston says she'll also add these to salads or melt them into sauces "for that umami kick."
Bart van Olphen, sustainable fishing advocate, chef, and author of The Tinned Fish Cookbook, is a fan of Ortiz tinned goods, as well, and told us about these sardines. "I love sardines, but buying the right quality makes the difference between having a great experience or never wanting to eat them again," he says. "Ortiz is famous for its quality. The cooking process is very particular. The sardines are gutted and then precooked before being trimmed to the size of the can. Cheaper brands only cook the sardines once."
If clams are more your thing, Sherman told us that these from Cabo de Penas — "I love all the tinned seafood by Cabo de Penas," she says. "But these are especially good. They are super clean and briny — eat them straight from the can."
"My favorite splurge is a tin of cockles from Ramon Pena in Spain," says Fallon. "They're expensive, but worth it." Fallon says the cockles, which are tiny clams, are the size of a dime and tear-shaped. The cockles are pricey because of how difficult they are to harvest: "They are hard and dangerous to source, by hand from the rocky coastline, then meticulously and perfectly cooked, removed from their shells, and placed in order in a round tin," Fallon says. "Their milky white color is surrounded by clear briny salty water — it's so elegant, and pure and really a treat."
Nick Perkins, partner at Hart's, Cervo's, and The Fly, says that Cabo de Penas is also the go-to brand of tinned fish for his restaurants. "They're just old school and really solid," he says. "They also just do really solid sardines and mackerels, which are cost effective." His favorite are the brand's baby sardines.
"These are sustainably certified sardines, and beautifully hand-packed with high-quality olive oil," says Fallon. "A real savory, firm and earthy style." He told us he'll go for the classic plain olive oil, or the ones packed with dried chillies.
This pack of sardines comes recommended by Alissa Wagner, co-owner of Dimes (who also told us about her favorite spices). "They're a great option for both your health and the health of our planet," she says. "Sustainable and packed with Omega 3's, these little fish are a great upgrade for simple salads or enjoyed on some grilled bread with roasted cherry tomatoes and fresh herbs."
Andy Xu, Executive Chef at The Odeon, told us that Bela is his preferred sardine brand: "They're lightly smoked, so there's an added depth of flavor," he says.