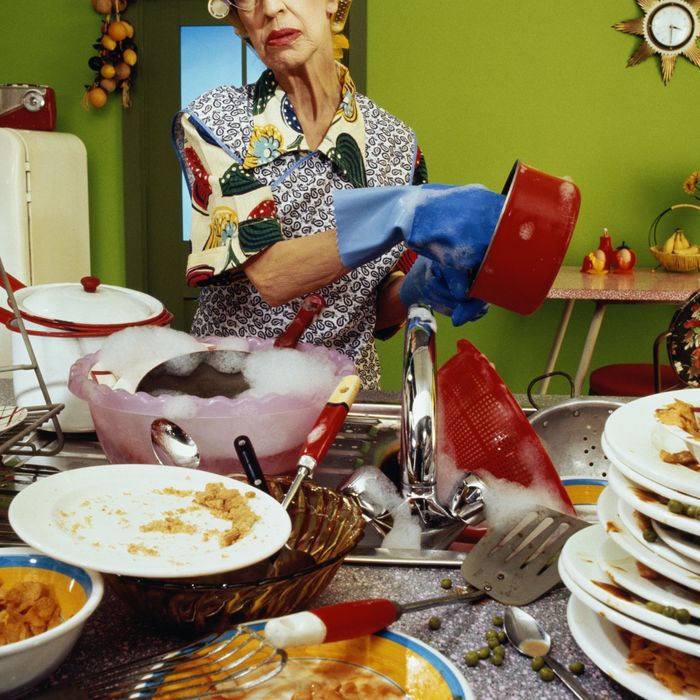 Photo: Frank Herholdt/Getty/Getty Images
There's nothing quite like dishwasher-clean — steamed, sanitized, sparkling — dishes, but that's not always an option. If you're living without a dishwasher, or otherwise choose not to use one, you know how time-consuming a task this can be (not to mention a straight-up unpleasant one). You're on your feet, picking off baked-on food, covered in splashes of dirty water, only to get your dishes half as clean as they would be out of a dishwasher. The latter, we can help with. We've rounded up all the best things we've written about on the Strategist for hand-washing dishes — and talked to some new cleaning experts — about the best stuff out there to help you wash your dishes, including the best soaps, the best sponges, and the best gloves.
According to our experts, though, more important than having the right equipment is creating good habits around this chore. Ty Rosa, of A Sparkling Clean Life, and Jessica Haizman, podcast host and cleaning expert, both recommend cleaning dishes as they get dirty instead of waiting for the end of the day. "Quickly wash something, dry it, and put it away, and once it's out of sight, it's completely out of mind," says Rosa. "Those are the things that really make a difference in people's lives. Not thinking about those dirty dishes in the sink all the time as you walk by it sort of helps you open up your mental bandwidth to handle the other important things that you have to do."
With that in mind, here are the more tangible things that will help you hand-wash your dishes and get them as close to dishwasher-clean as possible.
The Best Dish Soaps
"My favorite thing to clean anything with is blue Dawn," says Rosa. "You can clean your bathrooms with blue Dawn, you can clean your whole kitchen, you can clean your floor, you can clean pretty much anything with blue Dawn." This new version, she says, is even better. "They came out with the Dawn Powerwash, which is more potent than the actual blue Dawn detergent and you can just spray it on and wipe away," she adds. Rosa likes to spray it on and walk away for five minutes to let the product do the work. It's relatively new to market, but it's blown up on TikTok, where the hashtag #dawnpowerwashspray has over 21 million views. That's actually where I — someone who is without a dishwasher and thus relegated to hand-washing my dishes — first saw it and was intrigued enough to purchase it. While I miss how sudsy traditional Dawn gets, like Rosa, I've found that this lifts whatever you have stuck on your dishes and you really can just wipe it away.
Photo: 2017
We've recommended Branch Basics a number of times. It's a soap concentrate, so you can dilute it with water to make different-strength cleansers for just about everything in your house. Haizman likes it especially for dish soap since the ingredients are so clean. "They're really great quality ingredients, which is important because you're washing your dishes, you're eating off those dishes, so whatever you're washing them in is going to leave some type of residue. I think it's super-important to make sure you're using nontoxic products," she says. Gay Browne, the author of Living With a Green Heart, and Kimberly Button, the creator of GetGreenBeWell.com and author of the Ultimate Home Detox Guide, have recommended this as one of their favorite all-purpose natural cleaning products as well. "This concentrated, multipurpose, all-in-one cleaner is only made of plant- and mineral-based ingredients," says Browne, who adds that "it also cuts out packaging waste" because its concentrated formula is designed to be diluted with water, meaning you'll go through a bottle a lot slower.
Dr. Bronner's is another popular concentrate. Haizman uses it, and so does singer Jhené Aiko, who told us, "I use it as a bodywash. I use it as a bath soap. I've washed my hair with it. I've washed dishes with it. I've washed my crystals in it, too." Micaela Preston of mindfulmomma.com is partial to this Sal Suds Biodegradable Cleaner, which she says is powerful enough to clean your floors, dishes, furniture, and even your car, but gentle enough not to irritate your skin.
For pots and pans that are really worse for the wear, Rosa likes Bar Keepers Friend. There's one made specifically for cookware, but she prefers this soft cleanser. "You can leave it on overnight or even just a couple of hours and things that have been tarnished or rusty for years, like you don't even remember the original color of the pot, it'll come out." She likes that it's liquid, compared to the cookware version, which comes in powder form. "For everyday use I like to use the soft cleanser, rather than the powder. It's just less messy to not have to deal with a powder," says Rosa. "This goes on almost like a liquid detergent type of consistency, and it really makes the stainless steel completely shine."
Becky Rapinchuk, the founder of Clean Mama, is a fan of her own brand's dish soap. "It's safe to use and it's sudsy, which is hard to find with natural dish soap products," she says. "A lot of times, they don't have enough suds in it." She likes to fill the sink with soapy water that's "hot as I can handle it," she says, and she'll soak the dishes and wash and rinse them individually.
Back in 2019, we dubbed this the next status dish soap. "It's (entirely) sulfate-free, biodegradable, and endorsed by Sandeep Salter, the owner of stylish Brooklyn Heights home-goods shop Salter House, who stocks it between other status cleaning supplies, including a horsehair scrubber brush and a Japanese broom," writes Katy Schneider.
We've also looked into the best-rated dish soaps on Amazon, and found that Mrs. Meyers takes the cake, according to reviewers. It has over 15,000 reviews and 4.8 stars. Reviewers like that it's natural, so it doesn't irritate their skin, and that it actually gets the job done. One reviewer says, "There is just no cleaner feeling. Your magical liquid has brought harmony to our household."
All the soaps on this list so far have been liquid, but senior writer Liza Corsillo recently introduced us to this ecofriendly bar soap, "made with natural plant oils like coconut, olive, and castor seed as well as kaolin clay in place of harsh detergents, so it's nondrying, biodegradable, and truly zero waste since it comes wrapped in a compostable envelope," she says. "After using it for over a month on plates, glasses, greasy pans, the top of my stove, and even a cashmere sweater I wore while cutting beets, I can say that washing dishes with it is decidedly more enjoyable."
If you're not happy with any of the dispensers these soaps come with, Haizman recommends putting them into the Soap Daddy dispenser. You just "push on it so it will release soap up into the sponge, which is really cool, and really efficient because you don't have to use two hands. You can one-hand release the soap," she explains. For bigger items — like soaking a pot — "you simply lift up the soap and you can squeeze it and it squirts out the bottom," Haizman adds. But she isn't the only fan. This item is so popular that it's sold out everywhere and only currently available on eBay for three times the price. You can sign up directly on the Scrub Daddy website to join the wait list.
The Best Drying Racks and Towels