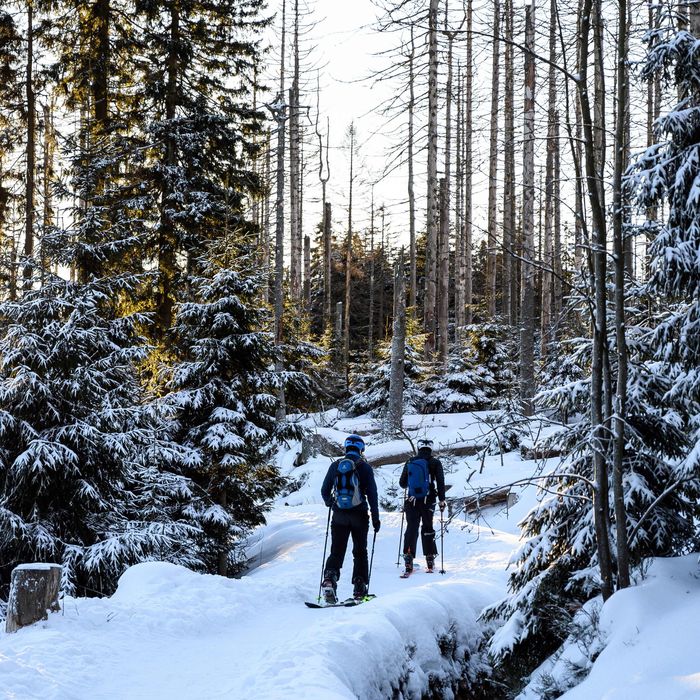 Photo: SWEN PFORTNER/Getty/dpa/AFP via Getty Images
If you're wary of the possible crowds you'll face at the ski slopes but still want to get some nice outdoor adventure in this winter, cross-country, also called Nordic, skiing may be the answer. It's a great workout and an excuse to be outside — which all of us can use after all this extra time indoors during the pandemic. Because it's so cardio-centric, XC skiing will make you sweat even on the coldest days, so, like winter running, the right clothing (with the right moisture-management capability) is imperative. And, of course, you'll also need a good set of skis, boots, bindings, and poles. To help you find the appropriate gear for you, whether it's your first time skiing or you're just looking to upgrade the kit you already have, we asked eight XC-skiing experts for recommendations.
There are two types of XC skiing — skate and classic — and which type you do is often determined by the skiing options available in your area (xcski.org and XCSkiResorts.com are good places to check). Classic skiing, which looks more like graceful glide-walking, is best on open fields, golf courses, or in parks. Skating, which, well, looks like ice-skating but with very long skis, requires a groomed trail. If you're a beginner and have both options nearby, most of our experts say classic is a better starting point for newbies. You still get a great workout, but it is not quite as demanding or technical as skate skiing.
Dressing for the sport is a careful balance between staying warm and not getting too hot as you exert yourself. Unlike alpine-skiing gloves and snow pants, XC ski gear is trim and ready to move with you. All of our experts said layering is key and suggest that you shed layers as you get going. (You can throw those layers into a good lightweight backpack that can also hold your water.) They say you want to start off feeling like you are dressed for weather ten degrees warmer than it actually is in order to keep you from overheating once you get moving.
Here, their recommendations for the best XC gear to keep you warm, moving, and having fun.
Skis
Many of our experts recommended this set from Fischer for those interested in classic XC skiing. The skis have two separate offset skin strips that allow you to grip the snow as you kick but also slide smoothly as you glide. Plus, they don't need obsessive waxing like more traditional skis. They "work perfectly," says Roger Lohr, founder and editor of XCSkiResorts.com. And according to Reese Brown, president and executive director of the Cross Country Ski Areas Association, "they tend not to ice."
Corinne Prevot, founder of ski and outdoor-apparel brand Skida, recommends choosing skate skis if you are someone who already exercises a lot and is used to endurance sports. "I really like the Madshus line, and the Endurace is the company's best-selling ski," she says. They're great skis for getting a good adventure, a hard workout, and a lot of speed. Their low weight will help limit fatigue, and embedded Madshus eMpower RFID chips give you access to tons of information about your skiing.
Boots
If you're not quite sure which type of XC skiing you'll do (classic or skate), or if you want to do both, get a combination boot. "Rossignol is a great company," says Sam von Trapp, director and executive vice-president of the Trapp Family Lodge. "These boots are very responsive," he says, providing a quick transfer of power from your foot to your skis and an excellent balance of control and comfort. The Trapp Family Lodge uses the similar X5 boots for rentals, as do many other rental locations we spoke with, including Sun Valley Resort in Idaho, which was recently named the top ski resort of 2021 by Ski magazine.