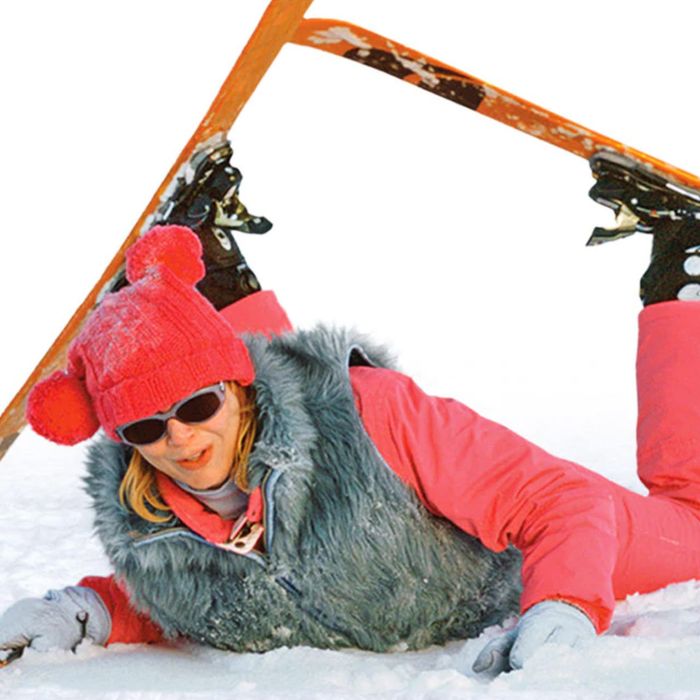 Photo-Illustration: Universal Pictures
Even if you've gone skiing before, when you're ready to step up from rental equipment and buy your own skis, it can feel like learning a new language. From waist-width and rocker profiles to turn radius and off-piste options, there are lots of factors that go into finding the perfect skis. A decent pair can set you back a few hundred dollars, but if you ski regularly, owning your own equipment will save you money on rentals in the long run. And getting skis that are perfectly suited to your needs can make your time on the mountain much more fun.
To demystify the process, we asked top ski instructors and retail experts to break down the different types of skis and explain how you can find the right pair for you. They recommend asking yourself a few questions about your skiing style first: How experienced are you? Do you usually ski on hard-packed, man-made snow (typically found in the Northeast) that can get icy? Or do you like heading out West to Colorado or Utah where the snow is soft and powdery? Do you typically stick to groomed runs, or do you like to tackle the bumps and tougher terrain off the trails?
Once you know what surface you like to ski on, you can narrow the options down by waist-width — the width of the ski at the point directly underneath your foot. As Trevor Livingston, an account manager at Backcountry, explains, "The narrower a ski is, the easier it is to initiate turns, and the more grip you're going to have on the snow," making narrow skis better suited for hard snow and ice. Conversely, he says, "If you're skiing lighter, newer snow, something that's a little bit wider will push the snow out from under your skis." Although there's no strict cutoffs for which waist-width to use in which situation, in general, skis narrower than 85 millimeters are better for harder snow, those wider than 110 millimeters are good for soft powder, and the ones in between can handle both.
You'll also have to choose the length of your ski. While this is partially determined by your height, there's some flexibility based on your skill level. According to Livingston, "Generally a beginner would choose a ski five to ten centimeters shorter than their standing height; an intermediate skier, a ski about their standing height; and an expert, a ski just over their standing height." Shorter skis are easier for beginners to maneuver, while longer ones make more contact with the snow so they can go faster, and feel more stable at faster speeds.
Best overall skis
According to Michael Rogan, coach of the Professional Ski Instructors of America — American Association of Snowboard Instructors (PSIA-AASI) Alpine Team (a hand-selected group of the country's best ski instructors), the Nordica Enforcer ski, and its corresponding women-specific model the Santa Ana, is "the benchmark that everything else is measured against" — and it has been for much of the past decade. He says Nordica's engineers stand out for really understanding "not only how to build a ski but also the needs of the consumer, and they're not afraid to try some different things." Sean Meszkat, a senior manager within Vail Resorts' retail division, agrees that "the whole Nordica Enforcer line is still crushing it." The 93 and 94 millimeter versions (for women and men respectively) are good all-mountain options, but they're also available in narrower and wider widths for different types of skiing.
Of all of the women-specific skis our experts recommended, the Blizzard Black Pearl was mentioned the most. Meszkat says the line is "still tops," and Jim Fuller, divisional merchandise manager at Vail Resorts, adds that they've been "the No. 1 ski for years," and that many of his female colleagues love skiing on them. While the Black Pearl model is available in several different waist-widths, the 88 millimeter version hits the sweet spot between a narrow, carving ski and a floatier powder ski.
Best skis for groomed runs
Also known as front-side (since you use them on the groomed, exposed side of the ski mountain) or on-piste skis (piste refers to the marked runs at ski areas that are typically covered with densely packed snow), these are the skis you'll want if you stick to typical runs and don't plan on heading off into the powder. Fuller says skis in this category "are designed to carve and hold a turn." PSIA-AASI Alpine Team member Dustin Dyar says the Völkl Deacon 76 ski is a good option since "it works well on the harder snow and it's easy enough to get a quality edge grip on the snow." While racers use skis as narrow as 60 millimeters, Dyar says something like a 76 offers "a little bit more forgiveness" for casual skiers. He's also a fan of the slightly wider Deacon 84 that he uses as an "all-mountain, go everywhere ski."
Ann Schorling, who is also a member of the PSIA-AASI Alpine Team, recommends skis from the Rossignol React line. These R6 skis have a 74 millimeter waist-width that's good for groomed snow, as they make it easier to turn quickly. Schorling says a ski like this "will pull me into a turn, but it won't be so fast as to be really unwieldy."
Best powder skis
If you're in Utah, Colorado, or another area that gets a lot of fresh snow, you might want a pair of powder skis for skiing on new snow or going off-piste. The extra width prevents you from sinking into deeper snow, and the skis don't turn as fast (the wider shape gives them a longer turn radius), so they won't accidentally steer you into undesirable terrain. At 117 millimeters, Dyar says the Völkl Confession offers "a great powder experience."
When it comes to powder skiing, Livingston says, "I always have to give my ticket to the Armada ARV JJ. It's buttery, stable, and just a really fun ski to ski. I have an old pair hanging on my wall. That's how much I love them." Like many other powder skis, they're constructed with a "rocker" tip and tail, which means the ends of the skis are slanted upward to more easily pivot and rotate on top of the snow.
Best skis for beginners
If you're just getting into skiing and feel unsure about where to start, Dan Weis, snow-sports-department manager at Outdoor Gear Exchange, says you can't go wrong with the Atomic Vantage skis. "It's a very easy, user-friendly ski to ski on," he says. "It caters to everybody and their skill set." The Vantage comes in several widths, from 75 to 107 millimeters. This all-mountain 90-millimeter version can handle groomed trails, the occasional powder dump, and even a bit of backcountry exploring as you get more confident.
Best alpine-touring skis
Alpine touring, in which you hike uphill in the backcountry (using special bindings that let you walk normally in your skis) and then ski down, has become increasingly popular over the past few years, and experts say the sport is only expected to grow. "This year, we're expecting record numbers of backcountry enthusiasts," says Eric Henderson, an adventure athlete and media representative for Snowsports Industries America, a trade association for outdoor winter brands. He predicts the coronavirus pandemic may steer skiers away from crowded resorts and into the backcountry. If resorts are forced to close due to the pandemic, he says, touring may be your only option. Like powder skis, alpine-touring skis have the width to float across fresh snow, but they also have to be lightweight enough to comfortably make it up the hill. If this sounds like fun, Weis suggests a touring-specific ski from DPS, like this one. "It's going to be a lighter weight but still functional, aggressive ski, which is fun," he says.
Here's a less expensive touring option from Dynafit, a company that, according to Henderson, has been a pioneer in the backcountry scene with its innovative alpine touring bindings and skis. Compared to other brands, he says Dynafit's ultra-light touring skis "are going to be more uphill-focused with downhill performance."
Best all-mountain skis
Unless you ski exclusively on powder (and few skiers do), you'll likely be better off with a medium-width all-mountain ski that can float through the powder in the early morning after a fresh snowfall, but also cut through the "crud" — snow that's been skied over all day and isn't as soft and fluffy. "The hardest part about choosing skis in this category is the compromise between floating in powder and carving," says Woodrow Berry, retail manager at Montana's Big Sky Resort. The Salomon QST 106 is his personal favorite, "checking all of the boxes from carving to powder skiing."