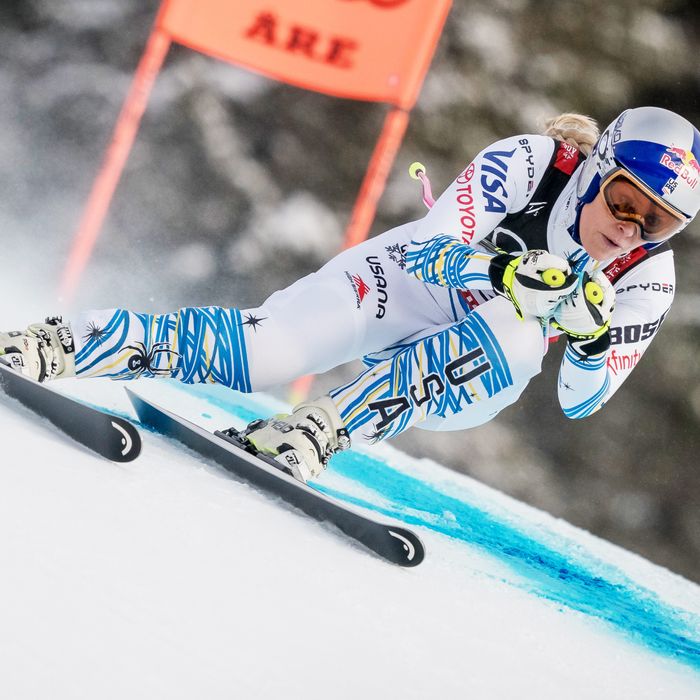 Photo: picture alliance/Getty/picture alliance via Getty Image
While rental ski boots are fine if you don't ski a ton — and you're okay with boots that are a hair too loose or too tight — if you go on more than a few ski trips each year, you are usually better off buying your own boots. Like your favorite skis and warm yet stylish jacket, the right boots with the just-right fit can make a huge difference. "Ski boots are by far the most important piece of equipment on the slopes," says Woodrow Berry, retail manager at Big Sky Resort. This is because, as Trevor Livingston, an account manager at Backcountry, explains, "your boot is in place to transfer all the energy that you're generating with your body and your legs down to your skis."
Choosing boots involves weighing the balance between comfort and performance. "You have to be prepared for a level of comfort that matches what you want to do with the skis," says Michael Rogan, coach of the Professional Ski Instructors of America & American Association of Snowboard Instructors (PSIA-AASI) Alpine Team, a hand-selected group of the country's best ski instructors. A softer boot that's more comfortable won't be as responsive to your movements, which is often fine for new skiers, but more advanced skiers may want stiffer boots that pick up on all their precise maneuvers. You can get a sense of a boot's stiffness by the flex index, a number ranging from 50 (supersoft but not that responsive) to 130 (very rigid and reactive). Flex is also highly influenced by your weight: The larger your body size, the stiffer boot you'll be able to maneuver, so men can typically wear boots with a higher flex index than women of the same ability level.
Getting the right fit is also crucial — and something you could only hope to luck into with rentals. "Boots should fit like a firm handshake. Not too loose and not a death grip," says Sean Meszkat, a senior manager within Vail Resorts' retail division. "Too firm and you'll be aching; too comfortable and you'll suffer from a lack of support and comfort." Our experts stress that you should look for a boot with a heat-moldable lining, so you can get it to match the exact shape of your foot, and to see an expert boot fitter who can make further modifications to the plastic shell for a personalized fit.
Best ski boots for most people
"The Salomon S/Pro 100 is the No. 1 model in the U.S. and Canada," according to Jim Fuller, divisional merchandise manager at Vail Resorts. Hovering around the midpoint of the flex spectrum (it comes in softer and firmer versions as well), these are ideal for intermediate skiers who want performance benefits but don't want a boot that's extremely stiff. Fuller especially loves how customizable these boots are, with moldable liners and heat-moldable custom shells that allow you to reshape the outer plastic.
For skiers who stick to groomed runs, Livingston likes the Lange RX boots, which are available in a few different flex levels. "These boots are pretty comfortable, and they ski super-aggressively," he says. They're "perfect for the skier who likes to lay down turns on the fresh-groomed snow." And like the Salomon boots, they have heat-moldable liners for a custom fit. Ann Schorling, a member of the PSIA-AASI Alpine Team, says Lange styles tend to work well for those with lower arches and slimmer feet, as there's generally less space inside the boot. (If you have a high arch or wider foot, she recommends a brand like Tecnica.)
Best ski boots for beginners
New skiers typically prioritize comfort, especially since they're still learning how to maneuver their skis. A stiff boot communicates too much: "Everything a beginner says doesn't necessarily need to go to the skis, and everything the skis react to on the snow surface would be more information than the beginner skier would need," says Rogan. He likes Nordica's line, which ranges from the soft Cruise boots to the higher-flex Sport and Pro models. Already wide and roomy, the Cruise boots also feature moldable liners and shells.
Best high-performance ski boots
Essentially a racing boot in terms of stiffness, the Dalbello DS 130 is a favorite of PSIA-AASI Alpine Team member Dustin Dyar. "I'm looking for performance," he says. "I ski this boot everywhere." For advanced skiers like Dyar, these very stiff boots offer maximum responsiveness for transmitting every little motion down to your skis. While they're going to feel more rigid than the previous options, they will still be somewhat comfortable, thanks to a moldable shell and liners.
Best alpine touring boots
Backcountry skiers seeking challenging off-piste (i.e., away from groomed snow) terrain often hike uphill to access runs that aren't serviced by chair lifts or gondolas. To do so, they need specialized boots with tech bindings that free up the heel. "My wife and I are both in Nordica Striders," says Meszcat. "They are great-fitting boots with uphill capabilities. They also have really nice Michelin — yes, the tire company — soles that make walking around on hardpack and ice a dream." While these features make them comfortable in "walk mode," the boots are also stiff enough for powerful downhill skiers.
Like the Nordica Striders, Tecnica's Cochise boots are as effective hiking up the mountain as they are skiing down, according to Livingston. "I've used [these] for the past two years here in Utah," he says. "Plenty of walk-mode range of motion for the uphill, and good performance for the down. Plus, the shell on the boots is really accommodating to weird feet." Compared with other ski-boot styles, alpine touring boots like these are lighter, so there's less weight to lug uphill.