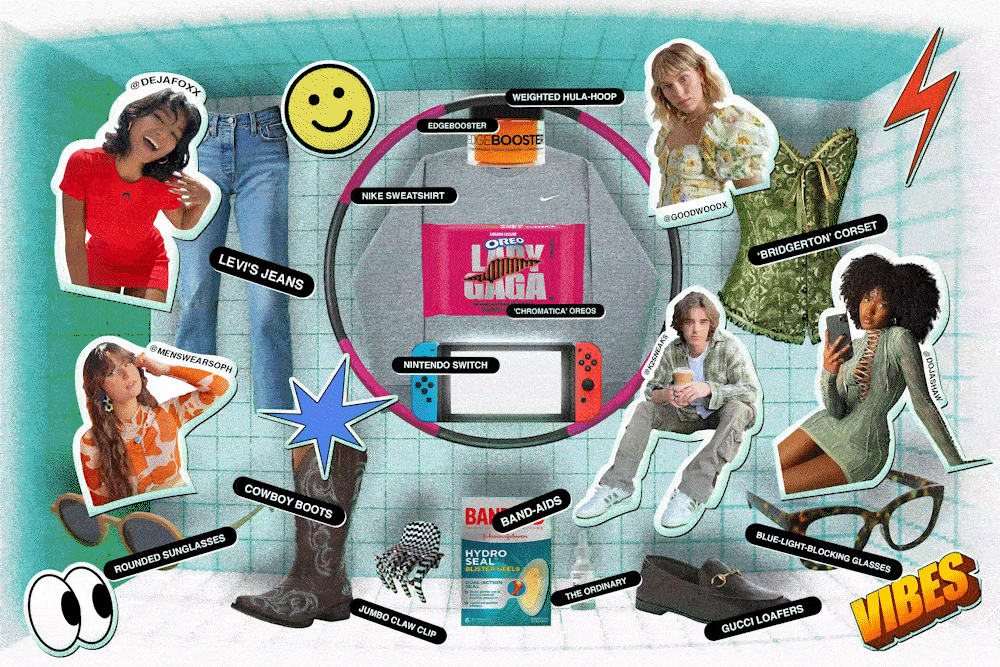 Photo-Illustration: by The Strategist; Photos from Amazon, Women Fitness, Ulta Beauty, Levi's, Peepers, Nordstrom, Mango, Chunks, Nintendo, Getty, @dejafoxx, @menswearsoph, @goodwoodx, @k2sneaks, @dojashaw
When we last polled a hundred or so teens about their shopping habits — two years and a pandemic ago — American Eagle mom jeans were the thing, as were square sunglasses. From our pool of responders (78 percent of whom identified as female, 6 percent as male, 5 percent as nonbinary, and 11 percent didn't specify), we learned a lot can change in a couple of years, and we're not just talking about the fact that Levi's are now the preferred denim brand. Perhaps the biggest development since we last canvassed this age group has been the emergence of TikTok as, essentially, an adolescent HSN. The platform has inspired purchases of everything from Hydro Seal Band-Aids and Highland cow stickers to Chromatica Oreos and weighted Hula-Hoops. Another big source of inspiration: micro-influencers, who came up more in this year's poll than huge stars like Kendall Jenner or Hailey Bieber did in the 2019 version. As for what's stayed the same, Brandy Melville and all things Nike are as popular as ever; and Glossier mostly is, too, although a beauty brand that's hot on its tail is The Ordinary — teens seem to be reading their ingredient labels more and more closely. And, significantly, the '90s-inspired claw clip has snuck up on the '80s-inspired scrunchie — the look right now, according to one teen, is that Phoebe Buffay–esque "wacky but cool archetype."
1) Most popular style of (an actual) top: Corset
If you consider a sweatshirt a "top," then yes, that was technically the winning style in this year's poll — as 49 percent of teens reported it as their most-worn item for Zoom school. But otherwise, at the opposite end of the silhouette spectrum, the top-top mentioned most (by an enthusiastic 10 percent of respondents) was the corset. We heard about "the Bridgerton corset," owned by teen Carley; a Victoria's Secret version noted by Zoë; an Urban Outfitters one bought by Mimi C.; and this Amazon find by Dylan, who said the purchase was inspired by TikTok, because "I was not in the best place with my body and I felt that these would make me more confident …[It's] decently good quality, although I can't completely breathe in it."
2) The "most comfortable sweatpants" cost $10 — or $156
In answer to the question: What is the item of clothing you've worn most this year? Sweatpants were the most common response for bottoms (no surprise in light of quarantine, of course). When pressed to name the most comfortable sweatpants, specifically, the answers fell all across the price spectrum.
3) In terms of loungewear brands, in general, Nike was the favorite.
4) The only workout item mentioned multiple times was the weighted Hula-Hoop.
A respondent named Aida bought this Hula-Hoop after seeing it on TikTok. "I like it because it's not an intense workout and instead it's a more relaxed one you do for a long period of time," she says. "I watch TV while I do it sometimes." Just don't expect to magically get a waist like the girl in the video, Aida says: "Definitely not the realistic outcome of hula-hooping for, like, 30 mins a day." Plus, she added, TikToks like that one "are quite triggering," and the platform is "very toxic when it comes to body positivity."
5) Favorite school-from-home accessory: Blue-light glasses
Sixteen percent of teens said they purchased blue-light glasses to make Zoom school easier. Ava bought this pair from Peepers because she was "getting pretty bad headaches every day doing distance learning," which was September through April. So far, she says, "They're really quite comfortable and not heavy or tight. The arms have a really wide rotation so they don't stretch when I put them up on my head."
6) A development from our first poll: Strip lights came up more than twinkle lights.
As teen Claudio put it, LED strip lights are "a fun alternative to conventional lighting and very laid-back for a night in with friends." And, yes, they do happen to be very TikTok-friendly because of their versatility (you can stick them pretty much anywhere) and color-changing options that tend to catch your eye more than dainty twinkle lights.
7) Square sunglasses are out, and oval sunglasses are in.
Although square sunglasses received some strong endorsements in our last poll, teens this time skewed more in the ovaloid direction. Ava feels "funky" in this pair from Mango; Caroline just bought this pair from Urban Outfitters; and Mimi H. and Leigh shop at Shein for theirs. "Shein has been upping their sunnies game," Mimi says.
8) Meanwhile, claw clips seem to be gaining on the scrunchie.
They ranked high on the coolness scale (pictured below), and one of the go-to brands is Free People, according to teen Mimi C., who said that her friends and teachers also buy them here; another fan named Caroline has been eying the ones specifically for thick hair at Kōv; and Margot said to get that "Phoebe Buffay or any girl who fits the wacky artistic-but-cool archetype" look, she goes to Chunks or Lisa Says Gah.
9) As far as video games go, it's a pretty even split.
10) Is The Ordinary now cooler than Glossier for skin care?
Teens still love Glossier — 31 percent of teens surveyed call it their favorite beauty brand — but in terms of skin care, they seem to prefer classic drugstore brand Neutrogena along with The Ordinary, which launched in 2016 with a focus on straightforward formulations and not so awash in millennial-pink packaging. "I love The Ordinary's products because they are not too expensive and consist of simple ingredients," says Ciara, who likes its hyaluronic acid the most. Dylan thinks the brand makes it easy for skin-care newcomers to experiment with different ingredients, and says it's a step above drugstore brands for a comparable price. "My favorite so far is the Caffeine Solution. This is because I never get enough sleep and I like to make it look like I do," she adds. It's also the preferred brand of ex-Glossier superfan Margot: "I used to like [Glossier] more but they are kinda outdated and boring now," she said. "They keep releasing boring products that are just copies of each other."
11) One viral teen's full hair-care routine:
A breakdown from 15-year-old Jaden, hair entrepreneur and viral TikToker, on the products she uses for herself and her (mostly teen) clients.
"I use this to keep the braids really neat and make my parts crisp and precise.
"When I'm done, there may be a couple pieces of hair sticking out, but when I put this on there, it always lays down the flyaways, and it doesn't flake."
"Edge Booster properly slicks down edges. This is the perfect extreme hold for all hair types."
12) Cottagecore is the favorite core.
Cottagecore, a back-to-the-land aesthetic that peddles in picnics, frilly dresses, and crafting, took over during the pandemic — most of the teens we spoke to say it's the superior core.
Speaking of cottagecore, teens say one of the most popular items at school are LoveShackFancy minidresses.
13) And in case you couldn't have guessed by now, the majority of teens say that, yes, they've shopped off TikTok.
The platform is the reason our respondents said they bought everything from fake buttons that make jeans fit better to a hat that "is so much fun to throw on," whether it's "while driving" or "in therapy." TikTok also inspired their purchases of Chromatica Oreos, Pit Viper sunglasses, Velcro hair rollers, Flintts Mints, Squishmallows, and a gua sha, too. But as for the TikTok products that were mentioned most, those would be Hydro Seal Band-Aids (as an acne-treatment hack), the Revlon hot-air brush for super-smooth blowouts, and LED strip lights (see above).
14) Micro-influencers are major.
A substantial difference between this year's poll and the one we did two years ago is that teens, when asked to name the people who most inspire their shopping habits, seemed far less interested in big celebrities and influencers with millions of followers (like, say, Devon Lee Carlson). Instead, they tended to bring up smaller social-media presences with follower counts in the 10,000 to 200,000 range. We talked to a handful of these so-called micro-influencers to find out what items have gotten them the most engagement after posting about them organically (no brand affiliation involved).
Cailey Ork: "They're from the boys' section at Walmart."
Sophia Jaramillo: "I purchased them from Pretty Little Thing a while back! Unfortunately the exact pair I have aren't available anymore, but these are similar in fit and style, they're just cream."
Deja Foxx: "I posted about my experience with the [Nexplanon birth control] implant and had so many people in my comments and DMs sharing their own stories, asking questions, and wanting to know more. Some shoppable products that go along with that: flex menstrual disks, which are a must when switching birth controls; sustain condoms because the implant doesn't protect against STIs; and Curology, which helped me keep my skin in check with hormone changes."
Sophie Wood: "Some of my most asked about items are my NY/LA hat from Holiday the Brand (resale from Grailed) and my VonDutch hat (from eBay). One of my most major fashion staples is adding men's hats to my outfits; I usually find them in the men's section, in my boyfriend's closet, or by thrifting."
Doja Henshaw: "I got bombarded with questions about this cream silk dress. I typically wear it with my pearl Vivienne Westwood necklace, an oversized leather jacket and heels or my platform Docs depending on my mood! I love the feel of the silk and how it's on the thicker side, so not see-through at all or wrinkle-prone."
[Editor's Note: Doja's dress from REYÈM is currently sold out, but this one from Fleur du Mal is similar.]
Kaleb Keller: "The one question I get the most is 'Where do you get your pants?' After posting a photo wearing some vintage Ralph Lauren cargo pants I got a lot of comments asking this question. Unfortunately, there is no direct link. Most of my favorite pants are sourced from secondhand/vintage stores. I love sourcing vintage pieces because I feel that they are unique, timeless, and usually great quality."
Lauren Wolfe: "I like to wear cowboy boots with all kinds of outfits from summer dresses to shorts, and anytime of the year. While some all-leather boots can be really expensive, you can buy them secondhand, or there are also synthetic ones that are much more affordable that also look great."
Kate Glavan: "Everyone is asking about what's on my feet for my runs around NYC!"
Alivia McKenzie: "The items I get asked most about are probably my sweatshirt and sweatsuit from @okaytorest. They are a small female-owned brand out of Vancouver with thoughtful messaging and the perfect relaxed fit."
Magda: "When I first started wearing these rings, just before the brand got huge, I was getting a lot of DMs from people asking where they're from and how they could get their hands on one — some people even asked if they could buy them off me since they were selling out so quick."
15) Brandy Melville was the overall favorite clothing brand.
Brandy Melville came up the most in response to the question: "What is your favorite clothing brand?" with 14 percent of the votes, and more than a dozen mentions elsewhere in the poll. The label, per the teens, let them try out trends for cheap, though many were quick to inform us that they weren't fond of its less-than-ideal sustainability practices: "I love the clothing, but I don't love the brand because of unethical practices," said Mercedes of Brandy Melville. "Their stuff is just really cute, and it sucks," said Alyssa.
Some teens' Brandy Melville picks:
Honorable mention: Shein
While not mentioned quite as much as Brandy — and more so for accessories than clothes — Shein did come up frequently, too, for the same trend-focused reasons. And its price points happen to be even lower.
16) Speaking of thrifting, they still prefer to shop and sell on Depop
When it comes to buying and selling online, Depop still reigns over the other platforms, a takeaway that hasn't changed since our last poll in 2019.
17) Ana Luisa seems to be the jewelry brand.
Although more expensive than, say, Shein, several teens said they like the quality and sustainability of Ana Luisa pieces, specifically its chain necklaces, which Sophia called "easy to layer." They also come in a pearl option, which was indicated multiple times elsewhere in the poll as the gemstone of choice these days.
18) Gucci, three ways.
Scrolling through the responses about the best thing teens say they've splurged on, a trio of Gucci items emerged.
19) Over 30 percent of teens still like Nike sneakers the most.
With the popularity of shoes like Air Force 1s and Air Jordans, we're not surprised to see Nike keep a comfortable lead over Converse and the others.
The Strategist is designed to surface the most useful, expert recommendations for things to buy across the vast e-commerce landscape. Some of our latest conquests include the best acne treatments, rolling luggage, pillows for side sleepers, natural anxiety remedies, and bath towels. We update links when possible, but note that deals can expire and all prices are subject to change.