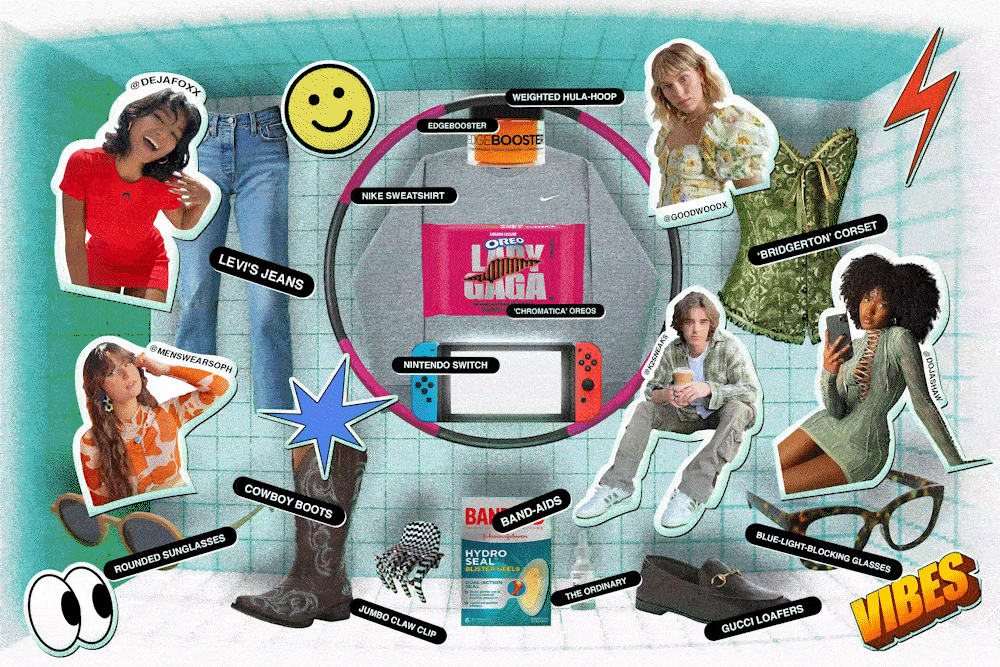 Photo-Illustration: by The Strategist; Photos from Amazon, Women Fitness, Ulta Beauty, Levi's, Peepers, Nordstrom, Mango, Chunks, Nintendo, Getty, @dejafoxx, @menswearsoph, @goodwoodx, @k2sneaks, @dojashaw
When we last polled a hundred or so teens about their shopping habits — two years and a pandemic ago — American Eagle mom jeans were the thing, as were square sunglasses. From our pool of responders (78 percent of whom identified as female, 6 percent as male, 5 percent as nonbinary, and 11 percent didn't specify), we learned a lot can change in a couple of years, and we're not just talking about the fact that Levi's are now the preferred denim brand. Perhaps the biggest development since we last canvassed this age group has been the emergence of TikTok as, essentially, an adolescent HSN. The platform has inspired purchases of everything from Hydro Seal Band-Aids and Highland cow stickers to Chromatica Oreos and weighted Hula-Hoops. Another big source of inspiration: micro-influencers, who came up more in this year's poll than huge stars like Kendall Jenner or Hailey Bieber did in the 2019 version. As for what's stayed the same, Brandy Melville and all things Nike are as popular as ever; and Glossier mostly is, too, although a beauty brand that's hot on its tail is The Ordinary — teens seem to be reading their ingredient labels more and more closely. And, significantly, the '90s-inspired claw clip has snuck up on the '80s-inspired scrunchie — the look right now, according to one teen, is that Phoebe Buffay–esque "wacky but cool archetype."
1) Most popular style of (an actual) top: Corset
If you consider a sweatshirt a "top," then yes, that was technically the winning style in this year's poll — as 49 percent of teens reported it as their most-worn item for Zoom school. But otherwise, at the opposite end of the silhouette spectrum, the top-top mentioned most (by an enthusiastic 10 percent of respondents) was the corset. We heard about "the Bridgerton corset," owned by teen Carley; a Victoria's Secret version noted by Zoë; an Urban Outfitters one bought by Mimi C.; and this Amazon find by Dylan, who said the purchase was inspired by TikTok, because "I was not in the best place with my body and I felt that these would make me more confident …[It's] decently good quality, although I can't completely breathe in it."
2) The "most comfortable sweatpants" cost $10 — or $156
In answer to the question: What is the item of clothing you've worn most this year? Sweatpants were the most common response for bottoms (no surprise in light of quarantine, of course). When pressed to name the most comfortable sweatpants, specifically, the answers fell all across the price spectrum.
3) In terms of loungewear brands, in general, Nike was the favorite.
4) The only workout item mentioned multiple times was the weighted Hula-Hoop.
A respondent named Aida bought this Hula-Hoop after seeing it on TikTok. "I like it because it's not an intense workout and instead it's a more relaxed one you do for a long period of time," she says. "I watch TV while I do it sometimes." Just don't expect to magically get a waist like the girl in the video, Aida says: "Definitely not the realistic outcome of hula-hooping for, like, 30 mins a day." Plus, she added, TikToks like that one "are quite triggering," and the platform is "very toxic when it comes to body positivity."