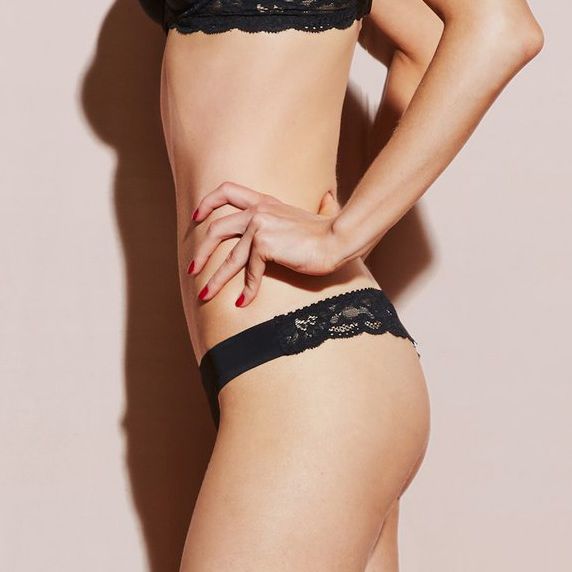 Photo: Courtesy of the retailer
Thongs have recently become a popular choice for everyday underwear for many women — and not just for avoiding VPL. As lingerie technology continues to evolve in the direction of providing maximum comfort, there are now more options, both flirty and functional, than ever. For Underwear Week, we talked to seven lingerie boutique owners, bloggers, and other experts about their favorite thongs. Below, 11 of their recommendations, from lace to seamless to organic options.
The best everyday thongs
Most of the experts we spoke to chose Hanky Panky thongs as their everyday thong. "Hanky Panky normalized the thong and made it an accessible wardrobe essential for millions of women," says Cora Harrington of the blog the Lingerie Addict and author of the forthcoming book In Intimate Detail: How to Choose, Wear, and Love Lingerie. "Their stretch lace thong has countless imitators, but none come close to the original." It's the go-to thong for New York City girls, says Cindy Kahng, owner of the East Village boutique Azaleas. "They're lacy, one size, comes in low-rise or high-rise and in every color of the rainbow," she says.
Photo: Ro, Lauren
Cosabella thongs are another popular choice, and Laura Henny, owner of the Rack Shack, a body-positive bra boutique for all shapes, colors, and genders in Bushwick, Brooklyn, prefers its lace look over Hanky Panky's (though she likes both brands). The Cosabella Trenta thong is the everyday choice for Rachel O'Donnell, social-media manager at the Lingerie Journal: "The lace is soft to the touch and feels a bit more luxurious than your average one-size-fits-all thong." It's also seamless and comes in a rainbow of colors.
The best seamless thongs
Chantelle's Soft Stretch collective is a newcomer to the lingerie scene, but it's quickly becoming a favorite. Harrington, who's not usually impressed by "new" lingerie technology, says the French brand's Soft Stretch fabric is the "real deal": "It's soft, smooth, seamless, super comfortable, and it wicks moisture away effortlessly from the skin (a necessity in hot weather!)." It's also a favorite of Henny.
For a truly seamless and comfortable fit, Susanne Alvarado of Manhattan's Sugar Cookies recommends Commando's classic thong. According to the brand, the thong is raw-cut and made with "luxe European microfiber" and is "elastic-free," eliminating digging and panty lines while being very soft.
A Journelle favorite is the in-house brand's Estelle thong, which offers a seamless, everyday fit with a slightly thicker band and lace detailing in the back.
Another great seamless option is Fleur du Mal's Charlotte Lace Seamless Thong. "They're great to pair with summer outfits and any special occasion dress that can't bear a VPL," says Kahng.