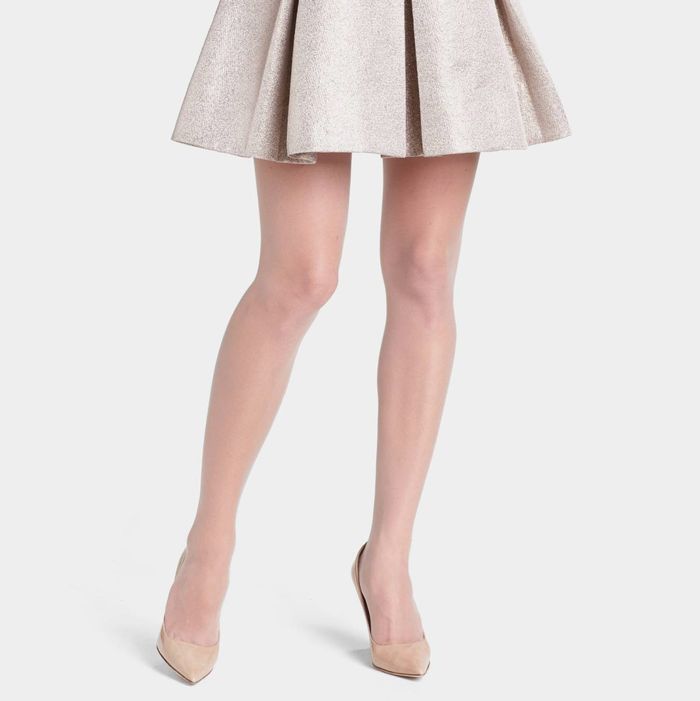 The best sheer pantyhose looks like you're not wearing anything at all.
Photo: Courtesy of Nordstrom
While some flight attendants and all Hooters waitresses are still required to wear flesh-toned pantyhose as part of their uniforms, almost every major American corporation has banished any mention of pantyhose from dress-code manuals. Outside of conservative law firms, an audience with the queen of England, or a southern debutante ball, the answer to the question "Are pantyhose necessary?" is a resounding no. But a good pair of sheer, flesh-toned pantyhose is a great life hack: They keep your legs a little bit warm when you want to go bare-legged in spring dresses while it's still cold outside (that tiny barrier between your naked skin and the cold air really does help), they hide any imperfections you may not want to show the world, and they even act as a slippery layer so skirts and dresses don't bunch or ride up as you walk.
And there is one corner of the world where pantyhose are still very much de rigueur: Hollywood. The women I dress for TV shows, films, and commercials almost never go on camera with bare legs — they all want a smooth, sleek leg line; the kind you can only get with leg makeup or flesh-toned pantyhose. But nobody wants it to be obvious that they are wearing pantyhose, so I swear by a handful of brands that deliver perfect-looking legs — without calling any attention to themselves. These are my favorites, and the very best.
The best pair of pantyhose — for any amount of money — are these by Hipstik. They don't pinch, bind, dig in, or crush your guts and thighs mercilessly after a full day of wear. The waistband is made of a soft decorative lace that stays put and never rolls down — and if it happens to peek out of the waistband of your skirt or pants, it's actually just a little bit alluring instead of totally embarrassing. Here's the true difference: Hipstik sizes its pantyhose by height and body shape, not weight, and I think that's what makes the fit so revolutionary. I'm five-eight and a triangle (meaning my hip size is greater than my bust), so I am a size B. The site has a sizing chart for those unfamiliar, but having the appropriate fit means I can wear them 15-plus hours with zero waistband squeezing or discomfort. They also come in extended sizes up to size H, the equivalent of a pant size 22/24. (For what it's worth, Hipstik also makes an incredible pair of opaque black or navy tights.)
Donna Karan's entire collection of "The Nudes" is ultrasheer — and the next best thing to bare legs. They come in either sheer-to-waist, panty, or control-top options and do a bang-up job of smoothing out minor imperfections and giving an ensemble a "finished" look without ever calling any attention to themselves. They have zero shine and are extremely lightweight — you really have to look hard to even notice that someone has them on. I buy them 12 at a time on TV shows and hoard them like old newspapers. Part of the reason "The Nudes" are so great is because they are close to 50 percent spandex — which makes for a slinkier feel and a firmer, tighter fit. (The general rule is, the more spandex in a pair of pantyhose, the sleeker the fit.)
Any time I'm dressing an actor outside of the "light nude," "medium nude," or "coffee" skin-tone box, I'm stuck custom dyeing multiple pairs of pantyhose in order to achieve the right match. The lack of pantyhose (and every other sort of undergarment you can think of, really) in a proper range of skin tones is a problem that few manufacturers choose to address — but Ade Hassan's Nubian Skin line makes luxury pantyhose (in addition to bras, panties, and shoes) in shades ranging from Berry (a dark, espresso-hued shade) to Cafe Au Lait (a warm honey tone), and in sizes up to 3X. Made mostly from silky-soft polyamide (a synthetic fabric that is long-wearing and not as scratchy as pure polyester), they are a steal at around $15 per pair. (Also worth noting: Beyoncé herself wears Nubian Skin.)
If you want to be really fancy, try Kate Middleton's preferred brand of stockings — the evergreen classic Wolford, made exclusively in Europe since the early 1950s. They're not cheap, but they last forever and are so light and airy, it's like wearing powder on your legs. I like their 'Luxe 9 tights' best, as they don't have that built-in control top that can tend to peek out of shorter skirts and dresses, and the totally sheer, seamless toe means you can wear them with peep-toed shoes and nobody will be the wiser. If you want to go completely open-toed, try their totally toeless version.