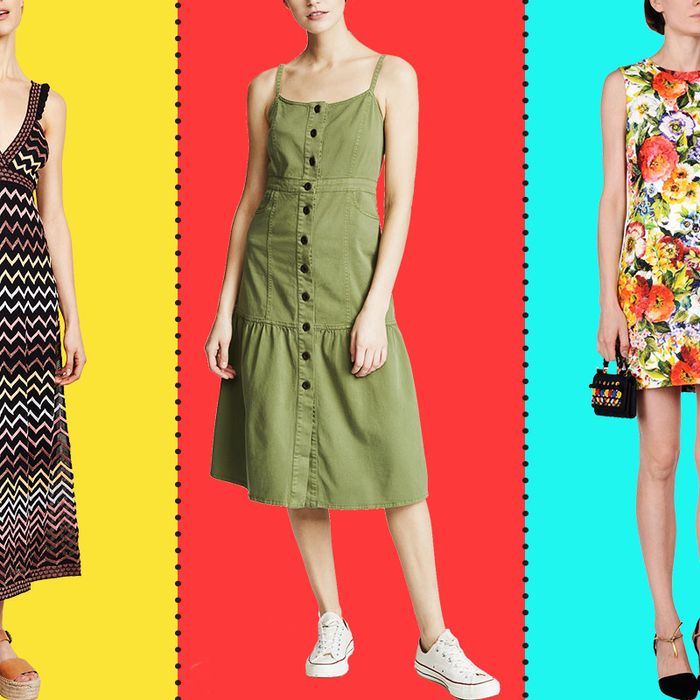 Photo: Courtesy of the retailers
Spring-dress season is upon us, and it turns out that a whole lot of them are on sale: long ones, short ones, medium ones, plus-size ones, floral ones, striped ones, work-appropriate ones, wedding-appropriate ones, wandering-around-the-neighborhood-on-a-weekend ones, blue ones (we have a thing for the blue ones), bright-red ones, black linen ones … Below, our favorites — which we will keep updating throughout the following months as they sell out and new dresses arrive on the price-chopping block.
Our colleague Dana Trombley swears by Yumi Kim dresses and says they are "PERFECT for weddings."
A more "directional" striped spring dress from the good folks over at Opening Ceremony.
This denim dress features a groovy trompe l'oeil tie-waist situation.
A twofer: This "jacket dress" can be worn buttoned up as a dress, or unbuttoned as a jacket.
This versatile A-line dress has both a V-neck and a V-back.
A dress made for the dance floor.
Under $200 for a DVF wrap dress is a pretty good deal.
The oversize cuffs on this striped maxi dress are a nice touch.
An LBD that manages to feel exceedingly springy.
A plus-size linen option from Go Silk. Note: There are only a few sizes left in blue, but there are more available in black.
Good for a spring wedding where you want to look elegant, but not over-the-top.
This is very "I'm just picking up a few things at the farmers' market."
The definition of an easy-breezy spring weekend dress.
Wear this embroidered dress from Velvet by Graham & Spencer either on or off the shoulders.
The flowers on this Karl Lagerfeld shift are 3-D!
A classic Marni dress at an un-classic price.
A black dress that you can get away with wearing at a wedding. (It's the lace sleeves.)
A floral dress with some drama from Parker.
The skirt length says, "I'm ready to party," while the high collar says, "But I keep it classy."
This is a very good price for See by Chloé.
Photo: 17-12-22 brittmaren AM1 B7 phillee W
$767 is not cheap, but this is a really cute M Missoni dress.
Photo: 18-03-13 maritzaveer PM2 B6 michaelconway W
It's hard for us to resist a gingham smock dress.
Photo: 18-03-23 oksanajager PM2 B4 raypfeiffer W
A casual everyday spring dress if we've ever seen one.