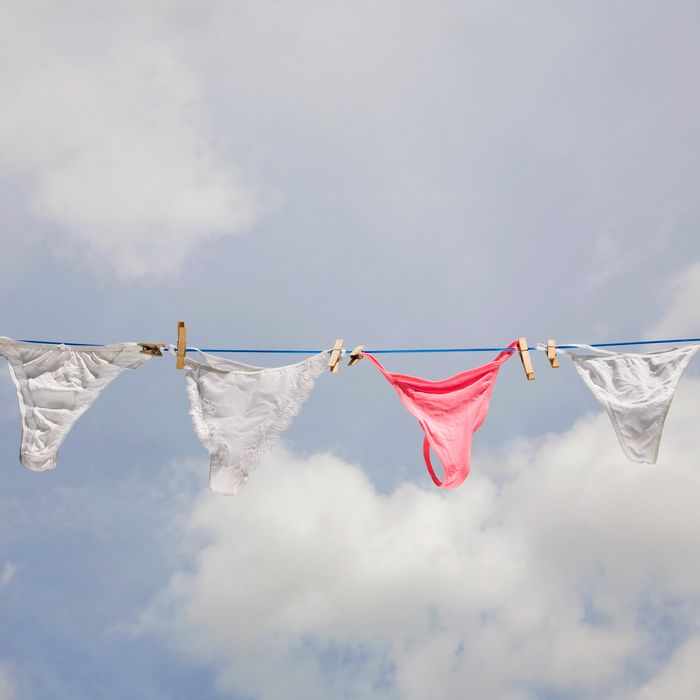 Photo: Ashley Jouhar/Getty Images
Even though you wear underwear every single day, you still might not be totally sure about the best way to wash it. That's okay; it's not entirely your fault. There's a lot of conflicting information about the best way to clean your underwear, from whether or not you can use a washing machine to the best type of stain remover — and that doesn't even take the different types of fabric into account. After all, it'd make sense that the way you wash your lace lingerie is different than how you'd clean your workhorse cotton panties.
So to help you separate fact from fiction, and find the best way to wash your underwear once and for all, we talked with people who know their undergarments about the best way to clean every type of underwear — including cotton, mesh, silk, lace, and more — and keep your undergarments looking and feeling fresh.
For cotton underwear
You can wash cotton underwear in the washing machine, but as Naomi Gonzalez, co-founder and COO of the gender-neutral underwear brand TomboyX, explains, it's important to use a mesh delicates bag. We'd also recommend never washing your underwear with towels or jeans, as the rough material can damage the more delicate underwear fabric," she says. Patric Richardson, a former Neiman Marcus buyer and Nordstrom manager who, these days, "literally teaches people how to clean their clothes" under the nickname the Laundry Evangelist, has recommended these mesh bags to the Strategist before for exactly this purpose.
Though you might feel the need to stock up on extra-special detergent for your underwear, that's an unnecessary expense, especially for a relatively robust fabric like cotton. Gonzalez likes washing her brand's modal-slash-spandex underwear with regular Tide detergent because "it cleans well and leaves no odor." But again, be sure to put the underwear in a mesh bag before you throw it in the wash, to prevent damage, and run it on a cold cycle.
If you've get a stain in your cotton or modal underwear, Gonzalez recommends Zout, which has a mix of three enzymes to get rid of starch stains, protein stains (including blood), and even oil stains. "These products never leave that unsightly ring around where the stain used to be and won't damage the fabric even if you let it soak for a while."
For mesh or lycra underwear
Morgan Curtis from Morgan Lane likes these washing bags from the Laundress "for mesh or lycra panties that are more machine washable." Follow the same basic instructions as you would for cotton underwear, washing on cold in the machine.
For silk or lace underwear
When it comes to the truly delicate delicates, like lace or silk underwear, most of our experts still prefer to hand-wash. For these speciality items, Curtis likes the Laundress Delicates Wash (so much that she actually sells it in her own store), noting that even if you're hand-washing, you should still separate dark colors from medium from whites.