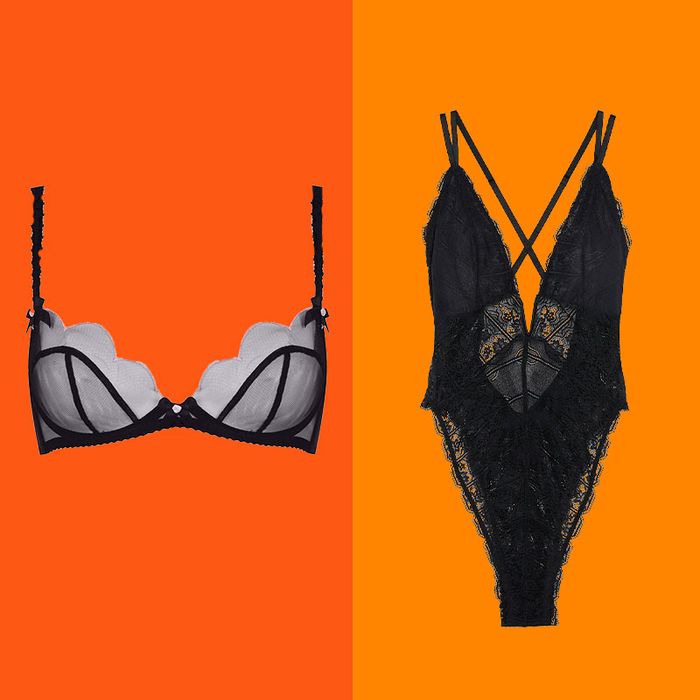 Photo-Illustration: The Strategist; Photos: Retailers
Unlike your usual undergarments, lingerie is supposed to be seen. But it's as much of a personal choice as a preference for boxers or briefs is. An ultrasheer set may add a new element of daring to what you wear every day. Perhaps you'd prefer structure with a corset situation. Or you could be in the mood to switch things up with something that's not like you at all (like the latex set that Liz Goldwyn, founder of The Sex Ed has been lusting after). But it's important to note, as Madison Alexandra, a fuller-bust model who runs her own online "bra school," advises, "Don't sacrifice the fit for the aesthetic." You want to feel your best in lingerie, after all.
"It's more involved than people realize," Alexandra adds. So you should start off by learning your size and shape, as that will "make a huge difference when curating your lingerie collection. You won't have gapping and overspill. There's an art to it." To help you find those pieces — whether just for you or for a special occasion like Valentine's Day — we asked designers, models, and other lingerie aficionados about their favorites. And to give you options no matter your budget, we've organized their recommendations by price (since these are mostly sets we're talking about, we used the total cost to determine the tier).
Best lingerie under $100
Minimalist underwear brand Cuup was among the most popular with our panelists. Maude founder Éva Goicochea, who notes that she has been "married for over a decade," says these undergarments still feel "special." Model Yumi Nu describes the mesh as sexy and comfortable, and in our guide to the best bras, Amanda McMillan, a restaurant general manager in Brooklyn and former "underwire cynic," told us she likes the Plunge's "French-girl lingerie under structured boxy menswear" vibe.
If the Plunge doesn't appeal, stylist Michelle Li, who previously served as the beauty and fashion editor for Teen Vogue, swears by Cuup's balconette bra. "It keeps everything in and is a functional everyday bra, but upon closer inspection, you'll notice all of the details that make Cuup bras so loved," she says. And Christiana Greene, owner of Bum-Cake Vintage, shouted out the brand's high-waisted panties, describing them as "supersensual" yet comfortable.
Alexandra says you'll want to have some "straight-up comfortable" pieces in your lingerie collection. Her favorite brand that meets this criteria is Bravado Designs, which makes everyday plus-size bras so flattering and pleasant to wear she has hers altered to fit. "I spend the money to have the band taken in despite not technically being in their size range because they're just the softest bras," she says. Despite their lack of underwire, she finds Bravado's lingerie to be very sculpting and flattering: "I wear it with my Skims. It's really seamless."
Shapewear label Skims, created by Kim Kardashian, tends to sell out quickly whenever it launches new products or restocks its best sellers. These sleek separates are thankfully still available, and Nu recommends them for their comfort. "Skims has such beautiful earthy tones and has nailed their quality," she adds. And if you miss out on a restock, you can always join the wait list. "I'm on a million wait lists for them because I can't get enough," she admits.
Singer Jessica Manning recommends looking at Hara the Label for no-frills styles. While the brand doesn't make traditional lingerie, Manning feels "really good about these pieces" not only because of Hara's mission (which includes a focus on sustainability and ethics) but also because "they fit like a dream." She cites the Stella Low-Cut Bra and Eva G-String as favorites because they're versatile enough to wear every day but you can easily put them on for something more special.
Cora Harrington, author of In Intimate Detail: How to Choose, Wear, and Love Lingerie and founder of the now-defunct blog The Lingerie Addict, calls Lavinia Lingerie an "industry secret" that typically "only people in the know are aware of." There's plenty of variety on the site, but Harrington singled out this set with a balconette bra as something "well made" and "with a lot of oomph."
Alexandra says Elomi is her favorite lingerie brand by far. For folks who are fuller busted, it's "one of the most comfortable and highly structured" options you'll find in the size range, she says. Harrington feels the same, directing us toward this Sachi bra in particular. "This is the bra for people who believe there is nothing good for larger sizes and are searching for styles beyond the basic beige," she declares. If you're still not convinced, Harrington says everyone she knows who has tried this bra tells her they love it. She's drawn to the "sheer plunge style" and "stunning strappy detail" and promises it will give you proper support. The coordinating briefs have the same lines across their paneling.
The world of Polish lingerie, Alexandra says, is "a secret heaven" for those with larger busts. "One thing that sets Polish brands apart is they'll have wiring that's a little bit narrower," she explains. While most plus-size bras are designed for people with wide breasts that spread under their armpits, many Polish brands have daintier underwires that "are constructed to help give the bust forward projection, lift the breasts in and up, and narrow your silhouette." However, because some Polish labels can be difficult to find in the U.S., she suggests the readily available brand Comexim, which you can buy on Amazon. Along with the narrower wires, "Comexim's bras give you that push-up cleavage without padding, which is really hard to find," she says. When shopping, use this conversion calculator to find your size — no Polish translation required.
Alexandra describes Scantilly as "the naughty little sister" of British plus-size bra brand Curvy Kate. She loves the range for its edgy detailing, which includes BDSM-influenced chains, leather, and harnesses. "You don't usually get that aesthetic with larger cups," she explains. "They have all those beautiful details, and they work really well if you want to show off your lingerie — I'll wear it with a blazer." Though based in the United Kingdom, Curvy Kate ships all of its products to the United States, and the brand's size range is extensive — plus its U.S. site does all the size conversion for you.
Back when Rihanna first launched her lingerie line, Shammara Lawrence, a freelance fashion writer and founder of the Power of Plus, had the pleasure of trying out the collection and told us it was worth the hype: "I was immediately impressed by the fit of all of the pieces I tried on. As a size 16/18, finding lingerie that not only fits me well but looks sexy and isn't matronly looking is quite the feat." While her original favorites are now sold out, I've repeatedly heard praise for the line from plus-size folks, especially since it's one of the few with a more inclusive size range. This bodysuit features an ultrahigh cut and a deep, plunging neckline that's made even lower with a V-shaped wire detail.  
Stylist Grace Thomas introduced us to this curve-emphasizing chemise from In Bloom by Jonquil. (The label promises to bring out your "inner ingénue," and Thomas bought her own bridal lingerie from the line.) The cut of this chemise nips in at the waist and flares out at the hips to provide an hourglass effect, she says, adding that it makes her "feel like the most beautiful me." It features a racerback with a scalloped lace edge and an empire waistline that's sweet without being saccharine, especially in tandem with the sheer fabric at the bust. As a bonus, Thomas likes that she can wear it to bed and not wake up in a wrinkled mess, with the slip "looking as good as when I went to sleep."
This slip from century-old corsetier turned lingerie label Etam earned a place in our guide to the best silk sleepwear, and its slinkiness convinced us to include it here as well. Lingerie writer Estelle Puleston calls it her "most-worn nightdress" because she selects it more often than the pajamas she has splurged on. Puleston recommends it "for anyone wanting decent-quality silk nightwear on a budget." You can also wear it beyond the bedroom — its look isn't so obviously lingerielike as other options on this list.
If you want to regularly receive new lingerie, you could try a subscription like Empress Mimi that makes a range of lacy boudoir styles catered to your size. They don't use underwires or padding, to provide a more natural feel, and everything is handmade. Subscriptions start at $19 per month, and Gigi Engle, a certified sex coach and educator, says she has become obsessed with it: "They have the most gorgeous sets that come with a nightgown-slip, panties, and a beautiful robe. It's a subscription box, so you get new lingerie all the time. I have a long torso and enormous boobs, and I love that it looks flattering on me every time."
Best lingerie under $200
Photo: 18-02-01 rozagough AM2 B7 raypfeiffer W
Photo: 18-02-01 rozagough AM2 B7 raypfe
Part of a newer class of lingerie labels, Fleur du Mal was founded a little over a decade ago and is probably best described as making modern lingerie that evokes a boudoir style. A favorite of fashion types — Sienna Miller loves its silk slip — the company sells classic bustiers and an assortment of bondagelike options, too. "I just feel like their stuff gets nicer the longer I have it," says writer and artist Jo Rosenthal of her Fleur du Mal favorites, which include these boxers. And Oori Ott designer Hannah Park, who loves vintage lingerie ("high cuts, satin, and lace"), says it was hard to find new pieces with a vintage feel until Fleur du Mal came on the scene. "They fit my tiny, pointy breasts perfectly and support and boost without squishing, padding, or leaving a gap," she says. This is one of the brand's signature satin styles that doesn't look overly pinup-y. Greene also suggests trying a trio — bra, panty, and garter belt — as "those are so hot and femme."
If you don't see yourself as a "lingerie" person, you may want to consider Negative Underwear's many mesh styles as potential starter options. We love the brand for a high-design, understated look — former Strategist staffer Chloe Anello is a noted fan. Goicochea and communications manager Vanessa Remoquillo are a part of the fan base as well. Remoquillo says while the pieces aren't really conventional lingerie so much as functional underwear, "the styles are incredibly sexy, with the added benefit of being supremely comfortable — which makes me feel all that much more confident when I put them on. I've never been one for lacy things, so I love how these are subtle and sophisticated. They seem to say, I know myself, and I know my body."
Araks, a "consciously crafted" line of New York–made lingerie, came up a couple of times in our reporting. (The brand's briefs are considered sexy grandma panties.) Content creator Bianca Valle describes Araks as "not trying to be anything but genuine and inclusive," which is a big part of its appeal. Its soft-cup pieces (more on those below) are popular, but Valle prefers the underwire bras, including the Beau, for being supportive and streamlined; they're ideal for those who like their underthings understated. The Beau is meant to be paired with the similarly pastel Isla hipster so you don't have to bare too much on the bottom.
Soft-cup styles (read: sans wire with little to no lining) can be liberating for those with smaller busts — and they're often accented with sheer fabric and low cuts. Araks is particularly playful in that sense, with silky inserts on cups and cheerful colorways as their calling cards. Stylist Doria Santlofer takes to the brand "because the lingerie comes in the most beautiful colors — like lime green or pale orange — so it's a nice pop of color under my clothes. They also aren't overtly 'sexy,' just feminine and fun and so flattering." The Yanelis bralette is one of her picks for being "made from the softest cotton with panels of silk charmeuse," and it would be "pretty for a special occasion," Santlofer says. Araks also sells a matching Yahvi panty, but don't dillydally, as we say in Stratspeak, because it's slowly selling out.
Like others we spoke to, Rosenthal appreciates that Araks' undies can peek through sheer or see-through T-shirts — whether accidentally or on purpose — and still look great. She favors the brand's hot-pink lace bralette and has been planning to snag it in green. "It seriously goes with everything I own when I feel like wearing a bra," she says. Li likes the company's lace numbers, too. "You can almost always find me wearing something from Araks," she says.
To get that "lifted" look without having to wear a push-up, or if you just need more support, slinky underwire options are a good idea. In this realm, we've heard great things about Dora Larsen from Natalie Suarez (a.k.a. the blogger Natalieoffduty). The experimental line launched by a former lingerie buyer takes a lighthearted approach to underwear, with color blocking that reminds us somewhat of swimwear — a tropical pink and yellow here, a pastel blue or mint green there — so they're ideal if you get bored with traditional black and nude hues.
The Great Eros, a Brooklyn-based lingerie line, is known for a more minimal aesthetic with translucent designs like these, which Stella Simona, co-owner of jewelry brands Amarilo and Haati Chai, appreciates for their look and feel. "I​ prefer pieces that are comfortable and sexy at the same time,'' she says, "and love how ​the ​Eros​ brand​ plays with the idea of being ​sensual and ​understated." She finds that the wire bra lifts and shapes despite the lack of padding and that "the extra-high-cut bottoms gives the look of legs for days​.​" If you're fonder of one-piece lingerie, Goicochea also recommends the Great Eros's sheer Canova bodysuit, which has similar elements to the separates Simona likes. It's meant to be like a second skin. 
"No one does lingerie like Dita Von Teese," says Harrington of the famed burlesque dancer's collection of underthings. She adds that celebrity-branded underwear can often be underwhelming — but Von Teese took inspiration from her own vintage-lingerie archives to design her namesake label, "and it shows." Harrington introduced us to a Madame X starter set that's "a favorite of lingerie addicts everywhere," especially for its "thoroughly seductive strappy accents," but since it's now sold out, we suggest this similar set with a barely there G-string and demi bra. The bra counts Goldwyn as a fan. She describes it as "truly durable" — so much so that she owns it in every shade. Her affinity for it is especially notable considering she owns more than 1,000 pieces of lingerie.
The lingerie aficionados we spoke with consider Agent Provocateur a standout in the intimates industry. "They're very delicate when you hold them in your hands," Alexandra says of its high-end pieces. She even credits the storied British label as "the brand that got me into the desire to model lingerie and got me into the high-end lingerie scene." When Naomi Shimada decided to stop buying black underwear completely because she struggled to find designs that were appealing as well as flattering for her 34E/F size, she turned to Agent Provocateur. Soon it became a favorite for all sorts of undies. "I love that their palettes feature colors I've never seen anywhere else," Shimada says. That includes this plunging-bra-and-panty set. Café Forgot co-founder Lucy Weisner also counts the "somewhat classic" duo as a favorite for its "supersweet details," including a scalloped edge and bows with little rosettes, along with French seaming and Austrian embroidery.
Best lingerie for $200 and up
London-based luxury-lingerie maker Coco de Mer "exudes strong femininity," says stylist Jessica Cadmus of Wardrobe Whisperer. This bodysuit is part of the brand's Athena collection — named after the Greek goddess of wisdom herself, with motifs of "graphic tessellating embroidery and fan-edged silhouettes," according to the company. The "interplay of tulle and satin" makes it a beautiful piece to put on, Cadmus says. Since "lingerie is the closest thing to the skin," she chooses undergarments made only of the finest fabrics and says this satin feels especially luxurious in its smoothness. To make the look even more indulgent, she pairs the bodysuit with Coco de Mer's Olympia robe.
Known for its much-beloved bras, Natori also makes the chemise we've deemed best of the best in the silk-pajamas space. Kimmay Caldwell, a professional undergarment educator, calls out the Lolita as one of the company's particularly worth it offerings; it features a combination of silk-charmeuse and Chantilly-lace appliqués. Lori Kaplan, founder of Bra Tenders, likes this chemise's draping. "Honestly, if you've never worn silk pajamas, it's a treat to feel something so cool and fluid against the body," she says.
On the extreme high end of the lingerie spectrum, there's French swimwear and lingerie label Eres, which has been around since the '60s: It likes to craft its elegant undies from soft jersey and tulle. Model Alex Noiret learned a more polished, "soigné" attitude about lingerie from her grandmother but said it "wasn't until I tried my first set of Eres lingerie that I finally understood what she meant." Noiret loves that the pieces are "simple and beautifully made with soft fabrics and lace that provide just the right amount of structure and substance," especially as someone who's smaller-busted. A tip: You can find some of Eres's pieces marked down at Net-a-Porter at the moment, including this set made from logo-ed tulle. 
The Strategist is designed to surface the most useful, expert recommendations for things to buy across the vast e-commerce landscape. Some of our latest conquests include the best women's jeans, rolling luggage, pillows for side sleepers, ultra-flattering pants, and bath towels. We update links when possible, but note that deals can expire and all prices are subject to change.
Every editorial product is independently selected. If you buy something through our links, New York may earn an affiliate commission.