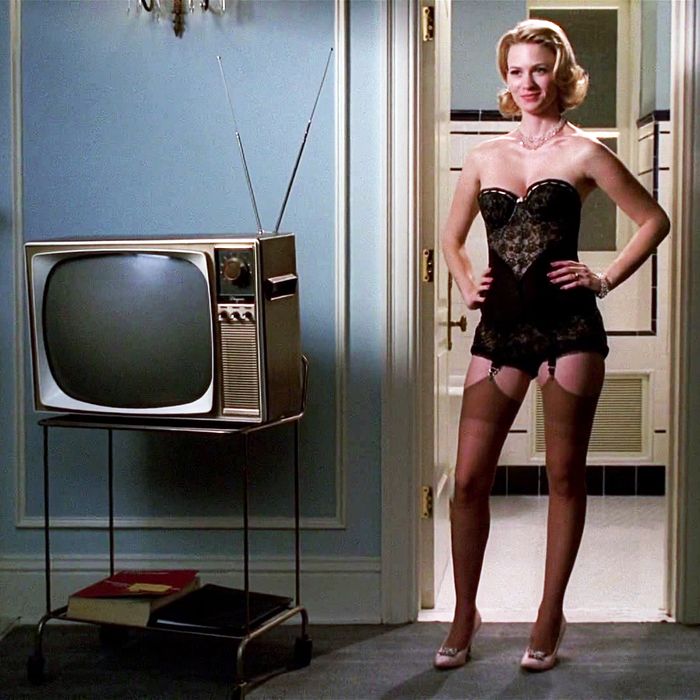 Buying lingerie is one of those ultrapersonal choices that really should be more for the wearer than the gifter. Some women favor ultrasheer, lacy options when they're lounging (or for special occasions), while others go for tamer, high-waisted options that feel more structured. Here, we interviewed more than a dozen designers, models, and lingerie wearers on their skivvies of choice — wearing them might make you arouse even yourself, as one writer put it.
Underwire lingerie
To get that "lifted" look without having to wear a push-up (or if you just need more support), slinky underwire options are a good idea. In this realm, we've heard great things about Dora Larsen, an experimental line launched by a former lingerie buyer, which specializes in a more colorful, lacy approach to lingerie. Natalie Suarez (a.k.a. blogger "Natalieoffduty") added one of their bras to her holiday wish list last year, saying, "This is such a romantic bra with a really cool and beautiful color palette. It will work so well under little silk dresses." The color blocking reminds us somewhat of swimwear — a tropical pink and yellow here, a pastel blue or mint green there — so they're ideal if you get bored with traditional black and nude styles.
Model Naomi Shimada has a similar color ethos when it comes to lingerie. Two years ago, she decided to stop buying black underwear completely ("I've still struggled to find fun designs that are colorful and flattering at the same time") and found that Agent Provocateur, the storied French label known for their racy designs, actually made bras in her size (34E/F). "I love that their palettes feature colours I've never seen anywhere else." She owns and recommends this plunging, light brown set, which would be ideal for someone with a larger bust size, but you can also find three-piece sets at AP for the whole shebang, plus body chains and silky slips and cover-ups.
If you don't consider yourself a "lingerie" person — maybe you run on more of a minimal Baserange frequency — you may want to try Negative Underwear. It's a brand that we love for a high-design, understated look. Communications manager Vanessa Remoquillo's a fan, too, and while she says they're not really conventional lingerie so much as functional underwear, "the styles are incredibly sexy, with the added benefit of being supremely comfortable — which makes me feel all that much more confident when I put them on. I've never been one for lacy things, so I love how these are subtle and sophisticated. They seem to say: I know myself and I know my body."
Photo: 18-02-01 rozagough AM2 B7 raypfeiffer W
For modern lingerie that evokes a boudoir style, Fleur du Mal is another one to know. A favorite of fashion types — Sienna Miller loves a FDM silk slip — they also sell vintage-style satin bullet bras and a range of bondage-style lingerie, too. Oori Ott designer Hannah Park loves vintage lingerie ("high cuts, satin, and lace"), but says it was hard to find similar, new pieces until Fleur De Mal came on the scene. "The foundation of the styles are vintage-inspired but there are fun, modern details added to them. They fit my tiny, pointy breasts perfectly and support and boost without squishing, padding, or leaving a gap." Here's one of their satin styles that has that vintage air without looking overly pinup-y.
We were very excited when Great Eros, a Brooklyn-based lingerie line, opened its doors in Williamsburg. It's known for a more minimal aesthetic with filmy, sheer designs like this one, which Stella Simona, co-owner of Amarilo and Haati Chai, appreciates for their look and feel. "I​ prefer pieces that are comfortable and sexy at the same time,'' she says, "and love how ​the ​Eros​ brand​ plays with the idea of being ​sensual and ​understated yet detail-​ and quality-focused​ at the same time." She finds the wire bra lifting and shaping despite the lack of padding, and that "the extra-high-cut bottoms gives the look of legs for days​.​"
Another exciting newish lingerie brand is Lonely, the label that creates pretty underthings for women to wear for themselves. They're also dedicated to diversity in selection and sizing, which means consistently stylish, flattering sets that size up to G in bras and XL in bottoms. Laia Garcia, deputy editor of the Wing's No Man's Land, says that finding lingerie with underwire but no padding was a pain until she took up a friend's recommendation to try Lonely (for what it's worth, that friend was photographer Petra Collins). It's now become a favorite: "I like this high-waist Lena because it keeps my body looking smooth under my high-waist clothes (I don't do the Spanx-type-things). My stomach doesn't get cut off midsection, giving me two stomach blobs."
Photo: MarkSquires/MarkSquires
We consider Cora Harrington, who wrote the book on lingerie and runs a site dedicated to chronicling the latest and greatest styles, the expert on the subject. She tells us that if you're looking for a set that's special but affordable, "Playful Promises' recent collaboration with Charlotte McKinney is perfect for you." The London label likes to issue limited-edition collections like this, which are fun because they size up to 44H in bras, and the price point is nice for the budget-conscious. Here's just one example from this collection, which Harrington says, "At under $60, only looks expensive."
Harrington's also partial to burlesque dancer Dita von Teese's line of lingerie for vintage-inspired underthings. "No one does lingerie like Dita Von Teese. Often, celebrity lingerie lines are underwhelming —but Dita Von Teese went to her own extensive vintage lingerie archives for her namesake collection, and it shows." As a starter set, she recommends this Madame X style — "its trapunto stitching and thoroughly seductive strappy accents is a favorite of lingerie addicts everywhere, myself included" — for wearing out, peeking out from a under a sheer or low-necked top.
For those with small frames and large busts, French brand Simone Perele (one that goes back all the way to 1948, and is generally raved about for their shapewear) carries a rare 30DD. They place a strong emphasis on perfecting fit, so provided you know your size, everything should feel seamless and comfortable. Here's just one that we've tried and would recommend, with thin double straps in front for a more weightless feel and sheer bottoms.
Soft-cup lingerie
Soft-cup styles are comfy, liberating things for those with smaller chests — often accented with sheer fabric and low cuts. Araks is one of the more playful luxury brands out there for soft-cup styles: little silky inserts on bras and cheerful colorways are their calling cards. Doria Santlofer, a stylist, takes to them "because the lingerie comes in the most beautiful colors — like lime green or pale orange — so it's a nice pop of color under my clothes. They also aren't overtly 'sexy,' just feminine and fun and so flattering." One of their most popular styles is this Yanelis bralette, which she finds extra comfortable: "The matching underwear is made from the softest cotton and the panels of silk charmeuse are pretty for a special occasion."
On the higher end of things, there's also French swimwear and lingerie label Eres, which has been around since the '60s: It likes to source its elegant undies from soft jersey and tulle. Model Alex Noiret, learned a more polished, "soigné" attitude about lingerie from her grandmother, but said it "wasn't until I tried my first set of Eres lingerie that I finally understood what she meant." Noiret loves that the pieces are "simple and beautifully made, with soft fabrics and lace that provide just the right amount of structure and substance. As a smaller-chested woman, my ideal bra is one that both enhances my silhouette and feels lightweight, like this one."
Photo: 19-01-02 melissamartinez AM2 B7 johnficenec W
No one specifically called out Cosabella for this story, but it's a brand we have a soft spot for because everything is so pretty and reasonably priced. We own one or two sets and can vouch that they are comfortable and generally very beautifully designed: We like the lace trim on this one and the winged effect on the bottoms.