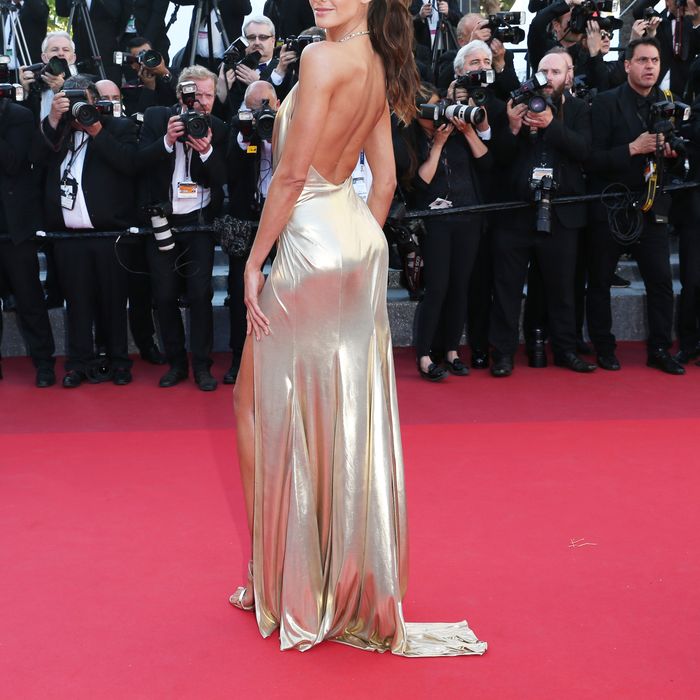 Photo: Gisela Schober/Getty Images
Visible panty lines, or "VPL," aren't necessarily a make-or-break when it comes to underwear, but they can be somewhat embarrassing. The term comes up again and again on the site (even amongst our editors) as a factor that separates the good pairs of underwear from the great: does VPL show up underneath a pair of workout leggings, a body-hugging gown, or a pair of dress pants? For Underwear Week, we polled seven women — from stylists to boutique owners to fitness instructors — to find the best seamless, VPL-proof underpants.
Thongs
When you think VPL-free, you typically think "thongs," which is why the style was an easy favorite amongst the experts. Commando is somewhat of the gold standard for preventing VPL (or so we've heard) and three of our experts were fans, too. Stylist Lara Backmender says panty lines are a pet peeve of hers when she's working with models on shoots, and she often looks to Commando for creating a seamless, smooth look under clothes. Cindy Kahng — the owner of lingerie and swim boutique Azaleas — also calls Commando's bikini styles and thongs a "no-brainer" for creating invisible panty lines, while MM.LaFleur's Bryant Park showroom manager Liz Young says this thong is an everyday VPL-proof favorite.
If you want something seamless, but cheap enough to buy in bulk, L.A.-based stylist Lindsey Shores says you're better off with undies from Target, and her clients often wear them on the red carpet. "Using higher-priced brands is nice, but I've found that Target underwear has pulled through for me just as much. Depending on the comfort of the client, I tend to go with nude, seamless thongs most often."
Backmender and Tone House coach Roxie Jones also recommended Hanky Panky's lacy thongs for a breathable, everyday option. Backmender says, "They don't cut into your skin, they create a smooth line even though they are lace, come in fun colors, and also work for a variety of skin tones."
Here's a fancier lace thong that Kahng says you could easily wear underneath a dress or any summer outfit, really. "The lace back still adds some sensuality while the smooth edges will go undetected under any outfit."
Similar to the "Charlotte" style, this thong from Fleur du Mal uses the same material, but in black.
When Shores isn't bee-lining to Target, she's having her clients wear Cosabella on the red carpet ("Cosabella is a great go-to brand for quality and comfort") and she recommends this style of high-rise thong, specifically.
G-Strings
For those who prefer an even skimpier style, here's a Cosabella g-string that's essentially elastic and lace, one that Bethany Lyons — co-founder of Lyons Den Power Yoga — says is her number one choice for wearing under dresses, rompers, and pants: "Zero VPL and it also has a sexy scalloped lace front. Plus the cotton gusset means it is breathable and comfy."