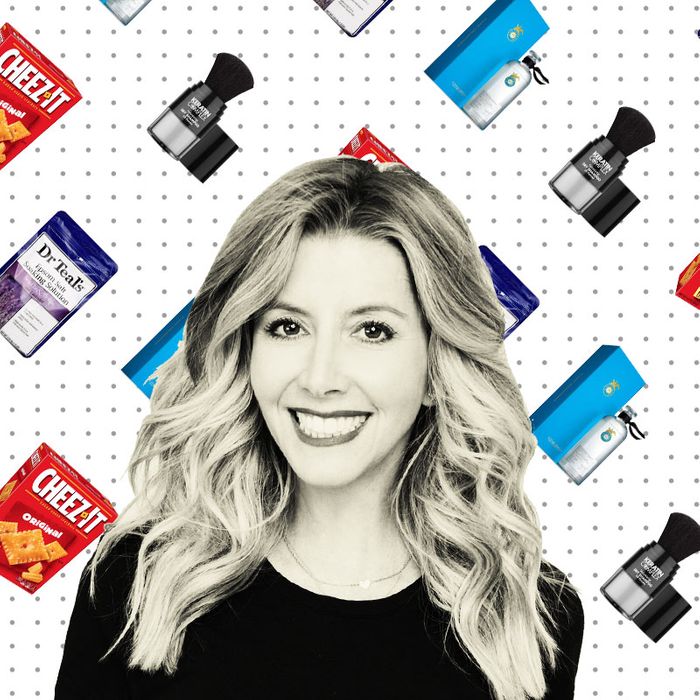 Photo: Courtesy Sara Blakely.
If you're like us, you've probably wondered what famous people add to their carts. Not the JAR brooch and Louis XV chair, but the hand sanitizer and the electric toothbrush. We asked Spanx founder Sara Blakely about the fat lipstick, faux-leather leggings, and airplane snack she can't live without.
This is a lipstick that comes as a fat pencil that I just love. I've worn red lipstick as my signature look ever since high school. Wearing a bold red reminds me to make bold choices. So a lot of people ask me what color I wear, and it's the Nars in the Cruella shade. I like it because so many lipsticks come off the longer you wear them, but this stays on forever. Sometimes I'll put on another layer of lipstick over it for something brighter, but I like this as a good base red because it's more of a blue- than orange-red.
When I first got this cup, it blew my mind that it could keep my tea hot for hours. I don't drink coffee, but I do drink tea and found that I was reheating my tea every couple of minutes, but now I put it in my Yeti and it keeps it hot all morning for hours.
I have been taking a bath every night of my life basically since I was born. I don't know if it's because I grew up in Clearwater Beach or because I'm a Pisces, but I have to end my day in water. It's actually in my profile when I check in to hotels — I'll tell them I don't care if it's the nicest room, as long as it has a bathtub. I can't live without these salts because they're so relaxing, and the salts are beneficial to the body. The salt pulls out toxins and helps sore muscles, but I just love the way it feels. I buy it in bulk.