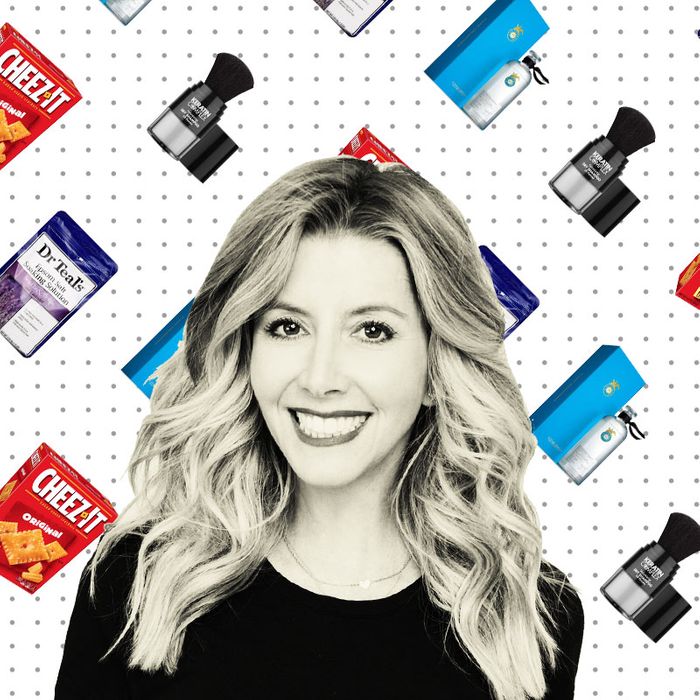 Photo: Courtesy Sara Blakely.
If you're like us, you've probably wondered what famous people add to their carts. Not the JAR brooch and Louis XV chair, but the hand sanitizer and the electric toothbrush. We asked Spanx founder Sara Blakely about the fat lipstick, faux-leather leggings, and airplane snack she can't live without.
This is a lipstick that comes as a fat pencil that I just love. I've worn red lipstick as my signature look ever since high school. Wearing a bold red reminds me to make bold choices. So a lot of people ask me what color I wear, and it's the Nars in the Cruella shade. I like it because so many lipsticks come off the longer you wear them, but this stays on forever. Sometimes I'll put on another layer of lipstick over it for something brighter, but I like this as a good base red because it's more of a blue- than orange-red.
When I first got this cup, it blew my mind that it could keep my tea hot for hours. I don't drink coffee, but I do drink tea and found that I was reheating my tea every couple of minutes, but now I put it in my Yeti and it keeps it hot all morning for hours.
I have been taking a bath every night of my life basically since I was born. I don't know if it's because I grew up in Clearwater Beach or because I'm a Pisces, but I have to end my day in water. It's actually in my profile when I check in to hotels — I'll tell them I don't care if it's the nicest room, as long as it has a bathtub. I can't live without these salts because they're so relaxing, and the salts are beneficial to the body. The salt pulls out toxins and helps sore muscles, but I just love the way it feels. I buy it in bulk.
Wayne Dyer is an inspirational speaker who actually passed away two years ago, but I've been listening to this CD since I was 16. My dad introduced it to me randomly, and it felt really incredible at the time because I felt like I'd been taught so much about what to think but not how to think. It's all about visualizing what you want and manifesting it and not caring what other people think or fearing failure. My friends would joke that no one wanted to be in my car after a party because they would have to listen to Wayne Dyer, but after I got on the cover of Forbes, they'll text me, "Damn, I should've listened to that shit."
My absolute favorite tequila. It's pretty much the only liquor I drink. It's just so smooth. It also leads directly to the next thing on my list.
So this is my drink: I squeeze fresh pink grapefruit with my Breville juicer, then muddle jalapeño in it for maybe about 30 seconds, and then I strain that grapefruit juice and put the Casa Dragones in it. It's become a favorite of my friends, and it's so delicious that one of my friends in Atlanta who owns a restaurant actually put it on the menu and called it a Blakely. I don't like margarita mix at all with all that sugar and high-fructose corn syrup, so I started experimenting with my own — I love anything salty and spicy and sweet, so that was it.